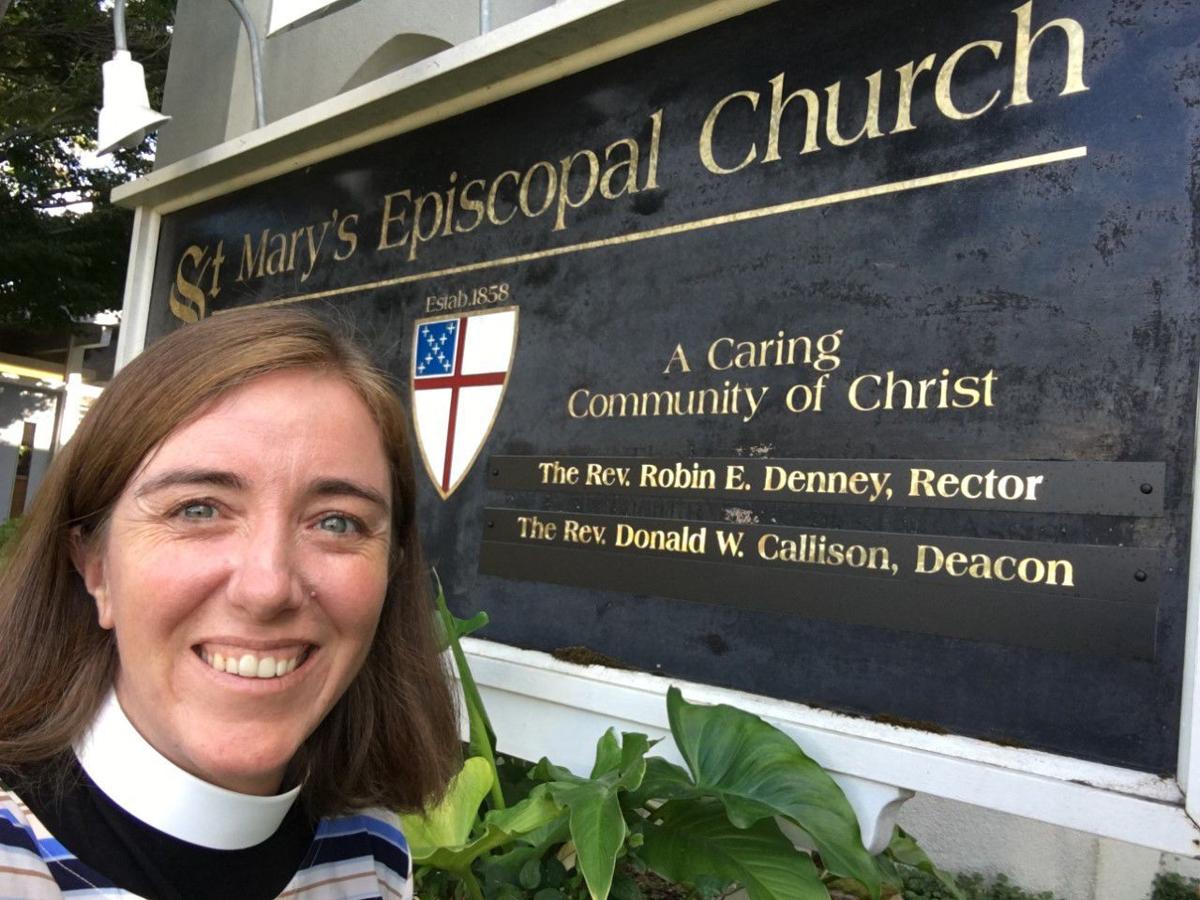 Rev. Robin Denney may be the new rector at St. Mary's Episcopal Church, but her family isn't new to Napa.
"I have four generations of women ancestors who lived in the Napa Valley, starting in 1848, and ending with my great grandmother, who was born in St. Helena," said Denney.
Her sister, the Rev. Amy Denney Zuniga, is rector at Grace Church in St. Helena. Her mother, aunt and stepfather are Episcopal priests as well.
"Reverend Robin" comes to St. Mary's after completing a two-year Associate for Christian Formation position at St. Cross Episcopal Church in Hermosa Beach.
She graduated from Virginia Theological Seminary in 2017.
Denney also has a formal education in viticulture and enology from UC Davis and her first profession was as a vineyard manager in Bradley, California, followed by serving as a teacher and farm adviser in Liberia through the Episcopal Young Adult Service Corps.
1. Which three people would you most like to have dinner with?
Jesus, Martin Luther King, Jr., and JK Rowling.
2. What job would you like to try/not try?
3. What was your first job?
I worked on my family's farm, cleaning stalls, feeding animals, driving horses (with wagons), and doing vineyard work in Bradley, Calif.
4. How did you get into your work?
I worked as an agriculturalist, and lived in both East and West Africa, as a volunteer church worker doing sustainable agricultural development. I was inspired by the clergy that I met, especially in South Sudan, and how they were making a big impact in their communities.
5. What is the biggest challenge your "industry" has faced?
In the last couple decades, Christian denominations have seen their numbers decline sharply in Western countries.
However, at the same time, Christianity is flourishing and growing in the developing world. I think the challenge of our time for Christians is to authentically live as Jesus called us to live, in love and service to others, not worrying about the numbers of people in our pews, but rather the way we express God's love, acceptance, and hope in the world.
6. What's the biggest misconception you get about being a priest?
Most people hear me say priest and they think Catholic priest, and they look at my quizzically.
But in the Episcopal church, we are fully inclusive of women and LGBTQ+ people in ordination. Having a more full representation of diversity in the priesthood makes the church stronger and a better expression of all that God made us to be.
Our interpretation of scripture is not literal, but rather dynamic, taking into account historical and cultural context, literary styles, and continued revelation.
7. What's on your to-do list?
Every day is different for me. I plan and lead educational series and prepare sermons each week. I help manage the administration and finances of the church by supporting staff and volunteers in various roles.
I visit people in the hospital, meet with people to talk about spiritual issues, and help plan funerals, weddings, and baptisms. I am working on getting to know the community by meeting with other faith leaders and community members over coffee. Please email me if you'd like to have coffee!
8. What is one thing you hope to accomplish in your lifetime that you haven't yet?
I hope to continue to encourage and inspire others to live their faith. I also hope to make an impact in supporting people who are working on sustainable agricultural solutions to hunger, for small scale farmers.
9. If you could change one thing about your "industry" what would it be?
I am deeply offended by people who preach hate, division, and exclusion and call themselves Christians.
They do not represent the way of Jesus, and I wish that they would change their ways, or no longer use the word Christian.
10. What's something people might be surprised to know about you?
I have a private pilot's license.
The business news you need
With a weekly newsletter looking back at local history.