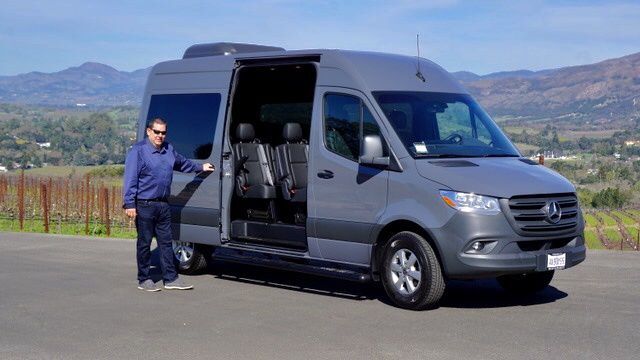 Paul Perry has worked in the hospitality and transportation industry for more than 20 years.
"A friend of mine told me that he thought with my personality I would make a good chauffeur," said Perry.
"I really enjoyed meeting people from around and hearing their stories. I fell in love with learning more about wine and some of the history of this beautiful region I am so blessed to call home."
About 18 months ago, Perry launched his own business, Perry's Tours.
To help create "a truly unforgettable experience," for visitors to the valley.
1. Which three people would you most like to have dinner with?
My mother Kay Perry, who passed 6 years ago. She taught me about unconditional love and my faith, among so many other things.
Bill Walsh, I am a lifelong 49ers fan and his teams gave me so many great memories.
Julius Erving, my childhood hero.
2. What job would you like to try/not try?
Not try: Bering Sea crab fisherman.
3. What was your first job?
Dishwasher at Wong's Restaurant in Napa.
4. What's the worst job you ever had?
Cleaning out foreclosed homes in Oregon.
5. What is the biggest challenge your business has faced?
That would have to be (the) earthquake, fires and, of course, COVID-19.
6. What's on your to-do list?
My wife and I would like to travel around Europe. We also would like to visit every Major League Baseball stadium.
7. Who do you most admire in the business world?
My father Steve Perry. He has a tremendous work ethic that I like to think he instilled in me.
He started as route salesmen and rose to the top regional manager at Aramark Industrial Laundry, a Fortune 500 company. He taught me that hard work and dedication to be a professional at whatever you do will pay off.
8. What is one thing you hope to accomplish in your lifetime that you haven't yet?
To continue to grow in my faith and as a family man. To become the best version of me as I can. It is a daily challenge.
9. If you could change one thing about your business/industry, what would it be?
The cost of commercial insurance.
10. What's something people might be surprised to know about you?
That I am a licensed wedding officiant and have officiated three weddings.
Watch now: Napa Community Animal Response Team at work:
The business news you need
With a weekly newsletter looking back at local history.