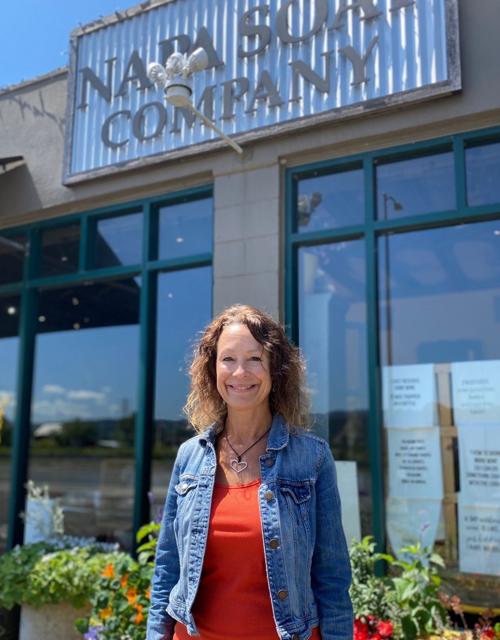 Napa Soap Company was founded in 1999 by Napa Valley local Sheila Rockwood.
Having grown up in the Napa Valley, Rockwood said she wanted to create a product that used ingredients found locally.
The small business owner said she also wanted to make something that others could enjoy and use. In addition, Rockwood also wanted to be conscious in creating a small business which she could manage while raising her three sons.
Combining her interest in the environment, aromatherapy and a prolific supply of lavender, Rockwood discovered that soap offered a natural outlet for her talents.
After researching the therapeutic benefits of a by-product of the local wine industry — cold-pressed grapeseed oil — Rockwood decided to use this ingredient throughout her line.
After nearly two years developing the right combination of essential oils and natural ingredients, Rockwood started to sell her Napa Soap Company products to select accounts in the Napa Valley.
1. Which three people would you most like to have dinner with?
Elon Musk, Tom Petty, Anthony Bourdain – that's of course assuming I can't have dinner with any of my friends right now because we are sheltering in place.
2. What job would you like to try/not try?
Try: beach bar owner/bartender or a travel blogger.
Not try: anything in politics.
3. What was your first job?
Knickerbockers Catering, St. Helena.
4. What's the worst job you ever had?
Counting phytoplankton under a microscope on a rough sea in the middle of the Sargasso Sea for 21 days straight. I was so happy to be back on land I hugged a tree!
5. How did you get into this business?
I was working in destination management at the time and we were always looking for a nice local gift for clients other than wine. I also had a chemistry background and had always loved natural personal care. I was looking for a home for some backyard lavender and decided to try making soap from a recipe in a book I had.
I made the mistake of adding the whole lavender bud to the soap batch and it was almost unusable it was so scratchy, but I thought the chemistry side was interesting. I experimented with adding wine and local grapeseed oil to create a truly local gift and then took some presentable bars to the Culinary Institute to see what they thought. They ended up ordering some on the spot.
That was 20 years ago, and they still carry Napa Soap!
6. What is the biggest challenge your business has faced?
I'd have to say a pandemic pretty much takes the cake.
7. What is one thing you hope to accomplish in your lifetime that you haven't yet?
Visit (almost) every country, meet more people, have more adventures.
8. If you could change one thing about your industry, what would it be?
I would like to have an alternative to doing trade shows. I do think this is something we will see soon as COVID is rapidly changing the way people conduct business. There are online wholesale platforms but there is not a clear front runner yet IMO.
9. What's something people might be surprised to know about you?
I used to have an elephant named Akili. My dad was the vet in Calistoga and Akili was an African elephant (owned by a couple who lived in Etna) by the Oregon border. She did not like winters up there. We modified a stall in the barn (and) she lived with us for years, during the winters. She was small when we first got her but she grew into a full size elephant. We could ride her around and everything.
10. If you could be anywhere right now, where would you be?
On a warm beach with turquoise water and a cold cocktail in my hand! I think you could also say out of quarantine!
Napa Soap Company is located at 655 Main St. in St. Helena. Rockwood can be reached at orders@napasoap.com.
The business news you need
With a weekly newsletter looking back at local history.