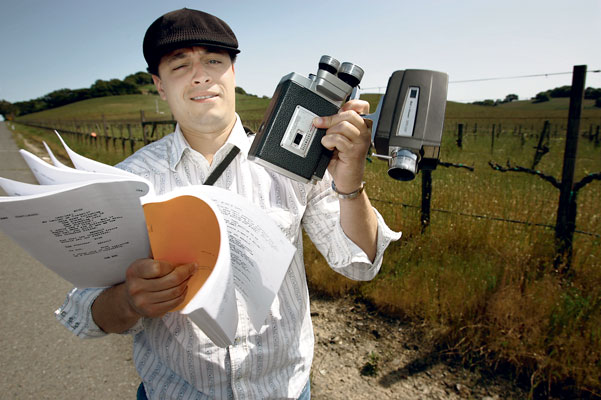 Rudolf McClain has a message for wine drinkers — "Get out of your comfort zone. Have an adventure with wine."
It's not just talk. In 2008, McClain made a film about wine — and more specifically — wine attitudes, called "Merlove." The documentary celebrates merlot, a varietal that has been maligned by popular culture lately.
"Merlove" debunks the concept of a "best" wine. "It's not a test," said McClain. "You can have a wine and say this is the best wine. I can have a different wine and say this is the best wine. We can both be right."
McClain, who grew up in St. Helena, is working on his next movie, which will be filmed in both Napa and Sonoma. "It has nothing to do with wine," he said. The filmmaker is looking for funding, producing and casting help. "Anyone who wants to know more about it can call me about the project," he said.
Which three people would you most like to have dinner with?
My father, Rudy McClain, who passed away before I was born, Bruce Lee and Steven Spielberg. 
What job would you like to try/not like to try?
Not like to try: Test astronaut.
What is one thing you hope to accomplish in your lifetime that you haven't yet?
Things that strike me emotionally. Shel Silverstein books. All my favorite movies. Things that I find ironic or funny in life.
What's something people might be surprised to know about you?
I am related to Abraham Lincoln. My family on my mom's side in California are the Lincolns. I'm 16th-generation, eighth cousins, five times removed.
How do you pay the bills as a filmmaker?
I earn some money from "Merlove" DVD sales. That and producing short films for different wineries to use in social media.
How much did it cost to make "Merlove"?
Under $50,000. It was mostly self-financed.
Do you have a favorite wine?
My favorite wine is any wine at this moment that shows me something new. It's more of a moment to moment thing for me. Wine, like life, is an evolving education.
What other business person(s) would you like to see featured in "10 Questions"?
Aaron Pott, winegrower, Blackbird Vineyards in Napa.
What are some of your favorite movies?
"Being There" with Peter Sellers. That movie makes me crazy in a good way. I also like "The Shining" and "Close Encounters."
How did you get into this business?
I sat down, got clear and asked myself what I would like to do. I went to a bookstore and picked up a copy of the legendary book, "The Filmmaker's Guide." I grabbed my camera in 2006, went out and made "Merlove." I didn't know how I was going to do it, but I knew I was going to do it.
What is the biggest challenge your business has faced?
Getting ahead of myself, looking away from the joy of today's work.
What's on your to-do list?
Who do you most admire in the business world?
Steve Jobs. I love his ability to make his vision real.
If you could change one thing about your business, what would it be?
Make theaters open in the morning so I can watch a 9 a.m. movie.
What's your favorite gift to give?
A story moment that I have created, that gives me joy every time and then see it have the same effect on total strangers.
What is your favorite charity?
What was your childhood ambition?
To have as much fun as possible and take as few naps as possible.
If you could be anywhere right now, where would you be?
On a surfboard with my honey waving to me from the shore.
What's one thing Napa could do to help local business?
Find a way for Napa to feel like it represents the Napa Valley. It seems separate.
What's the most significant project you've been involved with in your career?
Producing and directing "Merlove."
Paper route with my older brother. Milwaukee, Wis., 18 degrees below zero, 18 inches of snow and 48 houses to go.
What's the worst job you ever had?
Data entry for a paralegal document support company.
McClain can be reached at rudy@famedwolf.com. "Merlove" will be shown at V. Sattui Winery on June 11. The DVD can also be purchased on Amazon.com.