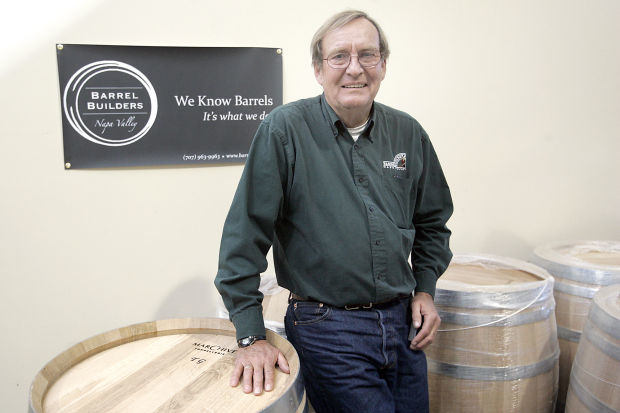 "I love working with wood," said Phil Burton, owner of Barrel Builders of St. Helena. "The way wood works — you can machine it, you can work with it — I just think it's beautiful."
Burton came to work for Barrel Builders in 1974, and spent his first 15 years in the shop, working his way up from apprentice cooper to foreman. Several employees bought the cooperage from earlier owners in 1986, and Burton became sole owner in 2001.
1. What was your first job?
Working shade grown tobacco in Connecticut.
2. How did you get into this business?
I grew up around wood boats and a wood shop; building barrels looked like a lot of fun and I needed a job.
3. Do you have an exceptional woodworking shop at your business?
We have a lot of tools in our shop. I can make almost anything. Of course it's more suited for barrels.
4. How long can you use a barrel?
Depending on what you want a barrel to do, for decades. But for oak flavors, after three or four years, it's largely gone.
5. What's a common misconception you get about your business?
In the wine industry, a lot of winemakers think the price is through the roof and we're all padding our pockets with profits. But margins are just a fraction of what people think they are.
6. What is the biggest challenge your business has faced?
The changing face of the wine industry, particularly the industrialization aspect.
7. If you could give your younger self any advice, what would it be?
Take some business and sales classes. I'm good with wood but I never took business classes. In retrospect it would have made my life so much easier.
8. What's something people might be surprised to know about you?
I was a wilderness backpacking instructor for several years. I ran the Audubon Christmas Bird count for Napa County way back when.
9. What's on your to-do list?
I went on safari in Africa this year and am headed to the South Pacific in late December. Next summer is kayaking in Alaska and then a trip to Antarctica.
10. Where do you go from here?
I'm having a good time. But I think it's time to start passing along some of the work to the younger generation. My daughter has come to work for the company and is very enthused and kicking butt.