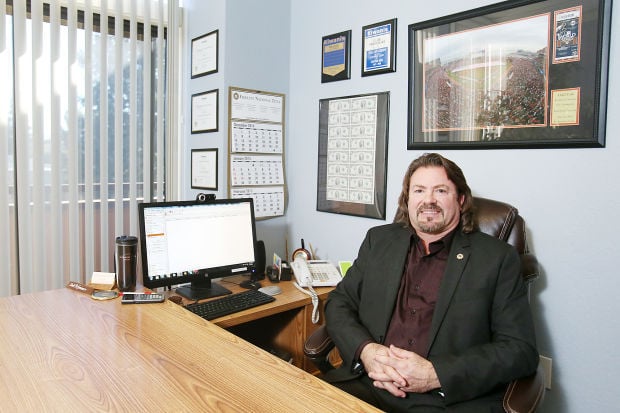 Dale DiGennaro and his father, Adam, started their business, Custom Lending Group, in 1986. Dale DiGennaro said that helping people achieve "the American dream" of home-ownership is one thing that motivates him as a small-business owner and mortgage broker.
"That's very rewarding to see," said DiGennaro.
1. What's a common misconception you get about your industry?
That we cost more than a bank or institutional lender. Most often we are less expensive due to (having) multiple sources and options for funding our mortgage loans.
2. What's your advice for someone wanting to get a home loan?
It's definitely an excellent time because interest rates are on the low end. The other unique thing about right now is that we are able to offer lots of low-cost or no-cost financing options.
3. If you could change one thing about your business, what would it be?
To make the mortgage experience for my customers more understandable, enjoyable, predictable and logical.
Our industry has been a bit of a nightmare to deal with since the "mortgage meltdown," and ensuing legislation and regulation that brought about.
4. What are your plans for your business?
I enjoy keeping the business small, local, nimble and flexible. I think I serve my clients much better that way.
5. What is the biggest challenge your business has faced?
The "mortgage meltdown" and subsequent Great Recession.
6. What's your advice to someone who wants to get into your industry?
Be ready for lots of challenges. There are still a lot of things in flux because of the Great Recession we went through.
7. What job would you like to try/not try?
8. What was your first job?
Painting fences at a very large horse boarding, breeding and training facility back in Rochester, New York.
9. What's something people might be surprised to know about you?
I played drums professionally for 12 years in various bands back East prior to moving to Napa. One of the groups I played with had kind of a Motown show with four black lead singers.
10. What was your childhood ambition?
To be faster than a speeding bullet, more powerful than a locomotive and able to leap tall buildings in a single bound … Superman!
Bonus questions for the Web:
What's new at your business?
We moved right before the earthquake. I had a building downtown for 22 years. I sold that and moved over to the 1700 Soscol. There's a lot of similar businesses here that are financial services so the synergy is good.
What's on your to-do list?
Getting my pilot's license, playing more golf, traveling and enjoying life.
What is one thing you hope to accomplish in your lifetime that you haven't yet?
What's the worst job you ever had?
Laying tons of sod on acres of land at Hill Cumorah in Palmyra, New York ("The hill where the Lord hides"). This is where the Mormons have the annual Hill Cumorah Pageant.
If you could be anywhere right now, where would you be? 
On a warm, tropical beach with my fiancee, Gena, enjoying the sun, surf and sand!
Who do you most admire in the business world?
Probably Steve Jobs because he has had such a pronounced effect on our modern culture due to his company, products, sales, video animation, music, education, etc. He had a distinct vision and was able to see it through, and in the process, changed the world.
Which three people would you most like to have dinner with?
My three children: Jake, Travis and Jenae'. They're great people.