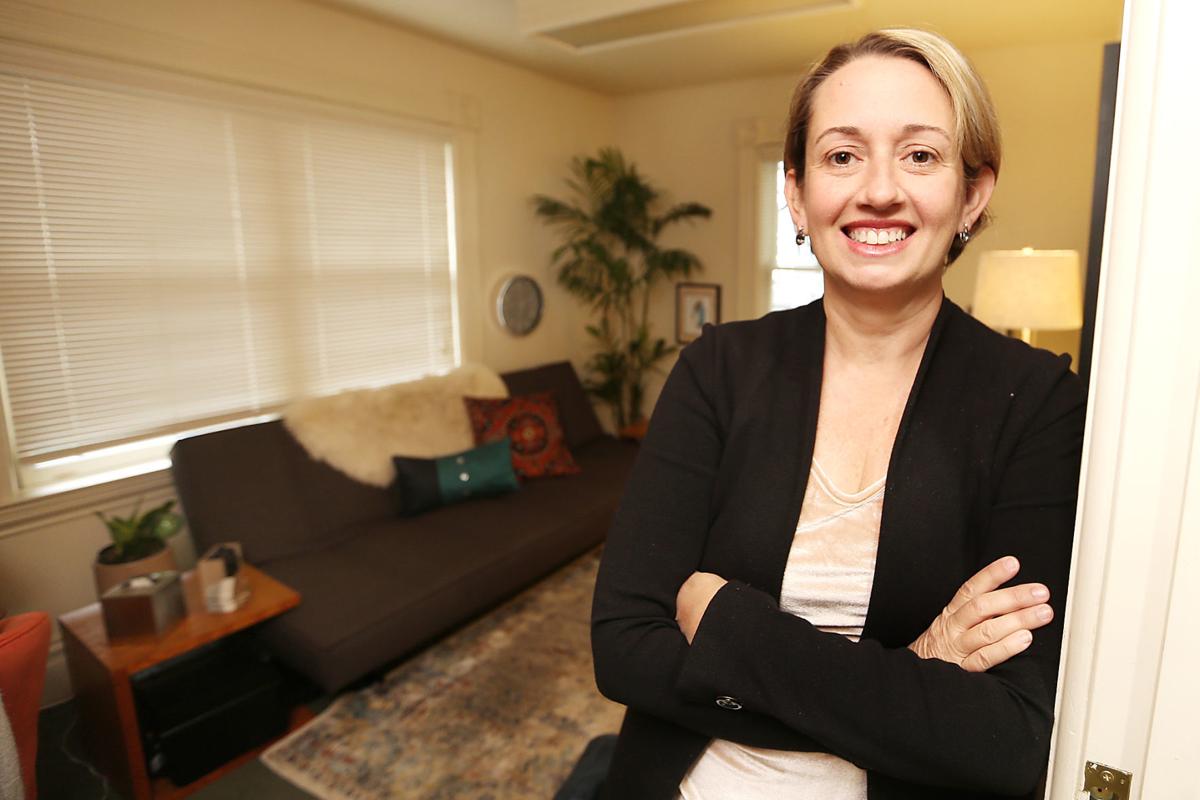 Jennifer Inman Hampton, LCSW, named her business Moxie Licensed Clinical Social Worker Corp.
How does she define moxie?
"The ability to face difficulty with spirit and courage," she wrote.
Inman Hampton has owned Moxie for less than a year, but has been a licensed social worker since 2000 and a licensed psychotherapist since 2007.
She's worked in trauma hospitals, for the U.S. military, in public schools, clinics for low-income people, a U.S. embassy and international nonprofits.
"I was a theatre major in college who realized what I liked most about theatre was studying the minds and motivations of characters," Inman Hampton said.
Earning a double major in psychology, she found "I preferred applying academic knowledge to real vs. imagined people. My family was all about serving the community first and also dealt with mental health and medical issues that seemed to overwhelm our little bubble and made me want to be a helper."
1. Which three people would you most like to have dinner with?
(Singer) Neko Case to discuss songwriting and touring as a female antihero; (artist) Jean-Michel Basquiat to discuss suggestive dichotomies and his use of art as social commentary as a segue to truths about people, power structures, and support for class struggle; (director) Damien Chazelle because I cried and cried at "La La Land."
2. What job would you like to try/not try?
Try: Any Travel Channel gig.
Not try: Deep-sea diving.
3. What was your first job?
I was a babysitter for a boy with autism.
4. What was your childhood ambition?
Marine biology or professional ballerina.
5. What is the biggest challenge your industry has faced?
Mental health parity has created the illusion that mental illness has been destigmatized and is now treated the same as physical illness.
But we have a long, long way to go to get people the support they deserve and to decriminalize mental illness.
6. What's on your to-do list?
Iceland, China, laundry and a new puppy.
7. Who do you most admire in the business world?
(Author) Peter Block, (psychotherapist) Insoo Kim Berg.
8. What is one thing you hope to accomplish in your lifetime that you haven't yet?
An exercise routine that doesn't involve excuses.
9. If you could change one thing about your industry, what would it be?
I wish mental health treatment was seen as a right instead of a privilege and I wish services for children and families started before they were even born.
10. If you could be anywhere right now, where would you be?