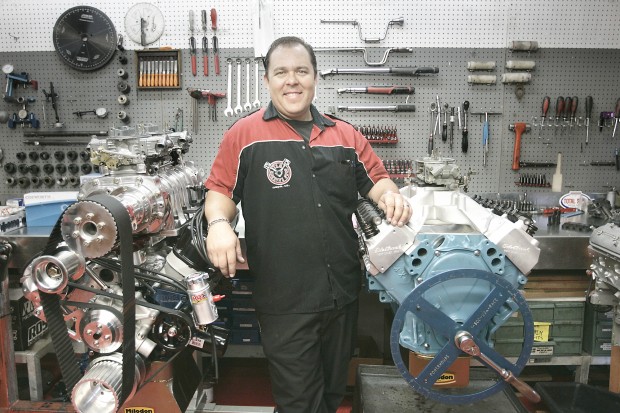 Rich Olivier of TEM Machine Shop said he came to Napa to chase a girl and ended up creating a business that evolved into building racecars and high-performance engines.
He started by sweeping the floors at a machine shop. "I had no experience at engine building," Olivier said.
After learning his trade, he eventually bought the business that later became the official engine repair shop for Ferrari, Aston Martin and Maserati dealers across the U.S. He also builds engines for Formula, drag racing and other types of racecars.
Today, Olivier says he is busier than ever and "that girl I was dating, I now call 'wife,'" he said.
How many employees do you have?
Four full-time employees.
What is it about building engines that you like so much?
The challenge of re-engineering an engine to make it perform better in every aspect.
What's a common question or misconception you get about your work?
A lot of people don't realize the caliber of cars we work on. The back of my shop looks like a lab or engineering department.
What's new at your business?
We just moved to a bigger facility six months ago. We're in the historic Sunsweet building on Jackson Street.
If you could give your younger self any advice, what would it be?
Work harder at your business than in your business.
What's on your to-do list?
Running a business gets hectic. After the recent move, I would like to get the new location running efficiently. I would like to get back doing more research and development. I love finding horsepower where others can't. I have been doing work on combustion analysis efficiency; we have opened up some new doors. I would love to get back on it.
If you could change one thing about your business, what would it be?
A friend once asked me, "Rich, can you improve your business 100 percent in the next year?" After I laughed he said, "Can you change 100 things 1 percent in the next year?" I have tried to do exactly that.
Ten years from now, what would you like to be doing?
I'd like to be teaching, training and consulting for this trade — sharing what I've learned.
If you could be anywhere right now, where would you be?
Disney World with my wife and son.
Which three people would you most like to have dinner with?
• My grandfather. Although he is not living, my dinners with him in the past were time well spent. One of the hardest-working men I have ever known.
• Joe Mondello, a fellow engine builder and world legend. He had taught me a lot with his decades of successful engine building. I learned a great deal about cylinder heads and air flow from Joe. I have continued doing research and development and have designed my own performance port design for racing heads we build.
• Pedro Moreno, my wife's father. Unfortunately he had passed away one month before our wedding in 1995. I would just like to show him his amazing grandson and that I am taking care of his daughter.
What job would you like to try/not like to try?
• Try: I would say a chef; I find the knowledge and ability to multitask fascinating. If I had that knowledge and background, I could widen the margins of my son's very restricted diet. He suffers from dozens of life-threatening food allergies.
• Not try: Bartender. I don't think I have the patience to deal with that much drinking public.
It was Round Table Pizza. I still remember the number code for most of the toppings.
What is the biggest challenge your business has faced?
The biggest challenge was working my normal 80 hours a week to have a man walk in and tell me, "I just bought this building on the courthouse steps," followed by a notice to vacate. As much I always love to hear about people getting a great deal, it was not so great for me, the tenant. I was meeting my tenant agreement, but sadly, my landlord was not meeting his.
What's something people might be surprised to know about you?
When my wife was pregnant with our first baby, I went to several prenatal and Lamaze classes so I could be totally prepared. I guess the surprising part is, I went alone because she was busy working.
What was your childhood ambition?
To play music. Actually, I spent a lot of time doing that, but it's challenging to work band schedule into my family schedule.
The business news you need
With a weekly newsletter looking back at local history.