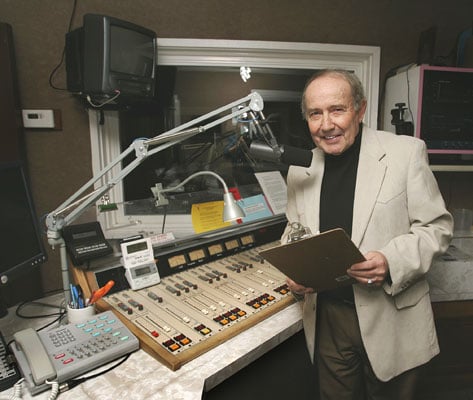 Ira C. Smith came to Northern California for the first time to broadcast a 1974 football game between the Michigan Wolverines and Stanford Cardinal.
Visiting Napa Valley afterward, "I thought, 'Wow, this is really a nice area,'" Smith said. He realized that if he lived in California, "I wouldn't have to shovel snow or scrape windshields."
Joining the KVON staff in 1976, Smith has since covered an estimated 1,100 basketball games and 500 football games as a play-by-play sports announcer.
"I'll stop when it stops being fun," he said.
What does the C stand for?
There's no actual name for the C. If you say Ira Smith, it almost sounds like "Iris." The C separates it so it doesn't sound so much like a flower.
Which three people would you most like to have dinner with?
Johnny Carson, Alfred Hitchcock and Danish entertainer Victor Borge.
I really cleaned up on this one: My first job was sweeping the floors and general cleanup for my father's business in Indiana. I think I was 9 or 10 years old at the time. He had a combination lumber yard and hardware store.
How did you get into this business?
I was drafted in the U.S. Army in 1961 and assigned as a clerk in the public information office. The major in charge liked the way I sounded and moved me to the broadcast specialist slot. After discharge from the Army, I continued a broadcast career. My first broadcast job was in Columbia City, Ind.
What is the biggest challenge your business has faced?
First, it was the advent of television, then came the Internet and now satellite radio.
What's on your to-do list?
Not a bucket list, but a visit to Africa for a safari to view wild animals in their natural habitat while they are still around.
Who do you most admire in the business world? 
James Cash Penney (founder of JCPenney). He was an honest man who was considerate of others. He was a businessman with ethics. He understood the value of giving service and his middle name was Cash. Here's a guy that has the right thought — he was trying to do the right thing by the customer.
What is one thing you hope to accomplish in your lifetime that you haven't yet?
More travel to places I read about but haven't visited. Maybe broadcasting a football or basketball game without mistakes.
What was your childhood ambition?
I thought that it would be fun to be in broadcasting, but that profession was very competitive with few openings, so I majored in business in college. I did enjoy taking around a tape recorder and interviewing people — mostly relatives who were not receptive.
What other business person(s) would you like to see featured in "10 Questions for …"
Gary Van Brocklin, former owner of Colonial Saddle Shop. He is the nephew of former football great Norm Van Brocklin.
Bob Walsh, an 83-year-old former businessman who retired and then started a new career as a computer consultant.
Taylor Bartolucci of Madonna Estate, a young businesswoman who is actively involved in her family wine business while also getting involved with volunteer projects in the community.
What's your favorite gift to give?
It makes one feel good to give of one's self. By volunteering, you give back to the community… there are so many ways to assist worthy causes.
What's something people might be surprised to know about you?
If I told you, it wouldn't be a surprise any longer.
I can't live without: Family and friends.
If you could be anywhere right now, where would you be?
I can't think of a better place to be than in Napa, it's so close to many attractions and places to visit. How can you beat the weather here year 'round? Local sports provide both excitement and frustration.
What's one thing Napa could do to help local business?
Shop locally and encourage new businesses. Make it easier and less expensive to receive local permits.
What job would you like to try/not like to try?
The job that I'm in now. It's always a challenge to try and be accurate. Each broadcast presents a new opportunity to strive for that perfect broadcast. I wouldn't want to be on the engineering side of broadcasting, too technical and complex.
Each Wednesday the Napa Valley Register's Business Focus asks "10 Questions" of a local entrepreneur or businessperson. Readers are welcome to suggest business people to be profiled. To suggest a candidate for "10 Questions" e-mail: jhuffman@napanews.com