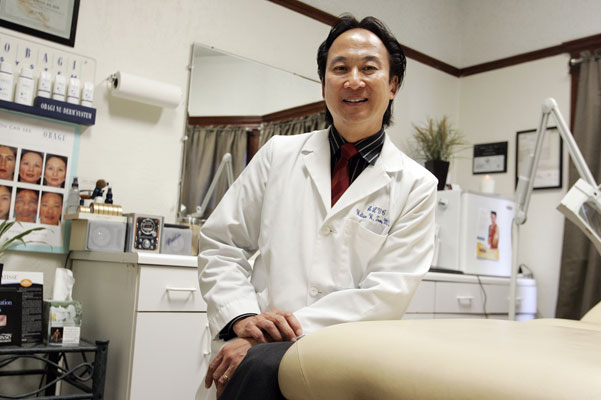 Dr. Tom began his medical career doing lifesaving kidney transplants. Ten years ago, he transitioned to a different, yet equally satisfying, medical profession. Today, he runs the Aesthetic Laser & Vein Center of Napa.
The center provides an extensive array of cosmetic services including laser surgery, BOTOX, Restylane, Radiesse, PhotoFacial and more.
 "I went from saving lives to becoming a 'foo-foo' doctor but the gratification I get is that the patient's self confidence is significantly improved after these procedures," he said.
Dr. Tom grew up in Detroit, Mich., where his family owned a Chinese laundry.
"I'm three-fourths Chinese and one quarter Greek," he said.
Which three people would you most like to have dinner with?
Michelangelo, Gordie Howe, the greatest Detroit Red Wing hockey player, Barack Obama
What job would you like to try/not try?
Not try: President of the United States
What's the worst job you ever had?
Janitor at a Chrysler auto factory in Detroit, Mich. I was 19.
What is the biggest challenge your business has faced? 
Disseminating the philosophy that a more natural beauty look is most attractive, per my personal philosophy. "It is unrealistic to look 21 all your life, but it is reasonable to look good all your life."
My iPhone and laptop computer. My favorite application is my lightsaber. It's awesome.
What's something people might be surprised to know about you? 
I secretly want to be a black Motown singer. I'd join the Temptations.
What was your childhood ambition? 
To be a shortstop for the Detroit Tigers.
What's the most significant project you've been involved with in your career?
Creating the Kidney Transplant Center of Northern California.
What is something that people are surprised to find out about cosmetic surgery?
How little down time there is. And how large procedures can be done completely under local anesthesia. Patients can talk to us while we do it.
What other business person(s) would you like to see featured in "10 Questions for…"
Dixie of Details With Dixie Hair & Nail Boutique.
Each Wednesday the Napa Valley Register's Business Focus asks "10 Questions" of a local entrepreneur or businessperson. Readers are welcome to suggest business people to be profiled. To suggest a candidate for "10 Questions" e-mail: jhuffman@napanews.com