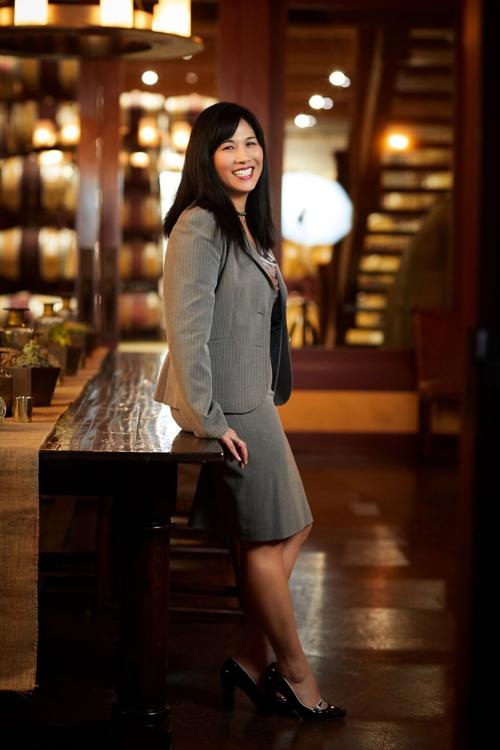 Jolene A. Yee can thank Gallo wines for ultimately bringing her to Napa Valley.
Years ago, Yee was working as an associate in a large technology law firm in Silicon Valley when she got a call from a headhunter about a job in Modesto.
"At first, I was hesitant to interview for a job outside of the Bay Area," said Yee. "But after I interviewed for the role, I fell in love with the company."
After working at E. & J. Gallo Winery, and then running her own legal consulting business, in 2013, Yee joined Delicato Family Vineyards. Today, she's vice president and general counsel for the business.
Yee received her Juris Doctor degree from the University of California Hastings College of the Law, where she was later a professional faculty member. She received her Bachelor of Arts in Political Science from UCLA.
1. What was your childhood ambition?
I always wanted to be a lawyer. At the time, there were no lawyers in my large extended family. The social justice aspects really appealed to me, as did the education. And also, I could argue with the best of them.
2. What was your first job?
I worked in my father's store, Flowerland, in Salinas (my hometown).
When I was little, I would help my grandmother make corsages and boutonnieres for weddings and high school dances, and after school and on weekends I would help my dad with deliveries.
In high school, I took orders and ran the register.
My father worked at least six days a week year-round. He taught me a lot about hard work, the importance of customer service, and running your own business.
3. What's the worst job you ever had?
When I was in college, I did an internship at the Los Angeles City Attorney's Office. Part of my job was to order and review photos for domestic violence cases.
I had the opportunity to work with some incredible lawyers, and it was a wonderful experience. However, emotionally it was very challenging, and after that job, I knew I was not well-suited to become a prosecutor.
4. Which three people would you most like to have dinner with?
5. What is the biggest challenge the wine industry has faced?
The wine industry today faces numerous challenges.
One of the most formidable is consolidation within the three-tier system. As a winery, there's immense pressure to grow so you can continue to garner the attention of the distributor tier, and it's getting tough for small and mid-size wineries to get their wine to the shelf. There is no shortage of beautiful quality wines, but it's getting increasingly difficult to get that wine in front of the consumer.
Along those same lines, the way consumers shop for and purchase wine is starting to evolve. In-store wine purchases, which are encouraged by things like floor displays and in-store promotions, are very slowly giving way to alternative methods of purchase like Instacart and other mobile-based applications.
I don't think there's been a time in recent history that our industry has faced so much change.
6. What's on your to-do list?
A million and one things! Getting my kids to do their homework and practice music, taking our pooch for a walk, getting dinner on the table tonight, marking up that agreement…
7. Who do you most admire in the business world?
I really admire and respect my Mom and Dad, both of whom were serial entrepreneurs and owned their own businesses.
My mom was a teacher and school counselor before going back to school to get her Masters when I was eight. After she graduated, she kept her day job but opened a private family therapy practice AND ran a side business selling sports paraphernalia. She was a big Giants fan!
My father was a true middle-class entrepreneur and DIY inventor, constantly pushing boundaries and trying new ideas. In addition to three flower shops, he once owned a music store, opened a small used car lot, and invented a special weight system for Mylar balloons.
My parents taught me the value of hard work, but also the value of finding joy in what you do. Both my parents loved the work they did, and to this day people still tell me stories of how my parents touched their lives through their work.
I try and model my life after them, by working hard, delivering class A work-product, but making sure I am happy along the way.
8. What is one thing you hope to accomplish in your lifetime that you haven't yet?
In addition to world peace and eternal happiness? Hmmm. I'd like to tap into my artistic side and create something that other people would want to experience, and at the same time feel like I had a positive impact on the world.
I've just started experimenting with songwriting, and it would be great to write and record some music that people outside my immediate family might want to hear.
9. If you could change one thing about the wine industry, what would it be?
I'd love to see the industry embrace women at all levels and in all areas. We certainly have made some strides recently, and organizations like Women of the Vine & Spirits are giving women (and men) some of the tools we need to ensure women have a shot at getting a seat at the table.
A few years ago, with the support of the Indelicato Family and Senior Management, I was able to help launch the Delicato Women's Leadership Initiative, which is an internal organization that strives to attract and retain talented women and to provide professional development opportunities. We now have chapters across our company and across the country.
10. What's something people might be surprised to know about you?
I sing in a rock cover band called The Sirens and am rumored to be in a vintage Barry White video.
Check out the Register's Top Ten '10 Questions' profiles from 2019
Which 10 Question profiles got the most views in 2019? Check out these links to find out.
The business news you need
With a weekly newsletter looking back at local history.