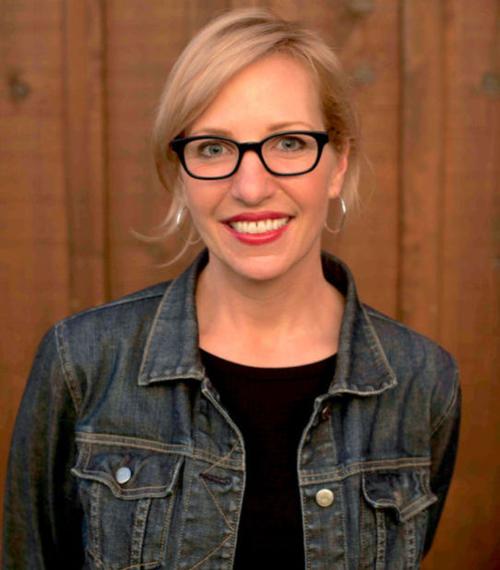 Kelly Amis said she has a real love of photography, film and writing. As a college student, she considered a career as a foreign correspondent, "But once I saw what was happening in the schools in urban America, I became very passionate about the need to change the system," Amis said.
Instead of becoming a journalist, Amis took a job in South Central Los Angeles as a charter corps member of Teach for America.
Later, she also worked in Washington, D.C., as an educational policy analyst — including a stint working for U.S. Senator Dianne Feinstein. Eventually, Amis decided it was time for a change.
"I saw this future (as) one of those people that just talks about the problem" of education reform, she said. "I wanted to find a way to help solve the problems and not be someone who just talks about them."
In 2009, Amis moved to St. Helena, near where her sister lives, and started Loudspeaker Films.
The business is an independent film production company focused on social justice issues especially education equality, said Amis.
One of her company's most significant projects is a not-for-profit film project called "TEACHED," a short film series about the causes and consequences of the race-based achievement gap in the American education system.
"To make the films I travel constantly to bigger cities and stay there for weeks at a time," said Amis. "But I love having this quiet place to come back to where I can be creative."
What did you study in college?
I have an MA in Education Policy from Stanford and I was also a Fulbright scholar. I went to Georgetown for my undergrad.
"TEACHED" is a series of short films. The first three are called "TEACHED Vol. 1." The next six are in production right now, along with a feature length film that follows a boy and his family in Washington, D.C. navigating the school system and navigating the world of coming of age and growing up in a housing project.
Who are your favorite filmmakers?
Lee Daniels, Darren Aronofsky, Wes Anderson, Jane Campion and an L.A.-based filmmaker named Alex Muñoz.
If you were involved in education in Napa Valley, what would you encourage?
I would start a strong college prep program for Hispanic students, especially the first generation considering going to college. I would focus strongly on having college prep support and mentors for any high school student that wants it. And I would work to get parents who are putting their kids in private schools to come back to the public schools.
I'd also work to open more charter schools throughout Napa County (with) more public/tuition-free options, like an arts academy (with a film program of course), a STEM-focused school, etc.
What is the biggest challenge your business has faced?
Fundraising for the films has been and still is the greatest challenge, especially as a new filmmaker. Loudspeaker Films' main project, the "TEACHED" series, is non-profit, so contributions to it are tax-deductible. I have been very fortunate to have received many donations from a great group of individuals and organizations who support my mission, but to get TEACHED to the next level I will need to raise significantly more. The good news is that I believe I can make the project ultimately self-sustaining through screening fees, DVD sales and income made through Loudspeaker Films' contracted work (when others hire us to make films).
What is one thing you hope to accomplish in your lifetime that you haven't yet?
I've written on a screenplay for a feature-length movie. It would be a dream to see it get made. I also hope to publish a book or two.
If you could change one thing about your business, what would it be?
I would have more staff to handle the day-to-day operations as well as the fundraising and business sides of things to give me more time to make films. It will happen eventually.
What's something people might be surprised to know about you?
I grew up outside of a small town not far from Omaha, Neb., population 1,200.
What was your childhood ambition?
To perform—as a singer, actor, dancer. I got to do some of this growing up so I guess I got it out of my system…or, more likely, I didn't have the requisite talent to go any further!
If you could be anywhere right now, where would you be?
Musée d'Orsay in Paris. I'd be having a coffee up in the café. I love that place. It's totally magical.
Bonus questions for the web:
What job would you like to try/not try?
Not try: Personal assistant to an actor
Who do you most admire in the business world?
I admire many successful entrepreneurs, but especially those who go on to use their intellect, resources and name recognition to improve the world for others. Bill and Melinda Gates are two people I admire greatly. They are dedicating a huge amount of their time and money to philanthropy, including to help ensure that all students have access to a high-quality education.
Which three people would you most like to have dinner with?
Director Lee Daniels, Michelle Obama, Jon Stewart
My first full-time job was teaching in South Central, Los Angeles as a charter corps member of Teach for America.
What's the worst job you ever had?
Telemarketing for an insurance company one summer during high school. I apologize to everyone I had to call that summer!
What's on your to-do list?
We are busy preparing for screening events coming up in Austin (SXSWEdu), New Orleans, Phoenix and Sacramento; applying for grants and meeting with potential funders; filming and editing three new TEACHED short films (which we hope to finish this year); marketing our existing films to non-profit groups, universities and libraries; and preparing to launch a new component to our "On the Loudspeaker" interview series. Oh — and trying to figure out how to have a life while doing all this!
Which other Napa County business person(s) would you like to see featured in "10 Questions for…"
Linda Allen, Pearl Wonderful Clothing
David Risher, World Reader
The business news you need
With a weekly newsletter looking back at local history.