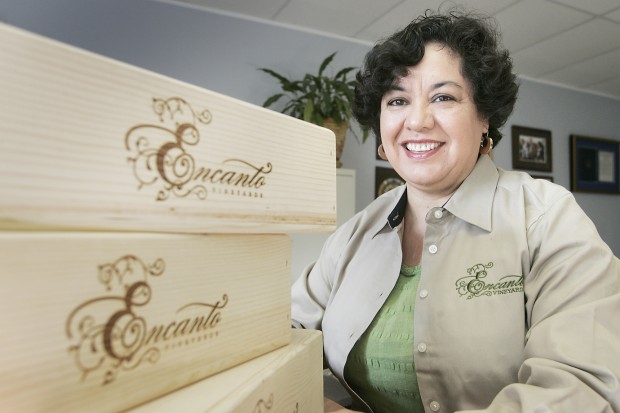 Rosaura Segura came to the U.S. more than 40 years ago as the daughter of a migrant farm worker. Today, she is the proprietor of her own winery, Encanto Vineyards.
The name is an homage to her father, she said.
"I felt like I needed to honor my father, who lived most of his life working in the Napa Valley vineyards," Segura said. 
Segura and her family started the winery four years ago, but she is also well known for her immigration consulting business in the area.
My husband and I got crazy and we purchased some land in Lake County. We have the grapes and we decided to go to the next level.
We produce 500 cases a year of our Lake County Sauvignon Blanc and Carneros Pinot Noir.
It's picking up. We have some really good prospects with an interesting restaurant chain. We work with distributors in Texas, Colorado, Massachusetts and Nebraska.
Where are you at with harvest?
We got everything picked. We finished Oct. 12.
What's your advice to others who might want to start a winery?
To do their due diligence. A marketing background is strongly recommended, and, of course, knowledge of the wine industry.
Twenty-five years from now, what would you like to be able to say about your business?
That it's been very successful. I will be with my children and grandkids and saying it was a crazy and wild thing to do, but definitely worthwhile.
Which three people would you most like to have dinner with?
Monsignor Brenkle, pastor of St. Helena Catholic Church, Bob Trinchero, and Margaret Thatcher.
What's something people might be surprised to know about you?
I watch Mexican novelas. My favorite is "Amor Real."
What's on your to-do list?
To live for a year in Prague.
What other business person(s) would you like to see featured in "10 Questions for…"
Ignacio Delgadillo, Jr. and Sr., of Delgadillo Cellars.
What was your childhood ambition?
Get married and have eight children.
I have three: ages 15, 17 and 20.
If you could be anywhere right now, where would you be?
What job would you like to try/not try?
Try: Ambassador of Mexico in Washington, D.C.
Not try: Being the head of Homeland Security.
Cashiering at the Model Bakery. I lasted two days.
What's the worst job you ever had?
Being a housewife. (I have great admiration and respect for them!)
What is one thing you hope to accomplish in your lifetime that you haven't yet?
Make Encanto Wines known all over the world.
What's your favorite thing about your work?
I get to meet a lot of interesting people. It gives me a chance to travel.
Whom do you most admire in the business world?