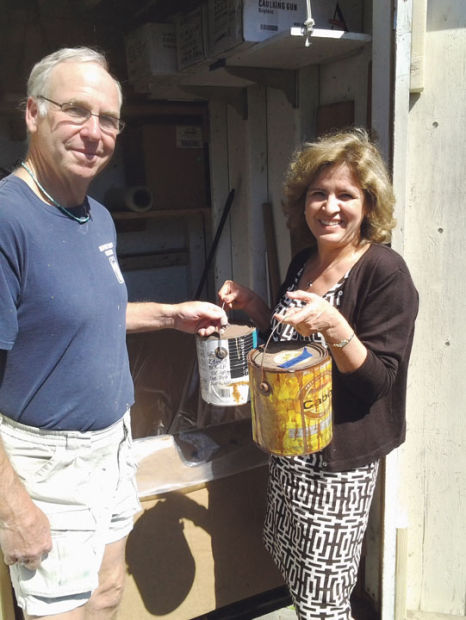 Devine Paint Center, 971 Lincoln Ave. in Napa, now accepts leftover paint for recycling. The paint store recently signed up with PaintCare, the non-profit organization running California's Paint Stewardship Program.  
Under PaintCare, a program established by the paint manufacturing industry, paint stores may volunteer to serve as drop-off sites where the public can bring their leftover paint for recycling. The program is funded by a PaintCare Recovery fee that is now added to the price of all new paint sold in California.
"It's important for us to do our share in the effort to keep the environment as clean as possible," said Mike Dunn, co-owner of Devine Paint Center with Bob McAdams.
Daria Kent, Northern California Regional Coordinator for PaintCare, praised Devine Paint for stepping up to support a cleaner community.  
"Mike is very enthusiastic about the paint recycling program," said Kent. "He wants to do something great for the community and his store helps us make paint recycling more convenient because his store is centrally located. He sees this drop-off recycling service as a win-win for his customers as well as the Napa community."
Dunn said recycled paint will be accepted during regular business hours — Monday through Friday, from 7 a.m. to 5:30 p.m.; on Saturday from 8 a.m. to 4:30 p.m.; and on Sunday from 9:30 a.m. to 1 p.m. He also noted that the store sells Visions Paint for customers seeking recycled products.
People who drop off paint for recycling do not pay for the service, nor are they charged a fee. Products accepted at Devine Paint Center's drop-off site are typical house paints — interior and exterior — as well as deck coatings, primers, sealers, stains, shellacs, lacquers, varnishes, and urethanes in containers no larger than 5 gallons.
Products not accepted include paint thinners, mineral spirits, solvents, aerosol paints, auto paints, caulking, epoxies, glues, adhesives, wood preservatives, roof patching, tar, deck cleaners or other hazardous wastes or household chemicals. Leaking, unlabeled and empty containers are also not accepted at drop-off sites.
The store has a limit of 20 gallons per visit. Call the store at 226-5211 prior to dropping off paint.
The business news you need
With a weekly newsletter looking back at local history.