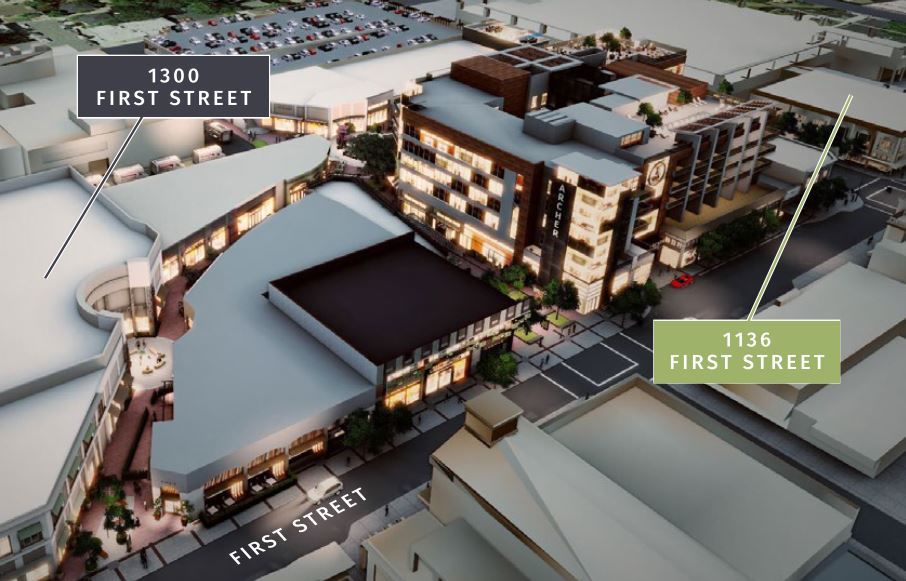 First Street Napa announced its first office tenants: Pacific Union International and Silicon Valley Bank. The two businesses will occupy space on the second floor of the former McCaulou's department store.
"We are pleased to welcome Pacific Union International and Silicon Valley Bank to the First Street Napa community," said Todd Zapolski, principal of Zapolski Real Estate, LLC.
The 2014 earthquake "changed the opportunities for the redevelopment project, naturally evolving to the incorporation of upper level offices in the former McCaulou's space," he said.
"The desire for a 24/7 energetic downtown community has been affirmed by the overwhelming demand for unique, quality office space in what's rapidly becoming a hub of activity for the Napa Valley, adding to the growth and synergy of downtown Napa."
"We are looking forward to transferring our local office to 1300 First St.," said Linda Carroll, regional executive of Pacific Union International.
"Our team is excited to experience First Street Napa's 'live, work, play' environment firsthand."
"Silicon Valley Bank has supported the U.S. wine industry for more than 20 years," said William Stevens, wine division manager for Silicon Valley Bank. "We are excited to expand into downtown Napa at First Street Napa to further our local footprint."
These two tenants will occupy an estimated 50 percent of available office space in the development. There is a total of 28,630 rentable square feet and these tenants will take up 11,100 square feet.
Occupancy is slated for early 2018, said a news release.
First Street Napa, formerly known as the Napa Town Center, is a 325,000-square-foot mixed-use development that will include 45 retail shops and restaurants, new creative office space, and a 183-room Archer Hotel.
More than one hundred professionals will occupy the second floor office space at 1300 First St., with those from Pacific Union International and Silicon Valley Bank accounting for a large share of these new office users.
The newly redeveloped building will feature high ceilings, abundant natural light, modern lobbies, secure bicycle parking, convenient access to two adjacent parking garages, and 24-hour secured entry and on-site property management, said the release.
The $200 million First Street Napa redevelopment is meant to offer "a warm, inviting setting with a distinctly Napa aesthetic to afford employees, locals, and visitors all the amenities they seek in one convenient and comfortable location," said the release.
The developer may also offer shared workspace or a co-working space on the second floor of the former McCaulou's or First Street Napa's 1136 First St. location – the Gordon Building.
A total of 9,849 square feet of "creative class" office space sitting atop new street retail will be available for lease in Spring 2018.
Creative class office space can be designed as needed to fit the creative uses and the people that inhabit those spaces, according to Nicole Mori, director of marketing and communications for First Street Napa. 
"It encourages people to collaborate, and usually requires less square footage per individual. There may be more open space in each individual office space to encourage this collaboration and less structured and traditional office space. It's conducive for those businesses that employ professionals who don't necessarily always need to be in the office—they may be out and about meeting people," she said.
The Gordon Building was constructed from 1929 through 1935 and showcases Spanish Colonial Revival styling with Spanish Renaissance details.
First Street Napa is slated to open the first series of shops and restaurants in late 2017 and is owned and managed by Zapolski Real Estate, LLC and Trademark Property Company.
Retail tenants at First Street Napa have not been announced.
"We are getting very close but still have some boxes to check before doing so. We've had some exciting tours in the past few months that we know people will be excited about," said Mori.
The business news you need
With a weekly newsletter looking back at local history.