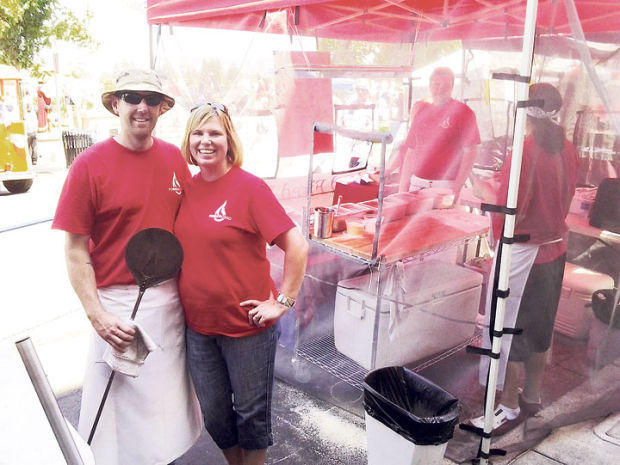 What does an enterprising young Napa native do if he is educated at a local culinary school and trained by local chefs, yet he wants to break out on his own and start a new business?
"I wanted to open my own restaurant," said Derek McClintick, a 36-year-old husband and father of two. "But the financial hurdles became a large hill to climb."
As a graduate of the Napa Valley Cooking School at the Upvalley campus of Napa Valley College, McClintick worked three months in an externship at Oenotri restaurant in Napa for co-chef owners Curtis Di Fede and Tyler Rodde.
"I liked the camaraderie and was interested in the kitchen," McClintick said. "I love to eat and learned how to cook with a wood-fired oven, which provides a flavor you can't get in a regular oven or even a barbecue. It only takes a minute and a half to cook a pizza."
He took a job at Oenotri as a line cook and later was turned over to the restaurant's charcuterie department, where Di Fede taught him how to butcher and cure meat and how to make sausage.
Eventually, however, he simply missed cooking.
"It all came around to the pizza," he said. "I went online and found a guy from Fort Collins, Colo., who sets people up in the pizza business and was selling a wood-fired oven. He came out with a trailer specially designed to hold the 4,200-pound oven."
That's how McClintick started his mobile wood-fired cooking business, Forno Rosso ("Red Oven"), two months ago. With help from Napa Valley College's Small Business Development Center, he learned how to write a business plan, get a business license and file the necessary papers.
Forno Rosso specializes in private catering, parties, wine club events and winery celebrations. The business features a buffet, with salad and appetizers.
"If you have a desire for a particular ingredient, I can find a way to put it on a pizza, as long as it's legal," quipped McClintick, a member of the Napa Active 20-30 Club.
Overall he loves the independence that comes from operating his own business.
"Working for yourself gives you the freedom to do things — I am not accountable to anyone but myself."
His wife of 11 years, Carole, a teacher at St. John the Baptist Catholic School, often helps out in the business, which is stationed during the Chefs' Market at First and Randolph streets.
"She loves it, and I couldn't do it without her," said McClintick.
The couple met during high school, when Derek was attending Napa High and Carole was attending Justin-Siena. They have a son, Carson, who is 9, and a daughter, Parker, who is 7.
"Our best is the pizza margherita, because the sauce comes from milled San Marzano tomatoes, the mozzarella and basil are fresh, and it's made with extra virgin olive oil," McClintick said.
His long-term business plan is to invest in marketing with an eye toward making it a full-time profession. In the meantime, he plans to continue his education, as time allows, at Napa Valley College and Cal State East Bay, where he hopes to earn a bachelor's degree in business.
Wherever he ends up, McClintick says, he will always be on the front line, cooking.
"I want to get my hands dirty," he said. "That's what makes it fun for me."
The business news you need
With a weekly newsletter looking back at local history.