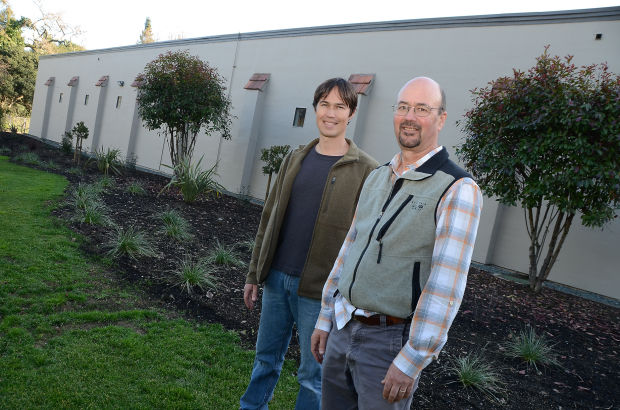 Starting a Napa landscaping business in the middle of the late-1980s recession may have been a bit risky, but looking back on 25 years of business, Lou Penning says the rocky start helped him focus on cultivating clients.
"By the time the economy picked up, we had five to seven years of established business that allowed for new referrals," said Penning, who credits the success of Lou Penning Landscapes to his personal involvement with customers.
"Being a bit of a perfectionist with an eye for detail, and enjoying what we're doing, the fact is we were determined to do quality work," said Penning, who runs the business with his son, Ben, the operations manager and vice president.
Penning recalled how his business started with mostly maintenance clients and those who wanted a distinctive style of English perennial borders, "which is a bear to keep up," he said.
"People wanted it, but once they realized what they had to do to keep it up, it was a maintenance challenge," he said. "I needed to not just please me, but make gardens that are practical."
Penning said he is happiest when he can use native plants in gardens that please him intellectually and aesthetically. Today, "We are making gardens that are suitable for all people, practical and sustainable, and that stimulate both the eye and the mind," Penning said.
New trends in landscaping suggest smaller lawns and a larger environmental context, he noted.
"When you have a professionally designed yard, you're getting a product that reflects current trends in home design and ecological management," he said. "Landscapers are a small part of a larger, sustainable movement in the building industry. We are working to be on the forefront of that and install sustainable aspects of water conservation, organic horticulture, best practices, LED lighting, local materials and bay-friendly gardening practices — all part of a gardening trend."
It's also part of a larger, industrywide strategy to keep yards contemporary and durable for the next 20 years, while maintaining property values and adopting ethical environmental standards, Penning said.
Furthermore, this new strategy is designed to save money in the long run.
"We can incorporate these ideals into any budget," Penning said. "For example, concrete is expensive, but gravel is less expensive. Sustainable features go into every landscaping budget."
Lou and Ben Penning specialize in design and installation of new landscaping projects, fencing, irrigation systems, lawns, drainage systems, concrete work and retaining walls. The company is recognized by Napa County as a Certified Green Business and as a leader in water conservation. The Pennings also specialize in maintaining landscapes in and around Napa.
"We love working with our maintenance clients to help them preserve and enhance their gardens," said Ben Penning. "We have had some maintenance clients almost since we started the business 25 years ago and it is wonderful to see the gardens grow and change over the years."
Ben said he is particularly excited about organic gardening and vegetable gardening.
Irrigation audits are conducted by the company's certified landscape irrigation auditors, while several employees are landscape industry certified, trained in bay-friendly gardening techniques and technologies designed to control flooding and improve drainage.
Ben said he is proud of the company's 20 employees.
"Some of our construction foremen have been with the company since the early 1990s, and most have been here for more than seven years," said the younger Penning. "We have a real solid crew, and we're always getting compliments about our guys, because they are courteous, efficient and friendly. All of our employees have good interactions with our clients."
He said that kind of personal customer service starts at the top with his father, Lou. And it's why he is following in his dad's footsteps.
"Landscaping was something I always loved doing, and it's a great opportunity to work with my dad," Ben said. "Everything he does is a learning experience for me. A lot of what I know comes from Lou. We are more up to speed on water conservation because he got me involved in more training and started grooming me even before I started working for the company. He's always one step ahead of the current trends."
Lou Penning credited trade groups like the 3,200-member California Landscape Contractors Association for keeping members up to date on current practices and preparing professional landscapers for future challenges, especially with regard to water conservation.
"The biggest changes are yet to come, with water runoff into streams," Penning said. "New yard regulations won't allow drainage to leave the site; there will be rain gardens, where roof water is collected in holding basins, and there are new regulations about what can and can't go into streams.
"Creating 20-year gardens will be more interesting, involving wildlife habitat and more interest in edible plants."
The business news you need
With a weekly newsletter looking back at local history.