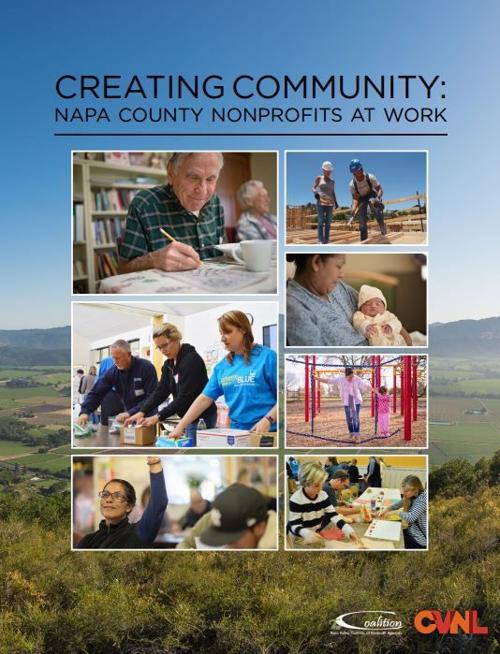 Napa County nonprofits spent more than $418 million in 2014 — 15 percent of the county's economic output.
The report was released by the Center for Volunteer & Nonprofit Leadership (CVNL) and the Napa Valley Coalition of Nonprofit Agencies.
Forum attendees included more than 50 business and nonprofit leaders, government and elected officials as well as philanthropic partners.
"The study communicates valuable information and has the potential to create significant, positive impact on the nonprofit sector and the community it serves," said Linda Davis, CEO of CVNL.
The report presents baseline information on the state of the nonprofit sector that funders, donors, nonprofit leaders, policymakers and service providers can access in order to more effectively address community needs, said Davis.
"The Napa Valley Vintners was very interested in supporting this landscape study of our nonprofit community because of the vital work it does," said Becky Petersen, member and community relations director of Napa Valley Vintners.
"The data shows how much these agencies coordinate and collaborate to bring services to people, and how efficiently they use the money that we as funders invest in them," she said.
"Napa County was proud to sponsor this first-ever study about our local nonprofit sector," said Howard Himes, director of Health and Human Services.
After the report was presented a discussion followed exploring ways people can leverage the economic, social and community value of Napa County's nonprofits both now and into the future.
The $418 million figure is understated, according to lead consultants Potrero Group and the study steering committee.
"We believe a multiplier of two — even three — applied to this figure is a more accurate representation of the economic impact nonprofits have in the community," said Cleve Justis, principal of Potrero Group.
The report also noted that nonprofit sector employment counts for 6 percent of all jobs in Napa County, following closely behind agriculture and retail trade.
Napa County nonprofits get 51 percent of their revenue from government grants and payments, with different service categories having different mixtures of revenue.
While the study revealed that nonprofits are generally financially stable, data also showed that community need outweighs current nonprofit service capacity, with 18 percent of nonprofits reporting having wait lists.
Leadership and the demands of staffing are issues addressed in the study.
A total of 54 percent of survey respondents viewed developing future nonprofit leaders as a challenge. An estimated 1,300 positions at nonprofits will need to be filled between 2014 and 2019.
A total of 77 percent of Napa nonprofits do not have a succession plan. Nearly half (46 percent) of organizations report current openings on their board of directors.
The report was sponsored by Napa Valley Vintners, Napa County Health and Human Services Agency, Collabria Care (formerly Napa Valley Hospice & Adult Day Services), OLE Health, E. Richard Jones Family Foundation, PG&E, Syar Foundation, United Cerebral Palsy of the North Bay, Peter A. & Vernice H. Gasser Foundation and Napa Valley Education Foundation.
The study was based on a combination of IRS data, surveys completed by nearly 200 Napa nonprofits as well as interviews and focus groups with nonprofit leaders.
This "mixed-method" approach produced a nuanced look at the complexity present in the nonprofit sector and the unique context of Napa County.
In addition, an advisory committee comprised of 31 leaders across the nonprofit, government, philanthropic and business sectors supplied indispensable local expertise on Napa County and its nonprofit sector.
The study provides organizations serving Napa County with reliable information to assist in setting priorities and in making collaborative and informed funding recommendations.
It also helps close the information gap presenting the economic impact of nonprofits on Napa County with supporting data and provides important insights to stimulate discussion about the role nonprofits can play to address important issues facing the county in the future.