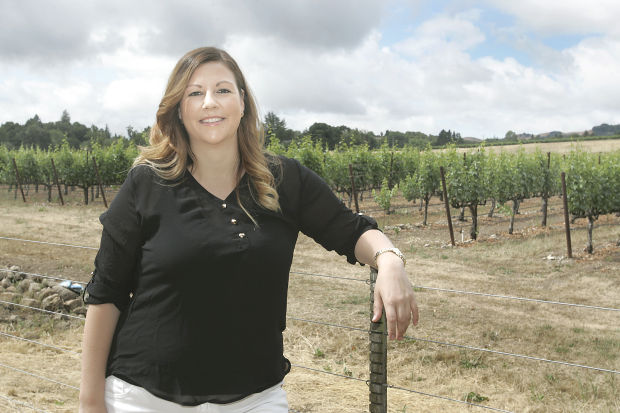 In November, Napa native Lisa McAdams was embarking on a torrid love affair with all things matrimonial.   
The relationship emerged suddenly. Circumstances nudged McAdams into starting her own venture — Lisa McAdams Boutique Events — after she got laid off from her regular job last fall. At the time, she was working as a sales manager for a local tourism transportation company.
McAdams launched her fledgling wedding and events planning enterprise in November. The decision, she said, came on the heels of McAdams assisting Napa's Kathy Higgins of Kathy Higgins Weddings.
"I did about eight or nine weddings with Kathy, and that's when I said, 'One of these days, I will have my own business,'" McAdams said. "I'm so lucky to be mentored by Kathy Higgins. … The way people are booking me and finding me is basically by word of mouth."
Some six months after its beginnings, Lisa McAdams Boutique Events — run out of McAdams' home office at 2580 Whitman St. — is going strong. McAdams has four weddings booked this year so far, all of which are taking place in Napa Valley. McAdams said she's aiming to double her wedding numbers by next year.  
McAdams, a lifelong Napa resident, offers full-scale wedding planning and "day only" wedding planning — meaning she's present the day of the wedding to make sure things go smoothly and steps in when needed. Full-scale packages, meanwhile, have McAdams overseeing everything from wedding venue, music, flowers and guest transportation to caterers, lighting and the wedding cake. An "Elopement" — a smaller, more intimate ceremony of about 30 people — is another popular choice for clients.  
McAdams' prices range from her "day only" coordination fee of $1,500 to approximately $3,500 for more extensive planning services. Phone consultations with potential clients start the planning and pricing processes.
When it comes to hot wedding trends, McAdams said "do it yourself" wedding decor and rustic chic are getting a lot of play. Brides-to-be are also looking online to websites like Pinterest for ideas. A rustic chic venue like a barn, for example, provides a "blank slate" for creative brides looking to warm up their venue with string lights and personalized decorative touches, McAdams said. Although some brides and grooms choose formal wedding and reception venues like Charles Krug Winery or Calistoga Ranch, a little creativity can also transform an ordinary place into a charming spot.  
Creating wedding memories is a family affair for McAdams, who employs her sister, Stella McAdams, as her business assistant. Lisa McAdams, who graduated from Napa High School in 2001, said that because hers is a family business, it stands out from the competition. Knowing the local landscape, both socially and geographically, doesn't hurt either, she said.  
"Because I've been born and raised here, I have great knowledge of the valley," she said. "I have great connections, and I'm a boutique-style business, which means I'm very one-on-one with my clients."
McAdams forged her connections in the wine and hospitality business during the course of her early career. Most recently a sales manager for California Wine Tours from 2006 to last year, she was previously a floral designer at Garaventa Florist. McAdams also worked as a teller at Vintage Bank. These days, she's also working for Wine and Dine Events, a Napa meeting and event planning company.
"Some of the best friends I have today are in the industry, and I've been working beside them for so long," she said, adding that she received an education in customer service at her father's business , Devine Paint Center on Lincoln Avenue.
"I grew up working at my dad's paint shop, and that gave me some knowledge about customer service," she said. "Once I got older, I started working in the hospitality and winery industries, and I started developing friendships and relationships over time."
There were early hints of McAdams' whirlwind romance with weddings. She said her childhood was filled with memories of her and her sister having mock weddings at home. This entailed fashioning veils out of household materials like sheets and pillowcases.  
In the real world, however, planning a wedding is anything but child's play. McAdams said having a finger on the pulse of ever-changing trends, possessing creative sensibilities and keeping a strong business head are all key to planning a spectacular wedding.