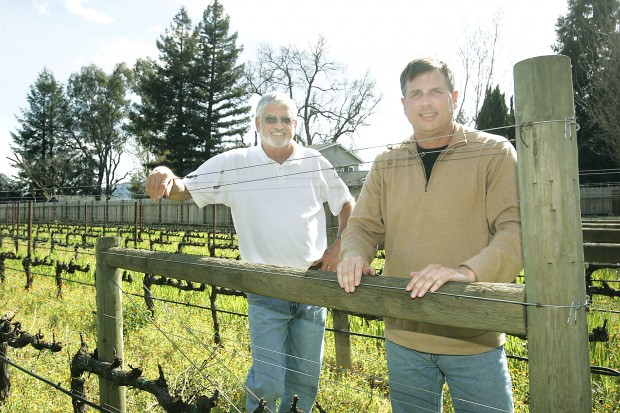 How does a small, knowledge-based agricultural business not just survive, but thrive for 40 years?
Ask Tom Prentice. Back in 1970 Prentice turned what was originally a summer job into Crop Care Associates, Inc.
Working for the Niagara Chemicals division of FMC Corporation, a large supplier of agricultural products, first during the summer while at UC Berkeley and later full time, Prentice's job was to give agricultural advice in exchange for the customer agreeing to buy agricultural products from Prentice's employer.
However a number of clients wanted to separate the advice from purchases, "more like a doctor/pharmacy relationship," according to Prentice.
Prentice, owner and chairman, started Crop Care Associates in Fresno on Jan. 1, 1970. The company provides consulting services in all technical aspects of agriculture and is especially heavy in viticulture, pest management and irrigation. At the beginning, 90 percent of the business was annual crops and 70 percent of that was pest management. Today 80 percent of the business is grapes — wine, table and raisin, but more than one half of the business is wine grapes.
The pest management aspect of the business has become less important and makes up less than half of the business, he said. Crop Care's first two wine country clients were Korbel and Robert Mondavi. Prentice signed them on a Monday and Tuesday of the same week with the help of Ren Harris, who was later to become the owner of Paradigm Winery. Harris was consulting for both Korbel and Mondavi and provided Prentice the introductions. Today, Paradigm is a valued Crop Care client.
The company has grown solely by word of mouth; a Yellow Page listing and more recently a web site have been and are today Crop Care's only advertising. The growth in the wine grape end of the business necessitated a move to wine country, so Crop Care relocated to Yountville in 1982.
Bob Gallagher, a native of St. Helena with experience in his family's vineyard, joined Crop Care around the time of the move to assist in the expansion into the northern California wine country. He eventually took over day-to-day responsibilities and became president in 2009 to allow Prentice to maintain his travel schedule.
"Thank god Gallagher is here to handle the day-to-day," Prentice said with a smile. They moved to their sparkling new offices in Napa's corporate park at the beginning of 2011.
A glance at the company web site's partial list of clients shows more than 50 of the top wineries and growers in Napa alone and as many again in Sonoma and other wine growing areas of California.
 "We are lucky that our clients have a greater number of 95 to 100 point wines than anyone else in the consulting business," Prentice said.
He is reluctant to discuss any one client without mentioning the others, but he did volunteer that Crop Care was involved in Screaming Eagle from the original purchase of the property on the Silverado Trail by Jean Phillips through the purchase by the current owner, Stan Kroenke.
"We brought them together and they both remain clients today," Prentice said. "We had recommended to Jean Phillips a redevelopment plan of part of the vineyard because of grape leafroll virus. The recommendation was accepted by the new owner and was carried out under the direction of David Abreu," he added.
When pressed to provide details of work for other legendary clients on the list, Prentice would only say that "Crop Care was the second call that (vintner) Gustav Dalla Valle made when he came to Napa ." Gallagher did add that Prentice has just returned from Armenia where he reviewed a site and produced a vineyard development plan for noted local winemaker Paul Hobbs.
Prentice is proud that his first two clients in the San Joaquin Valley in 1970, Circle K Ranches and Simonian Farming Company, are still clients today.
When questioned about the secret of the business's longevity, Prentice said that it is paramount "to be a good listener as to what the client's problems are and to be very candid and honest on what can be done about the issues. We must make sure that we have conveyed accurately what research shows is true and what we extrapolate from that."
Crop Care Associates is scrupulous in avoiding any conflict-of-interest issues by only providing advice. It does not represent or derive any benefit from the sale of any of the products it recommends, Gallagher said. "Staying completely independent of the sales of any recommended products was critical," he said.
Prentice said he has no plans to retire and  does not believe in retirement. "I couldn't find anything else to do and I have a fear of starvation!" Asked if he still enjoyed the business, Prentice quipped "I get 70 hours a week worth of enjoyment."
Prentice and Gallagher both feel fortunate that they have clients that are expanding and Crop Care is expanding with them. Prentice is concerned with keeping up with technology and Gallagher emphasized that 80 to 90 percent of their clients today did not even exist in 1970 when the company started.
Today the company with its 10 full-time and 6 part-time employees services clients from Mendocino to Santa Barbara counties and from Yolo through Kern counties and in at least a half dozen countries.