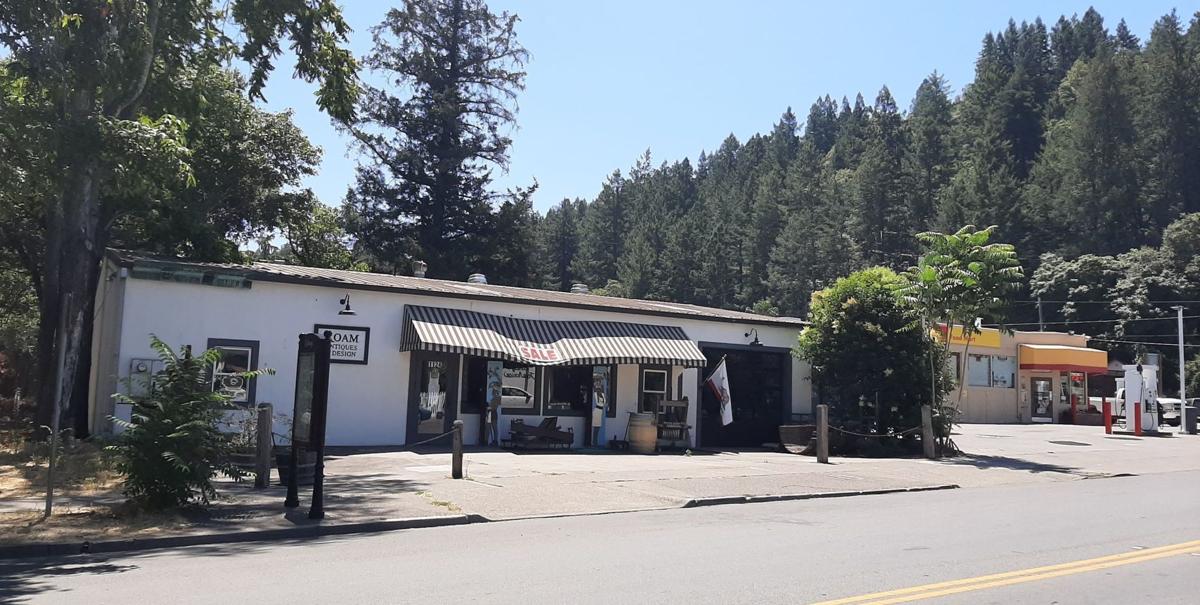 ROAM antiques shop owner Mario Sculatti has been granted a postponement by the Calistoga Planning Commission for his application to transform the business into a wine tasting and retail concept, with the condition he can prove he can take better care of the property.
Calistoga already has 10 tasting rooms in the downtown area. But before the planning commissioners could get to the complex discussion of adding another one, they took issue with the "history of neglect of the property" at 1124 Lincoln Ave. At last Wednesday's meeting, Planning Commission chairman Paul Coates called it "an embarrassment to the gateway to our community" and was not in favor of moving the project forward.
In a bluntly worded and sometimes emotional discussion, commissioners questioned Sculatti's commitment to the business and the upkeep of the property.
Commissioners cited the languishing landscaping and the building's awning, which was damaged last year by a falling tree. Sculatti had the tree removed, but the awning has remained in disrepair.
"We have an eyesore there, and have had an eyesore for quite some time. It needs a makeover and should have got one long ago," Coates said.
Both Coates and vice chairperson Tim Wilkes said they have taken heat from the community about the state of the property. Wilkes referred to it as a "permanent garage sale."
Sculatti apologized, saying, "I understand you're not happy with ROAM, I'm not either. It has a saggy awning, but I'm not willing to invest $3,000 in an awning I'm going to tear down."
There are no open code violations of the property, according to Planning Director Zac Tusinger.
Sculatti opened ROAM in 2014. The new plan calls for a rebranding of ROAM Antiques to Vault 9 Wine + Antiques, serving Sculatti's own wine brand. As part of the project, he intends to upgrade the building's interior and exterior, including additional fencing and landscaping.
The proposal prompted several other business owners near ROAM to write letters supporting the idea of a tasting room on the west side of downtown, to revitalize that stretch of Lincoln Avenue.
Sculatti tried to convince the commissioners of his business integrity by pointing to the success of Rutherford Wine Vault, his wine storage company in Rutherford.
"I understand your opinions of me, but if you could see the other property, the reality is I am one man who was operating three businesses. I put $800,000 in Rutherford Wine Vault and a lot of effort to make it work," Sculatti said, inviting the commissioners to tour the new facility.
Commissioner Alissa McNair said the commission was not interested in seeing his other properties. "You're going to have to show us in Calistoga, not your other locations," she said.
Sculatti said he was not willing to invest in ROAM with the current building and lack of customers, as he was building up the other businesses before investing in ROAM. He expressed frustration at objections to the project, saying, "I didn't realize (the application process) was going to be like this, but I can play this game, that's fine. When you see other work I've done, it could change what you think of me.
"I admit that I have been spread a little bit thin, but every single one of the moves that I have made in the different businesses that I have built are very stable, even during the pandemic."
Coates responded, "I didn't know this was a game... I applaud you for being successful at your other venues and leaving Calistoga behind with an eyesore.
"We get this all the time," he said, referring to applicants failing to comply with the conditions placed by the city. "It's undermining our system. It's harming our town. People need to adhere to conditions they agree to."
Wilkes added, "I have no confidence in the execution (of the project)."
With the exception of Coates, commissioners were less resolute about nixing the addition of a tasting room.
Weighing the need to stem the fallout from an impending economic depression due to COVID-19, and empty storefronts on Lincoln Avenue, commissioners also cited a lack of clear guidelines for how many tasting rooms in town is enough.
"What's the magic number?" Wilkes said. "We have been trying to get our arms around 'how many is too many wine tasting rooms' and we are at a critical position now (especially) with the recent closing of All Seasons Bistro and Enoteca wine shop. We're going to lose this town. We're at a critical juncture."
He also cited the need to maintain Calistoga's small-town character and noted the city of Healdsburg has rejected additional tasting rooms on the town square.
Commissioner Doug Allen said he was open to the idea of another tasting room, but Sculatti needs to prove "he can take on more responsibility.
"Use your positive energy and put your money where your mouth is," Allen said. "The quality of the operation running the business is critical. The discussion should go deeper than wine tasting or no wine tasting."
Coates was firm in his stand on no more tasting rooms. "I have been very vocal about a proliferation of wine tasting rooms. That is not good for this community at all. We need to diversify a little bit more. I do not want to see more wine tasting rooms," he said. The commission directed staff on the need for future conversations about wine tasting rooms limits, and a need to get input from the community. A motion carried with the exception of Coates to give Sculatti more time to come back to the commission with a reworking of his plan.