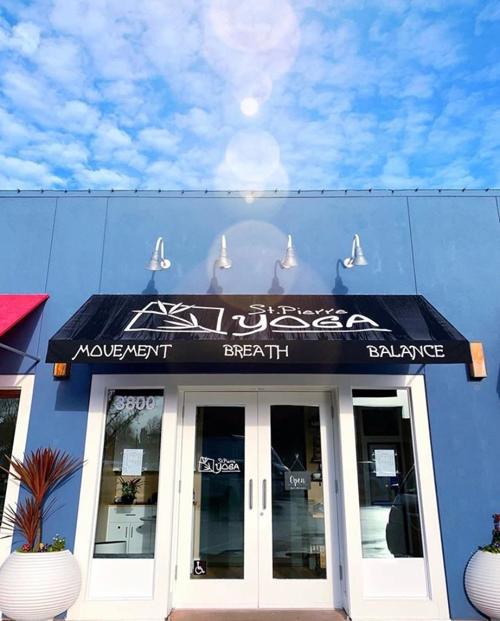 Locals familiar with St. Pierre Massage and Spa will find a second, related offering, one that is also located in Napa.
The business has opened St. Pierre Yoga at 3800 Bel Aire Plaza, between Sift and La Vie Nail salon.
St. Pierre Yoga is "a welcoming and inviting yoga studio that keeps yoga accessible and fun for students of all ages and experience levels to explore," said a news release from business operations director Michelle Perotti-Kline.
A St. Pierre Yoga a total of 11 "knowledgeable, friendly, and nurturing yoga teachers provide a comfortable class experience," said Perotti-Kline.
"Each person receives personal attention in our warm and pleasing yoga studio, which is in the elements of nature," she said.
The yoga studio provides a variety of different classes including Vinyasa Flow, Foundations, Yin and Yoga Nidra.
St. Pierre Massage and Spa on Clay Street, which opened more than 14 years ago, remains open.
"Locals and visitors from all over the world have come to enjoy our relaxing massage and sauna services," said Perotti-Kline.
"We opened this beautiful, relaxing yoga studio with the same spirit as we have at the spa," she wrote.
"Our yoga classes will be customized and guided by warm and friendly teachers who will lead you in this five-star experience in the elements of nature," said Perotti-Kline.
"We strive to teach the most basic principles of yoga from breathing techniques, sitting and standing poses, and combining breath with movement while transitioning through a sequence of poses and guided meditation."
"We strive to teach you how to relax in the middle of a world that is filled with stressors," she added.
Yoga cannot cure a disease, "but it can prepare the body in a way so nature can do the healing it is meant to do. Your experiences will be at your own pace, and you will be encouraged to stay within yourself."
Info: 707-681-0616, 3800 Bel Aire Plaza, stpierreyoga.com. The studio will host an open house on Wed., March 11, from noon to 4 p.m.
The business news you need
With a weekly newsletter looking back at local history.