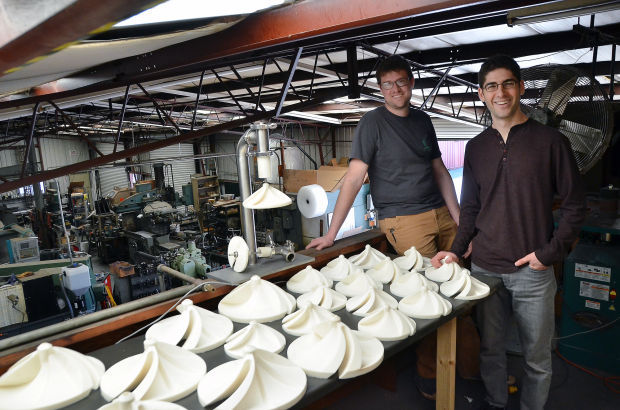 A chance Fourth of July meeting of two like-minded "machine geeks" has yielded an innovation aimed at improving a tedious but critical step in the winemaking process.
Alex Mitchell and Evan Schneider have developed a device that they say will speed and enhance the process known as "pumping over," a cellar procedure required during the fermentation of red wine. Under their company name Vinnovation, the two partners designed what they have named the "Lotus" pumpover head with the help of several Napa Valley winemakers who were frustrated with previous designs.
Mitchell said the pumpover procedure is a critical and often labor-intensive part of red wine production. After wine grapes are crushed, the juice, skins and seeds are collected in a fermentation tank. The juice settles and the skins and seeds float to the top, creating what is known as a cap. During fermentation, winemakers work to keep the juice in contact with the seeds and skins, which add color and flavor compounds to the resulting wine. This is usually done by pumping the juice to the top of the cap and letting it percolate down through the skins and seeds.
"I like to think of it (the skins and seeds) like a teabag," Schneider said. "If you had a teabag that just floated to the top and just dried out on top of your tea, you'd want to push it back down to make a good tea."
"To get a good, high-quality wine," Mitchell added, "you want to pull the colors and the flavors out of those skins (and seeds). It (the pumpover process) varies greatly but typically it happens between three to five times a day, for weeks on end."
Before pumps were available, winemakers would push the cap down into the juice several times a day, a process called punching down, Mitchell said. Today, the most basic pump-over technique involves a cellar worker manually directing a hose over the cap. Mitchell said that various mechanical devices have been used to automate the process but, according to many winemakers, the technology has fallen short. The primary problem, they said, was the uneven distribution of the juice as it was pumped onto the cap.
As owner of York Machine Works in St. Helena, Mitchell is well versed in the mechanical needs of the wine industry. He began pondering the pumpover problem after discussing possible solutions with several of his winemaking clients. On July 4, 2012, Mitchell was using the holiday to catch up at his shop when Schneider dropped by.
"He just needed some material cut up and, since nobody else was here, we just started talking," Mitchell said.
Schneider had just earned a degree in mechanical engineering from MIT and was heading to Stanford for graduate school. He and Mitchell seemed to gel and soon the discussion turned to the pumpover device.
"He's a mechanical engineer," Mitchell said, "and I knew the wine industry so we put our heads together and came up with a new design."
The two focused on creating an affordable, low-maintenance device that sprays the juice evenly over the skin/seed cap in the fermentation tanks.
"We wanted to make it with as few parts as possible for ease of cleaning and service," Schneider said, "and simplicity is always best."
To achieve the desired uniform distribution, Mitchell and Schneider concluded that the device needed a spinning impeller shaped with a complex set of contours. For the unusually shaped impeller and other components, the two designers used 3D printing technology to quickly produce prototypes that could be tested and refined. Early design work on the Lotus was done at a smaller scale using Schneider's 3D printer, a sort of home version of high-end industrial 3D printers.
"With the new manufacturing capabilities coming out with 3D printing, 3D CAD drawing and things like that," Mitchell said, "we were able to make a shape that you can't machine. It would be impossible at any reasonable price to have a machine cut it out of a hunk (of material)."
Made of food-grade urethane, the resulting impeller design is as artful in form as it is functional. As the grape juice is pumped onto it, Mitchell said, the flow forces the impeller to spin, which in turn broadcasts the liquid in an even circular pattern across the entire cap. He said that the head is easy to install, easily portable and more affordable than other pumpover devices. Mitchell and Schneider also have a patent pending on the innovative device.
Mitchell and Schneider received input from several Napa Valley winemakers and cellar masters who welcomed the team's efforts to create a more efficient and effective pumpover head. Mitchell said the production version of the Lotus device is currently being thoroughly field-tested by a winery in New Zealand, which is now in its harvest season.
"So it will hopefully be completely tried and vetted through an entire harvest before our (2014) harvest starts," he said. The Lotus device is now available in three sizes and sold through York Machine Works and several other winery equipment suppliers.
As their collaboration evolved, Mitchell and Schneider formalized their collaboration by forming Vinnovation. The company is focused specifically on research and development.
"Vinnovation doesn't sell anything," Mitchell said, noting that the company is separate from York Machine Works, which is currently sole manufacturer of the Lotus device.
Mitchell, whose father owns a vineyard management company, was born and raised in St. Helena and earned a master's degree in Industrial and Technical Studies from Cal Poly. After working for a company in Southern California he returned to St. Helena in 2004 and was hired by John York, who had started York Machine Works in 1973. Mitchell bought the business 2010 when York retired.
"I grew up knowing about the vines and the fruit," Mitchell said. "The winery aspect of it I didn't start learning until John York hired me here."
York started the machine shop partly in response to the growing needs of the Napa Valley wine industry, which was rapidly expanding in the 1970s. The company grew to become a key resource for wineries, Mitchell said.
"Years ago, this shop made its living off of doing repair work on all of these older machines that had been imported from Italy decades and decades ago," he said. "It's more and more corporations buying up all of the small wineries … they come in and do improvements and its all brand-new machinery now. So we're doing less and less repair work and doing more and more product development and sales."
Mitchell said that in-depth knowledge of the intricacies of the wine industry has always been a big part of York Machine Works.
"It's a real benefit for the wineries to have a place like this that understands the ins and outs of what winemakers and viticulturists are trying to do," he said. "If you have an emergency you can come here and I can afford to stop what I'm doing and help you out. That's not really easy to find anymore."
Schneider was raised in Oakland but for the past 15 years has spent most weekends in St. Helena at his family's second home. He is planning to complete his master's degree in the next few months, and hopes to continue designing and creating products from the ground up.
"If I can be fortunate enough to continue doing things like this," he said, spinning the artfully formed Lotus head, "I would be a happy camper."
Mitchell said he almost immediately recognized Schneider as a kindred spirit. "I realized that like me, he's really hands on," Mitchell said. "You think of a mechanical engineer and you think of a guy at a computer designing stuff. Well his (Schneider's) garage is full of smaller versions of all of these tools. He's totally into it."