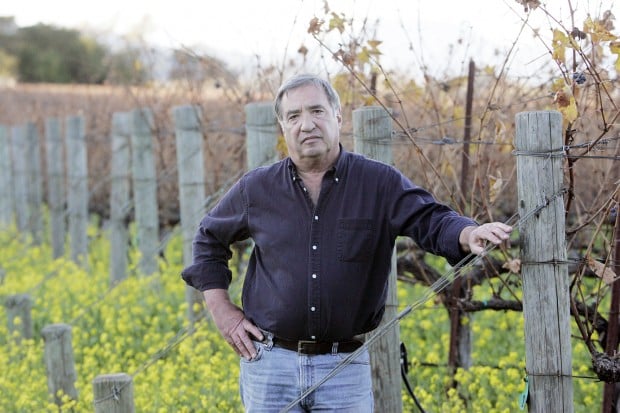 As a young, Manhattan-born man, Mike Wolf was a history major at Alfred University in upstate New York. He never studied viticulture or enology at a school like UC Davis or Fresno State, yet today, Michael Wolf Vineyard Service farms 825 Napa Valley acres for some 30 clients, including Cakebread, Vine Hill Ranch, Meteor, Lail Vineyards and J.J. Cohn Estate.
Leaving New York in the 1970s, Wolf said he landed his first vineyard job as a farmworker in a 500-acre vineyard development near Mendocino.
"I walked the vineyard rows with shovel in hand, working with some of the most knowledgeable older guys I have ever met," he said. "They had an innate sense of what each vine needed. They knew the difference between a strong, healthy vine and a weak one. I was a sponge and learned all I could. I finally knew the direction I wanted to take in life."
While he had practical experience, what Wolf did not have was a degree from a well-known viticulture program, such as the aforementioned universities' — which he said made finding his next vineyard job difficult.
But then Wolf met Andy Cangemi, who was in charge of developing more than 1,000 acres in Pope Valley.
"Andy didn't need or want a 'kid from Davis' who had never worked with crews, couldn't speak Spanish or had never ever spent a day working under the hot sun," Wolf said. "He was looking for someone with practical experience who wanted to learn more, and he hired me."
The Pope Valley vineyard was challenging and different from the work he had done in Mendocino, Wolf said.
"It was colder in spring and hotter in summer. The soils were shallow when compared to Mendocino and would not hold much water," making irrigation tricky, he said.
"Andy guided me to learn what was important," Wolf said. Cangemi also hired Amand Kasimatis (a former California State University extension viticulturist) to work with the team. "I loved learning from them," Wolf said.
After the Pope Valley vineyards were sold in 1991, Wolf joined Andy Beckstoffer to help with vineyard development in Napa. "It was a great transition," Wolf said. "I began learning a different level of quality and winemaking."
In 1997, Beckstoffer and Wolf parted and eventually, Michael Wolf Vineyard Services was founded.
"My success is based on being true to the idea of getting the best out of any piece of land," Wolf said.
According to Wolf, some growers are "mechanical guys" placing great value and emphasis on fancy tractors, mechanical harvesters and spray rigs. Others are "technical guys" relying on consultants, analyses and gizmos.
Wolf said his most valuable asset is people.
"I think that's where you make it or break it," he said. "If you put a 15-person crew in the field and they don't know what they are doing, they can make a great big mess in a half an hour."
"One lesson I learned over the years is about respect for farmworkers," he said. "And I would never have developed that had I not actually been one. I'm not sure how vineyard guys can tell workers to do something if they don't know what it actually feels like. If you don't know what it feels like when it's 105 degrees and you've been out there for five hours, how do you know what to expect? You have to have realistic expectations, and to do that I think it helps if you've experienced it."