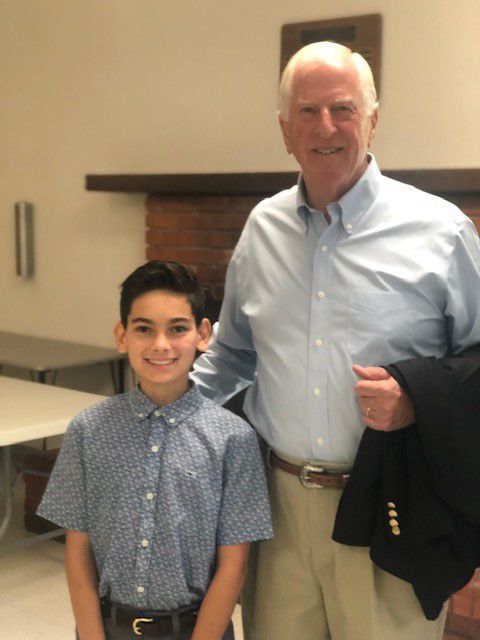 What could have been another lazy summer day in 2019 was instead a life-changing moment in time for a 12-year-old Napa Valley resident Cooper Steffensen.
Cooper's mom, Teri Steffensen, had found an event on Facebook that she thought might be interesting—a free financial education workshop for youth was scheduled nearby.
Cooper, his 15 year-old brother and a friend spent that afternoon at a Mad City Money seminar, hosted by Travis Credit Union.
"I knew business was something I was interested in," said Cooper.
"But it wasn't until I actually got to apply what I learned in the simulation that I realized how much I liked it. I got to thinking that all kids my age should have access to this information."
Mad City Money (hosted by Travis Credit Union since 2009), is a three-hour interactive workshop the gives young adults the opportunity to make decisions about budgeting, spending and saving in an assigned-life scenario.
Using an app, the students are given an adult 'identity' with income and bills to pay—including an occupation, salary, debt, marital status, and even children. They visit 'merchants' to choose housing, transportation, childcare, necessities and wants. Their decisions determine if can stay within their budget—or not.
As in real life, the merchants 'upsell' their products, encouraging the participants to spend more than they may be able to afford.
"I ignored their attempts to pressure me to overspend," laughed Cooper.
Those who 'overspend' have to return merchandise, "which can be very eye-opening for some students," says TCU Community Engagement Officer Kris Petnicki. "Bill-paying and financial responsibilities is a new concept for a lot of these kids."
A 2017 T. Rowe Price Survey stated that 69 percent of parents have some reluctance to discuss financial matters with their children. For those who do not have the opportunity to learn about healthy financial habits at home, programs like Mad City Money is helping with preparedness for future financial encounters.
"Putting what I'd been taught into practice really opened my eyes," said Cooper. The experience made him recognize he had a keen interest in business and economics – and also got him to think about the importance of educating youth and what role could he play.
He was inspired to write a letter to U.S. Rep. Mike Thompson about his view on the need for financial education for youths, and then had the opportunity to meet Rep. Thompson and briefly discuss the issue at a "Coffee with our Congressman" event in Calistoga this summer.
"I was the youngest person in the room," he laughed.
Cooper saw an opportunity to share with his own classmates what he's learned through a project he designed for his required 8th grade service project at The Presentation School in Sonoma.
He will be producing a series of financial education webinars in the spring semester based on the Mad City Money curriculum, culminating with an optional 'final' to see how much the students learned from the program.
"I know all the teachers will be eager to participate, and will encourage their students to do the same," said Natalie Rentz, Cooper's 8th grade teacher.
"Mad City Money is a free seminar that teaches young adults about financial decision making that could make a huge impact in their lives," said Barry Nelson, President and CEO of Travis Credit Union.
"Cooper is a great example of the potential ripple effect of this program, and how its benefits can impactful lives beyond the classroom."
Mad City Money info: 707-469-4966.
The business news you need
With a weekly newsletter looking back at local history.