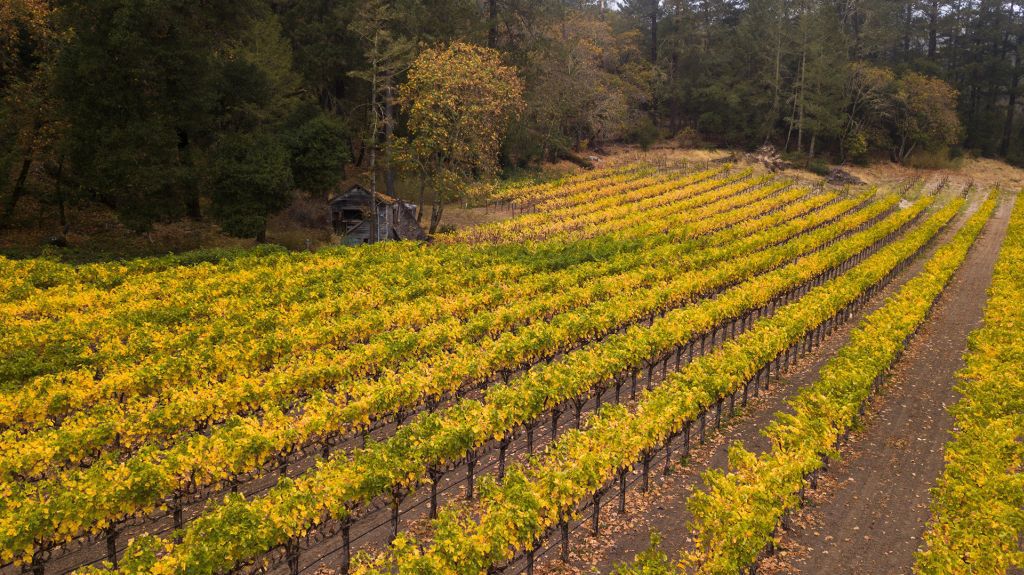 Add Calistoga's wine trade association to the list of Wine Country groups spreading the word that damage to vineyards and wineries in the city is little to none, tasting rooms are open, and there is fine, premium wine to be drunk.
A handful of wineries suffered some damage to portions of their property, but none in Calistoga were destroyed. Others lost some of their 2017 vintage that was already in tanks and got spoiled after electricity went out. Fermenting wines were lost because of smoke, heat, lack of power, and a lack of access that prevented winemakers from paying attention to the wine.
Tom Eddy, president of the Calistoga Winegrowers Association, is working with several insurance companies to assess the damage.
Not all of the 2017 vintage was lost, though, said several Calistoga wineries, and most of them didn't incur any physical damage, assuring visitors and wine club members that their grounds and tasting rooms are just as beautiful as ever.
There was no physical damage to Summers Estate Wines on Tubbs Lane – the road the Tubbs Fire was named for – at the winery or to the vineyards, said owner Beth Summers, whose home in Knights Valley was affected, but not destroyed.
"We were evacuated like the rest of Calistoga on Oct. 11. We got the winery offices open again on Oct. 17, and reopened the tasting room on Oct. 19," Summers said.
At the Napa County and Sonoma County borders that run through Tom Eddy Winery, the fire burned grass and trees, took down a storage shed and damaged a car, but did not harm the winery equipment or their home and office building, though burn marks that come up to within a handful of feet of the office indicate the fire was very close.
The loss of electricity and the high temperatures that followed the fires took a toll on the Tom Eddy wines and other smaller wineries that use the facility for production.
Not far from Tom Eddy Winery is Storybook Mountain Vineyards, which lost a building that housed 40 years of library wines and a redwood grove adjacent to the winery and office building, but were back to work doing pumpovers just days after the start of the Tubbs Fire. The roots of the redwood trees were still burning a few days after the fire swept through the area, leaving behind holes in the ground where root once filled the space.
Bennett Lane Winery sustained some damage, but nothing that could keep them from opening their tasting room after evacuations were lifted and roads were opened. The winery's security cameras are being used in determining the start of the fire, which occurred close to its location on Highway 128 near Bennett Lane.
All around the city there are golden colors speckling the landscape as the grapevine leaves reveal that Wine Country truly does have seasonal changes.
"Our vineyard was fine and suffered no damage. It is adding to the fall glory," said Kellie Duckhorn of Baldacci Family Vineyards at the northwest corner of Highway 29 and Diamond Mountain Road.
Tom Thornton, proprietor of The GRADE Cellars, evacuated twice from his Calistoga home. One time it was voluntary, the next time it was mandatory. He and his wife Brenda Mixson, co-proprietor, weren't sure what to expect when they returned.
"We thought we had lost the vineyard, or at least the harvest," Thornton said. He and their winemaker Thomas Rivers Brown headed out to the vineyard.
"Thomas and I went in to discover beautiful fruit with no ash. No sign or lab results of (smoke) taint whatsoever. We immediately scrambled a big crew and harvested the next day," Thornton said. "We were downright giddy. It was a miracle."
And that is pretty much how most wineries are feeling these days.
Many tasting rooms donated tasting fees for a period of time to fire relief funds. Some designated proceeds from wine sales to the recovery efforts, and members of the community are banding together to support one another.
A message on the Calistoga Winegrowers website sums it up:
"The best way for Calistoga and the rest of wine country to heal from this tragic event is for our guests to know they are welcome and please come back to visit. Patronize our businesses, eat at our restaurants, enjoy our local products, and buy our world class wines.
"The wine industry is more than just about selling wine. It is about family, about community and about helping others. This is our livelihood, our passion and we love sharing it with all of you.
"We can speak for all of Calistoga when we say, we hope to see you soon!"