Calistoga's geologic formation and AVA status have something in common: They are both young. The AVA became official in 2010 and the geology of the region dates to about 1 to 3 million years ago, making both relative newcomers.
"The Vacas are about 2 million years old, and the Mayacamas could get as young as a million, but they start about 3 million years ago," said geologist David Howell.
"Could you create a mountain that big in a million years?" Howell asked, pointing to the Mayacamas Mountains to the west of Jericho Canyon Vineyard where he was standing. "Easily. We've measured uplift rates on faults and it's between a half and one millimeter a year, on average. Now it doesn't do it every year," he said adding that four years ago during the 2014 Napa earthquake there was an uplift of about four or five centimeters.
Howell, leading a group of wine writers on a geologic tour of the Calistoga AVA (American Viticultural Area) organized by the Calistoga Winegrowers Association and Visit Calistoga, took the group back geologically 300 million years ago when Napa Valley didn't exist – "There was no land here, we were underneath the deep ocean, the shoreline was about where the Utah-Nevada border was" — and worked his way up in time to the formation of the Calistoga AVA, which he described as having a "V" shape with the point of closure at the northern point of the AVA, a feature attributable to no other AVA in Napa Valley, he said.
The AVA is wrapped on either side by mountains, essentially folds of the earth. He demonstrated their formation by sliding a piece of paper from two sides toward the center creating mounds and valleys.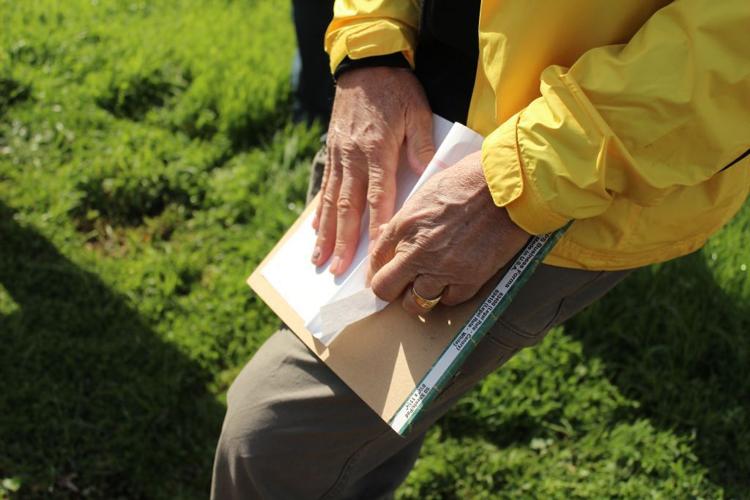 The writers were gathered to learn more about the AVA, what makes it geologically special, and how that influences the wines of Calistoga, while discovering more of what makes Calistoga a wine lover's and tourist destination.
On a clear sunny day in late January Howell stood on a hill at Jericho Canyon Vineyards, on land that rose above the winery's cave below, and described how the earth's plates slipped or collided to create the region where the AVA is located. Starting in southern California, a series of volcanoes "started marching up" about 24 million years ago, and as the earth continued to move, sometime around 10 million years ago Berkeley was formed. It would be another million years before the Napa-Sonoma area would start to develop.
"What happened about 26 million years ago was this oceanic plate was diving down (and) suddenly changed motion and started sliding," Howell said. It was that movement that ultimately led to the formation of volcanoes in the Napa and Sonoma regions.
The myth of Mt. St. Helena
All of Calistoga was created through volcanic activity, but he dispelled any myth that it was the doing of Mt. St. Helena. Mt. St. Helena is not a volcano, he said. There was a volcano, or multiple volcanoes near it though, and when one erupted a landslide caused the eruption to blow laterally instead of vertically, the result of which is visible at Petrified Forest, he said.
"Mt. St. Helena as an edifice is not a volcano, it's an erosional feature of volcanic rock, like the Matterhorn; same thing with Mt. Veeder," Howell said. "A volcano is very poorly constructed. It's made up of explosions and flow and they don't last very long. A volcano will erode away and collapse. What's happened is all this volcanic rock has been squeezed and created the Vaca Mountains and as it's been squeezed it then erodes away and it just so happens it looks like a volcano."
All of Calistoga is on volcanic base formed about a million years ago. "The character of that volcanic rock is quite varied," and any soil on top is the result of erosion, Howell said. In contrast he noted that the Oakville AVA has alluvial material that is probably as old as 3 million.
"(Calistoga is) actually a really good AVA, it's highly uniform in terms of bedrock, it's all volcanic rock. It's largely residual, meaning it's a big bowl. You have the Vaca Mountains here, they kind of wrap around the valley, pinching out to the north and then it goes into the Mayacamas, so it's sort of self-contained," Howell said.
Calistoga is one of three sub-appellations in Napa Valley – the others are Coombsville and Oak Knoll – that geologically "are pretty uniform in character, whereas the others have a lot of diversity."
"There's greater differences geologically across Oakville than there is between Oakville and Rutherford. From a marketing point of view that becomes an issue," he said.
Andesite vs. tuff
There are some geologic differences within Calistoga's AVA, such as the type of rock buried beneath the soil, and when it comes to the wine product there are differences influenced by humans, effects which Howell and winemaker Tom Eddy, who helped narrate the outing, discussed together later in the tour.
At the back of Jericho Canyon's cave is a frame that reveals the andesite rock into which their vines dig deep, searching for water and nutrients. About six miles away as the crow flies, Howell showed the group a similar view of what makes up the base of Davis Estates Winery's bedrock – tuff. Light in color and weight, the framed section of the igneous rock in Davis' cave can be scraped with a fingernail, revealing a powdery substance, soft compared to the granite-like andesite at Jericho.
Demonstrating tuff's not-so-tough composition, Howell swung a hammer on a football-sized piece of tuff taken from the Davis property, breaking it into smaller pieces. To illustrate its porous nature he laid a 3-inch sliver of the rock on his tongue, where it stuck until he removed it.
As uniform as Calistoga may be in comparison to other AVAs, there are myriad ways for wines to differentiate themselves from one another within an AVA, Howell and Eddy agreed.
Eddy, a longtime winemaker for multiple well-known wineries as well as his eponymous label, and past president of Calistoga Winegrowers, asked Howell to discuss "aspect and slope" in the Calistoga AVA.
"Aspect is the orientation of the hillside," and which way it is facing such as north or south. "Calistoga, I imagine, has as much variation as you could possibly have, because of the hillsides," Howell explained. "There is lots of variation and that has a lot of impact in terms of solar radiation ... are you getting morning sun or afternoon sun bearing down on your vines" both of which can be mitigated or expanded upon based upon "your orientation that you choose as well as how you prune."
"There's a lot of thought that the vineyard manager needs to put into, in terms of the clone, the varietal that they have, and are they getting morning sun or afternoon sun. And finally it's the elevation itself, and of course as you go up in elevation you're generally getting cooler, but that again can be a bit of a misnomer because of the fog. If you get up above 1,200 feet at 10 o'clock in the morning it's probably warmer there than it is down here. But by 2 o'clock in the afternoon it's going to be cooling. The daily fluctuation of temperature is going to be quite variable and that then becomes an operating characteristic of a particular vineyard."
The rainiest AVA
The diurnal fluctuations of Calistoga – the difference in daytime heat compared to nighttime low temperatures – is among the "Nine Calistoga AVA Facts" that Eddy created for CWG's talking points. Two types of fog – one that rolls over the hills from the Russian River and the other from "valley fog" — are also important characteristics.
"If you get up to a higher elevation and you look down at Calistoga early in the morning, on many summer days it's all in fog. Then as the day warms up, the sun warms up, the temperature rises. The fog doesn't blow away, it sublimates, it just goes back into the air," Howell said.
Rainfall is another of the trade association's differentiators, since Calistoga typically gets more rainfall than any other AVA in the valley. Howell said Calistoga's average is around 37 inches compared to "about 20 inches in Yountville."
There are essentially two types of soils, Howell said. One is the result of the decay of volcanic rock, and the other is alluvial soil that results from "catastrophic storms."
"It was a horrendous disaster but think of those images – Montecito, Santa Barbara – where all that debris went down and covered Highway 101, that's how you make alluvial fans. You don't make alluvial fans by just a lot of rain falling down. Alluvial fans occur when there's something really catastrophic, a 1,000-year-storm or in that case it was a major fire, then 5 inches of rain – it was a pretty big storm — and all that loose debris pushing down," Howell said.
Perfect for cabernet
Calistoga has both types of soils, but what it really comes down to is that the staple varietal of Calistoga grows well in the AVA's conditions.
"I think what it comes down to is, cabernet, it can get all it needs in a very austere rock. It doesn't need a lot of minerals, in fact you don't want to give it too much. You want it to kind of suffer and work hard, and you also want to limit the amount of water that it can have. And you want to have it in the right temperature, in the right aspect and all that," Howell said.
Howell is a Fellow of the American Association for the Advancement of Science and the Geological Society of America. He has been working with Napa Valley Vintners for more than 25 years and is the co-author of "The Winemaker's Dance: Exploring Terroir in the Napa Valley." Eddy called it a must-read for anyone interested in wine, since it answered all the questions he had that weren't answered in college or in years of winemaking.
After retiring from the U.S. Geological Survey, Howell was an adjunct professor in Stanford's School of Earth Science from 2005 to 2009. He received a Ph.D. from UC Santa Barbara and has authored more than 150 scientific articles.
The business news you need
With a weekly newsletter looking back at local history.