Once bound for slaughter, horses find refuge at Aureole Ranch in Upper Napa Valley
As you enter the Aureole Ranch property on Tubbs Lane, you'll be greeted by Merlin, your new four-legged best friend.
Based on his outgoing personality and eagerness to be scratched, you might mistake him for a black lab if it weren't for the blatantly obvious fact that he's a mule, one of 18 equines in the care of Aureole Ranch Horse Rescue.
Monday was dental care day at the Tubbs Lane location of Aureole Ranch, which also keeps animals on rented land on Ehlers Lane outside St. Helena and Ida Clayton Road in Knights Valley, west of outside Calistoga.
Many of the animals, having been saved from a one-way trip to the slaughterhouse, are elderly – in their late 20s or 30s – and literally long in the tooth. Dental care is crucial because teeth that get too long or sharp can cause mouth injuries and serious abscesses.
The animals are being cared for, rather than served as meat in Canada or overseas, thanks to Anne Houghton, the founder and executive director of Aureole Ranch.
Her love for horses began when she got her first pony at the age of 4. Today she works full-time in the tasting room at Maldonado Vineyards and runs Aureole Ranch during her free time. It officially became a nonprofit in 2013.
"Horses may be great for racing and 4-H camps, but people don't realize that when they take them to auction their chances of going to slaughter are huge," Houghton said. "About 130,000 horses a year are exported from the U.S. to Canada and Mexico for slaughter."
She's acquired some of Aureole's 14 horses, three mules and one donkey by buying them from "kill buyers" who are in the slaughtering business, or at least outbidding those buyers at auctions. She'll sometimes pay as much as $500 or $600.
That's how Grace came to Aureole Ranch. She's a mare with a haughty attitude who revels in dominating her less assertive companions, mostly by chasing them around. At one point on Monday she was on the verge of kicking Merlin for no good reason until Houghton admonished her.
Grace's pride might stem from her former career as a race horse with $80,000 in winnings. She fell on hard times until Houghton acquired her from a "pretty notorious" kill buyer in 2015. When she arrived from Texas she was very thin, but she's since filled out nicely.
"I have very mixed feelings about giving money to a kill buyer, but if you want a horse to live, sometimes that's the only option," Houghton said.
As you delve deeper into the property, you'll meet one-eyed Callie. Houghton bought her for $450 by phone at an auction in Oregon because she was certain that her missing eye would prevent her from attracting good bids, which meant she surely would have gone to a bargain-seeking kill buyer.
Houghton has observed the herd enough to know that despite Grace's bluster, Callie is the real boss – she's just more subtle and laid-back about it, which lends her greater authority.
Then there's Long John, who also answers to Tater Tot or just Tater. He gets anxious when he's separated from his best friend, the handsome and strapping Levi, who's appointed himself as Tater's protector. To grasp the dynamic of their relationship, imagine a hunky and popular jock sticking up for his nerdy little brother in a teen movie from the '80s.
Tater and Levi were both headed to slaughter in Washington, and they were so closely bonded that Houghton couldn't bear to save one and not the other.
"This is kind of like the island of misfit toys," Houghton said. "Callie's missing an eye, that mule next to her has some flexion problems in her back right leg so her foot doesn't go all the way down, and both of those horses in there are lame."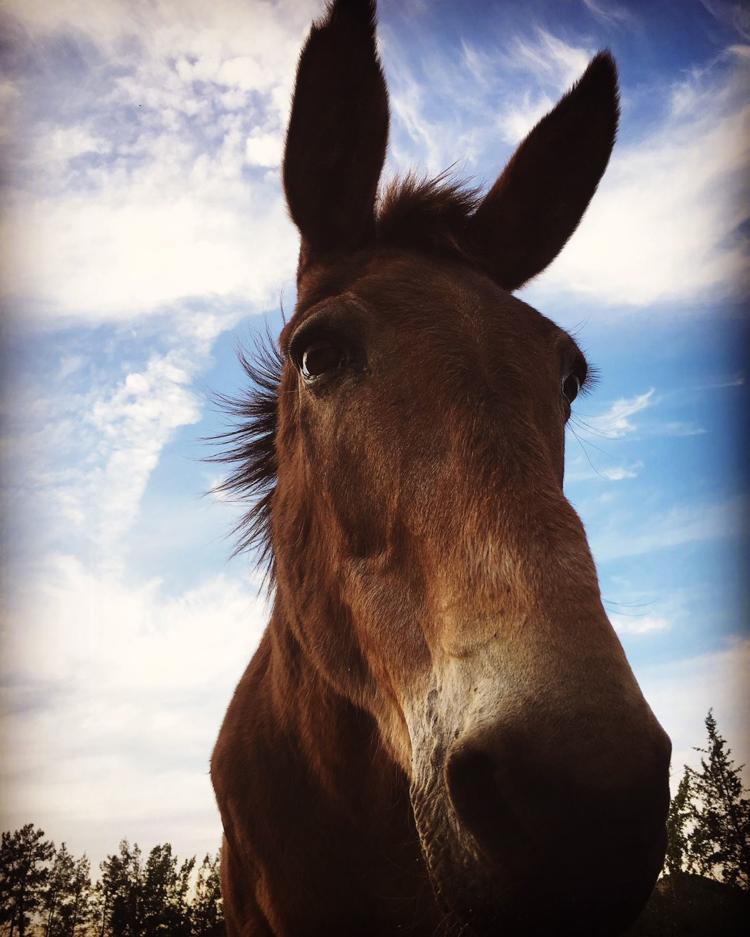 "Merlin, there's nothing wrong with you," she told the ever-present former pack mule. "You're just old."
Caring for such large animals is expensive. A typical horse eats 2 percent of its body weight in hay every day – that's 20 pounds of hay a day for a 1,000-pound horse. A 110-pound bale of hay costs about $15, and it takes about three bales per day to feed Aureole's 18 equines.
That adds up to $15,600 a year just in hay. Then factor in pasture boarding and other expenses that add up to over $2,000 a month, not including unanticipated but inevitable emergency expenses.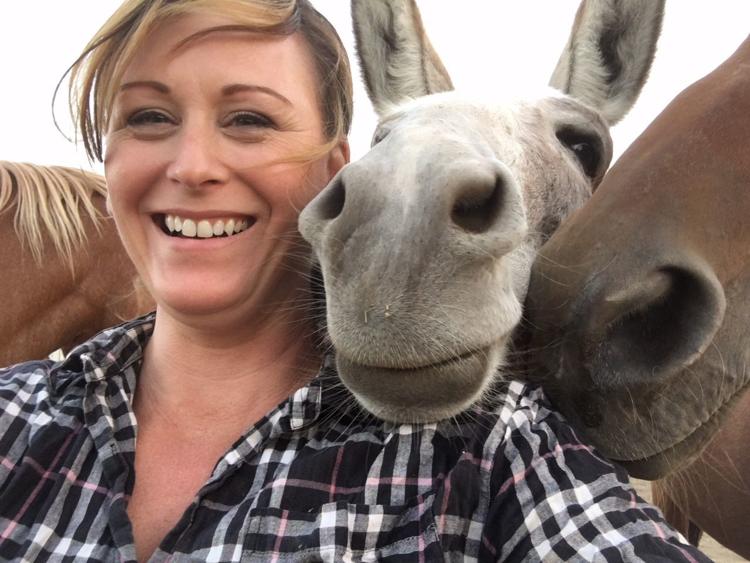 Houghton is not taking on any more animals at the moment. She's focused on taking care of the animals and trying to make ends meet over the summer, when donations are always hardest to come by.
She's also looking for active boardmembers to help with fundraising, volunteers to help care for the horses in Calistoga and St. Helena, some additional fenced property, in-kind donations such as gravel and horse shelters, and a few people who'd be interested in fostering, which is considered a tax-deductible contribution.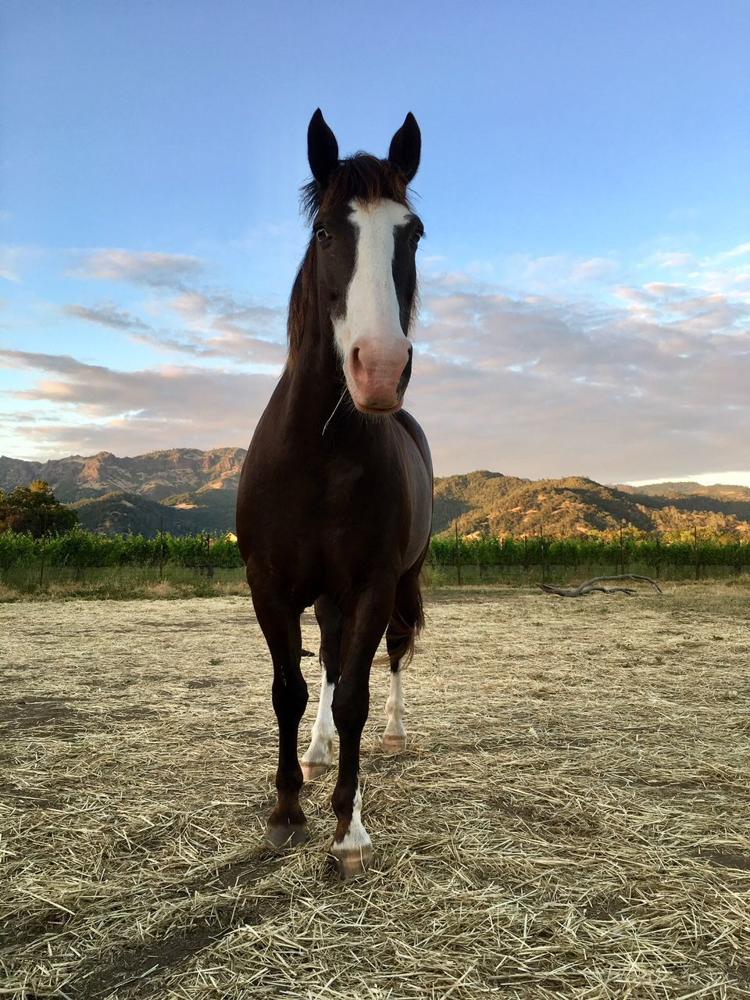 Horses are perceptive and intelligent enough to appreciate people who are kind to them. Feeling that appreciation is one of the things Houghton loves most about horses.
"Some horses go from auction to auction to feed lot, maybe to an owner that doesn't work out and then back to an auction," Houghton said. "There's a lot of uncertainty in their lives, and sometimes it takes a long time for them to realize they're in a safe place."