The Forgotten War
The Forgotten War: A four-legged corporal serves the Marines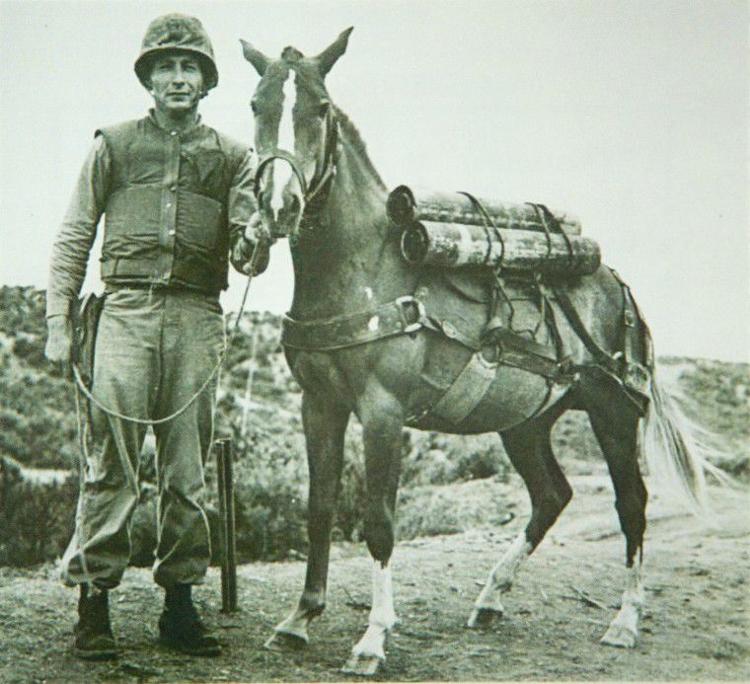 Editor's note: This is part of an occasional series marking the anniversary of the start of the Korean War.By early 1953, 65 years ago in the Korean War, a remarkable promotion of private to corporal took place. Rather than to a human, the step up in rank went to a horse.
A four-year, four-months-old Cheju pony named Reckless became a corporal in the U.S. Marine Corps, promoted for braving artillery fire on a tall, steep, hill-torn battlefield of Korea. Baptized as a warhorse and also as a fellow Marine, she had carried ammunition uphill for hundreds of yards in the midst of loud artillery fire.
Reckless was bought by Lt. Eric "Pete" Pedersen, a career Marine "mustang" (also, a rancher), in Seoul on Oct. 26,1952 for $250 in "American green money" from her young adult male Korean owner for duty as a military ammunition packhorse. Pederson figured a horse would do better than the previous system, where a Marine had to slowly heft loads of three shells at a time up the hilly terrain that was too steep for motorized vehicles.
Regimental commanding officer Col. Eustace Smoak gave Pedersen permission to try his experiment in rediscovering the value of horses in warfare, a practice that was largely lost since the advent of motors.
Reckless was originally known as "Flame of the Morning," a nod to her mother, "Flame, who was a pride for the Land of the Morning Calm. She raced at Sinseul track, Seoul, for 12 years, 1936-48, spanning Japanese control to statehood.
Horse racing was a longtime sport mania in South Korea since the 1890s. (When the Korean War broke out on Sunday morning, June 25, 1950, an enthusiastic crowd at Sinseul stayed until the last race on the card had been run. Then, they fled south.)
Daughter Flame was born about June 1948. In a week, her mother died. Newborn Flame of Flame had her dam's markings of a white blaze and bright white stockings, except her right front leg, which, unlike her mother's was unmarked. Perhaps it was symbolic of a more turbulent destiny, marked by the asymmetry of chaotic battle rather than by the symmetry of a traditional racing career as enjoyed by her forbear.
While working as a rice farmer in the fields in 1950-52, her youthful owner's sister had lost her left leg in a land mine explosion. A U.S. hospital in Seoul could provide a prosthetic leg for $200. Time was ripe when Pedersen and two other Marines drove up in a Jeep and trailer to Sinseul, seeking an ammo horse. Newly sold Flame's head nestled her owner, who sadly bade farewell. Trust of humans was his bounty to her.
On Oct. 26, 1952, Flame joined the U.S. 5th Marines Recoilless Rifle Platoon as a new recruit, "H-1." Thirteen hands high, or four feet, four inches tall, at the withers, she was a descendant of many centuries ago of a line living on Cheju Island, off the tip of the Korean Peninsula. (Cheju is-"short enough to walk beneath fruit trees.")
Her job in the Recoilless Rifle Platoon would be to pack from four to 10 75 mm shells, weighing up to 23 pounds, in daylight uphill for the rapid-fire guns.
On Oct. 26, 1952, Flame started her life in the Marine Corps. Her first meal in the 5th Marines' was uncooked oatmeal and a bread loaf. Soon her cuisine included powdered eggs, bacon. Coke, beer, and candy.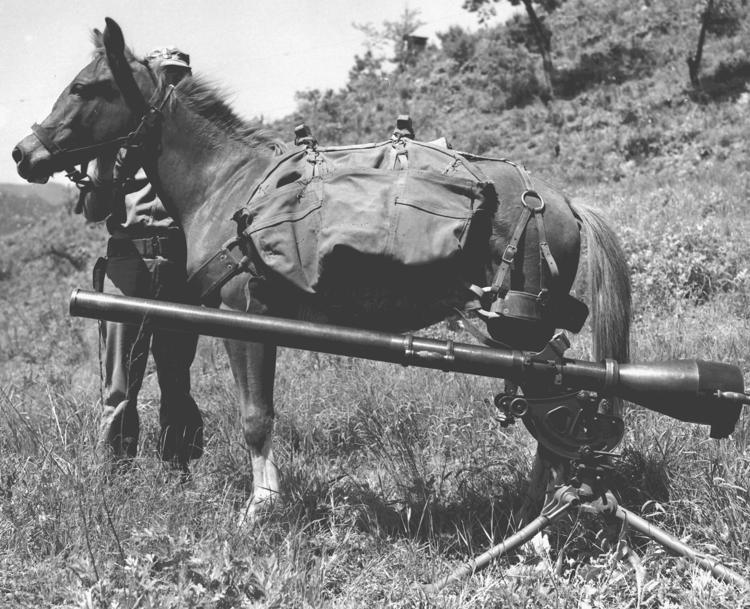 The tripod-mounted 75-mm recoilless rifle, although "meticulously" precise at 7,000 yards, was called a "reckless rifle." Its four weaknesses were 1) as a direct-fire day-use weapon, 2) with a revealing white exhaust and soil debris back-blast, 3) an ear-jarring noise and 4) a 30-foot-wide shockwave rocking those behind it. Because of the gun's erratic reputation, Flame was renamed "Reckless."
Reckless's first hurdle before becoming a full-fledged United States Marine was in undergoing "hoof camp." Sgt. Joseph Latham, an Alabama farmer, became her trainer. He taught Reckless to avoid barbed wire and to not step on communication ground wires. (She later seemed to be able to smell out any land mines, while she circumspectly placed her nose to the ground in front of her.)
Reckless also learned from Latham that a hand touch to her hoof meant to "hit the deck," or to lie down fast!
Reckless' second hurdle was to be present during the firing of the rifle, for which she was named. Her baptism was in November 1952, after taking six high explosive shells uphill. She had carried canister shells strapped to her back and upper sides, steeply upslope to a reckless rifle. The rifle was fired from about 40 feet away.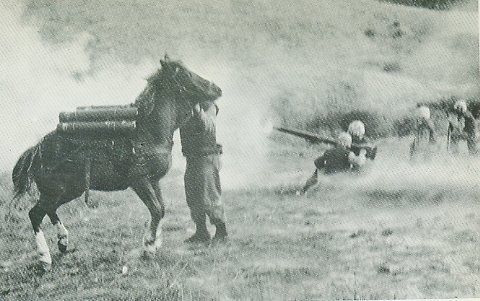 Reckless' four feet left the ground and her eyes went white. By the fourth firing, she became nonchalant. She found and ate a helmet liner. Reckless was a "true Marine."
Reckless's Christmas present in late December 1952 was a comfortable padded packsaddle, allowing freedom at all gaits. (It came from Vista, California, courtesy of Pedersen's wife, Kay.) As a fellow-Marine, Reckless roamed the camp, poking her head in a tent on cold or rainy nights, sleeping with her buddies by stove-warmth.
In rear areas Reckless did the work of 10 Marines, laying telephone surface wire.
During a camp inspection, an inspector was astonished to find Marines pulling up grass from the ground. Winter vegetation being scarce for horses, they were thus in the service of "Royal" Reckless. Priority cases of Wheaties and graham crackers for Reckless were carried in the first supply truck; her "herd" brethren could wait next.
Possession of key hills was the mission for spring, 1953. The "Nevada Complex" of Hills Vegas, Reno, and Carson—so-named because holding them was a gamble— underwent Chinese attack. On March 26, 1953, a big Chinese bombardment began.
"Going up the ridge, in and out of view, was this little mare—'alone'-her silhouette in the smoke," recalled a Marine.
Amazed, he thought, there had to be "an angel" riding her. Having delivered another ammo load of 75-mm shells up to the guns—so many that one of the recoilless rifles overheated firing — Reckless again began the cycle. From dawn to darkness in a day, she made 51 round-trips, carried 9,000 pounds of ammo, and traveled 35 miles. At night, she instantly fell asleep. "Praise Reckless and pass the ammunition," could have been a gun crew's refrain.
Reckless had no respite in the intense battle. When she went downhill, she was also used to carry back a wounded Marine to a triage tent at its base. She became a moving shield for four Marines on their way up to the line. Doffing their flak jackets to cover Reckless, as an "armored horse," gave symbiotic protection as rounds flew.
After 68 days on the battle-line. Reckless and her Marines went into reserve camp Semper Fidelis. In midsummer July 1953, a ceasefire armistice in Korea was signed. On April 10, 1954, while still based in Korea, Corporal Reckless was promoted to sergeant.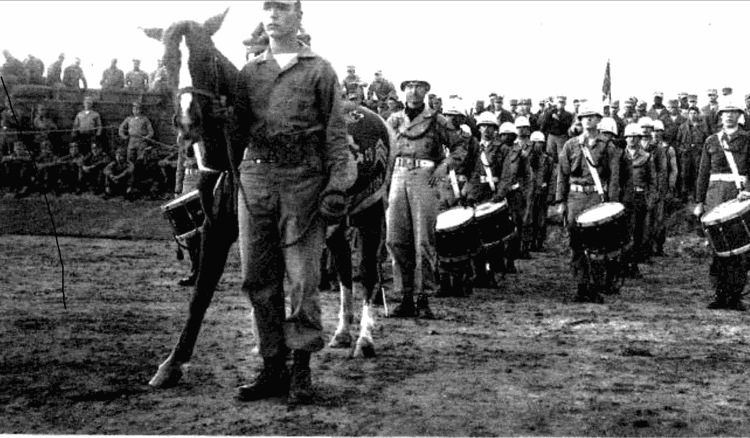 On Oct. 16, 1954, "Sergeant Reckless" was airlifted to Japan. Next, she was given a free ride to the U.S. on Oct. 22, courtesy of the SS Pacific Transport.
Arriving at San Francisco, Nov. 10, 1954, the Marine Corp's 179th birthday. Reckless— while onboard checked for disease by the Department of Agriculture — had a hero's welcome and a proclamation by California Gov. Goodwin Knight.
Pastured at Camp Pendleton, Reckless was pampered to the end of her days, which came on May 13, 1968, at about age 20. Departing East Asia for North America, she had journeyed back to the ancestral birthplace of the horse 50 million years earlier.
Reckless' phenomenal mettle was a credit to horses. Erstwhile Reckless of the "Reckless Rifles" had turned the wheel of history full circle in the Korean War.
Futini is a Napa-based history enthusiast.