ST. HELENA – The Calistoga High track and field program is building steam.
With another young and scrappy group, the Wildcats pulled off an impressive showing in the Coastal Mountain Conference Championships at St. Helena High on Saturday.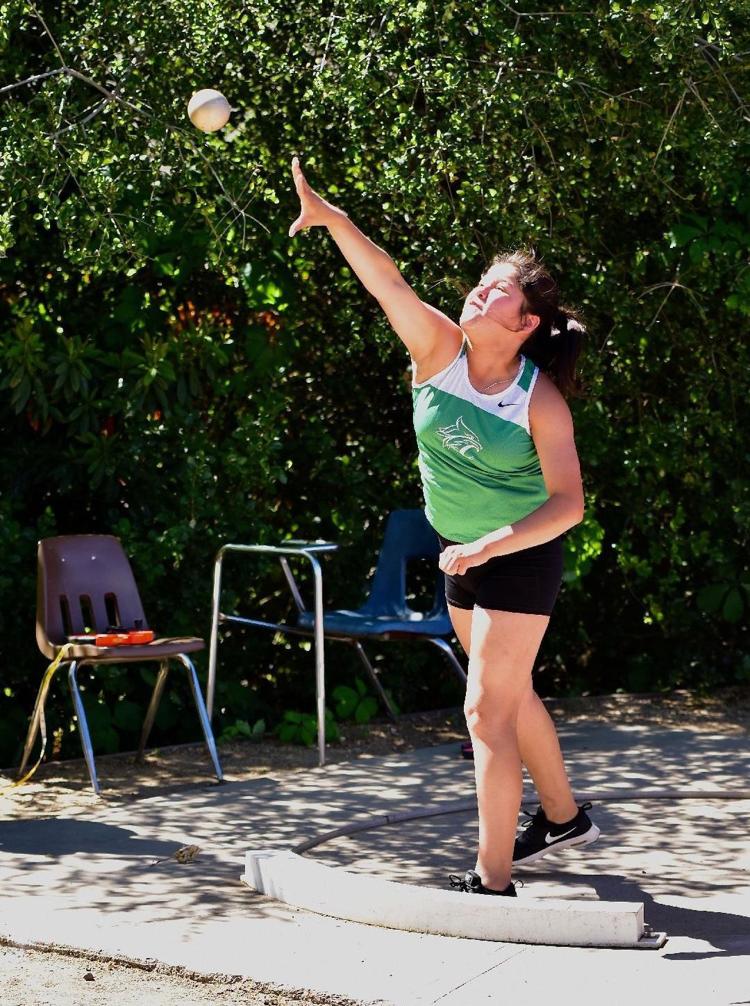 Their girls nabbed a third-place finish among the North Central League II teams with 68 points, behind Sonoma Academy (143) and Rincon Valley Christian (113), while their boys took fifth place with two points.
"I am very excited about today," Calistoga head coach Louise Owens said. "I think for the girls this was their very first-ever CMC track meet, and I was so busy all day they ran themselves today. They all did a fantastic job today and most, if not all of them, will be moving on to the next level for the first time. I think this group of kids got excited about this year and they are going to bring some more out next year and it's just going to go up from here."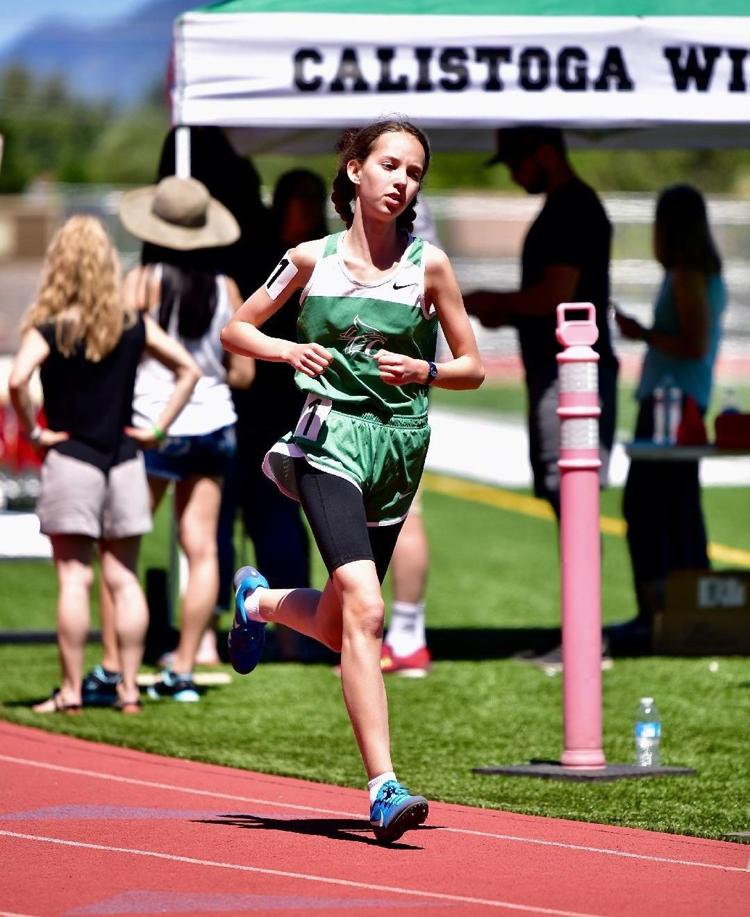 The top eight finishers in each individual event and the top four teams in each relay qualified for the CIF North Coast Section Class A Championships, which will be held this Saturday at Montgomery High in Santa Rosa. Field events will start at 10 a.m. and running events at 11 a.m.
The shot put should be an event to watch in the future for the Calistoga girls, who had three athletes finish in the top seven.
Sabrina Wells, a freshman, picked up fifth place at 25 feet, while sophomore Hayseel Barrera came in sixth (23-3.5) and freshman Gabriela Vargas seventh (23-5.).
The Wildcats had another strong showing in the girls discus throw, as Vargas came in fifth (71-7) and sophomore Angeli Aquino followed in sixth (69-4). Barrera ended up eighth (65-5) and Wells finished 12th (55-11).
In the girls 100 meters, sophomore Litzy Infante, whose Wildcats softball team is in the middle of a 12-day break from games before the section playoffs, finished in 15.03 seconds and sophomore teammate Jannet Lonjines clocked a 15.81.
"We have some just really physically strong girls that did very well and worked really hard this year, and it showed today," Owens said.
On the girls side, Calistoga got an eighth-place finish from freshman Tully Leonard (13-4), while sophomore Lizbet Escobedo went 12-3.5 and Lonjines 12-3. Infante went 12 feet, one-half inch, senior Gilda Rojas – another softball player – ended up at 11-4.5, freshman Giselle Munoz 10-10, and freshman Julia Heth 10-6.5.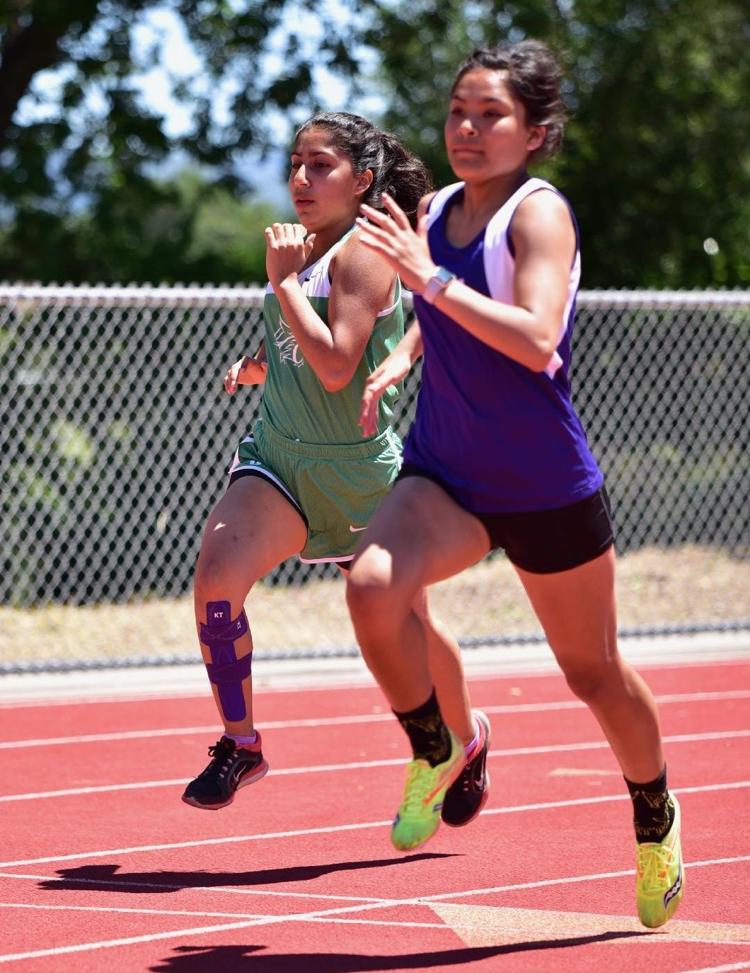 The Wildcats got points in the girls triple jump from Leonard with her fifth-place finish (28-4.5).
Calistoga picked up a point with a sixth-place finish in the girls 1,600 meters from Heth (6:12.27), and Escobedo came in ninth (6:22.87).
The girls side of the 4x400 relay saw Calistoga finish fourth (5:08.91).
The girls 800 meters featured Rojas (2:59.73) and Munoz (3:00.32) for the Wildcats.
In the girls 400, Calistoga freshman Jimena Guerrero placed 10th (1:11.34).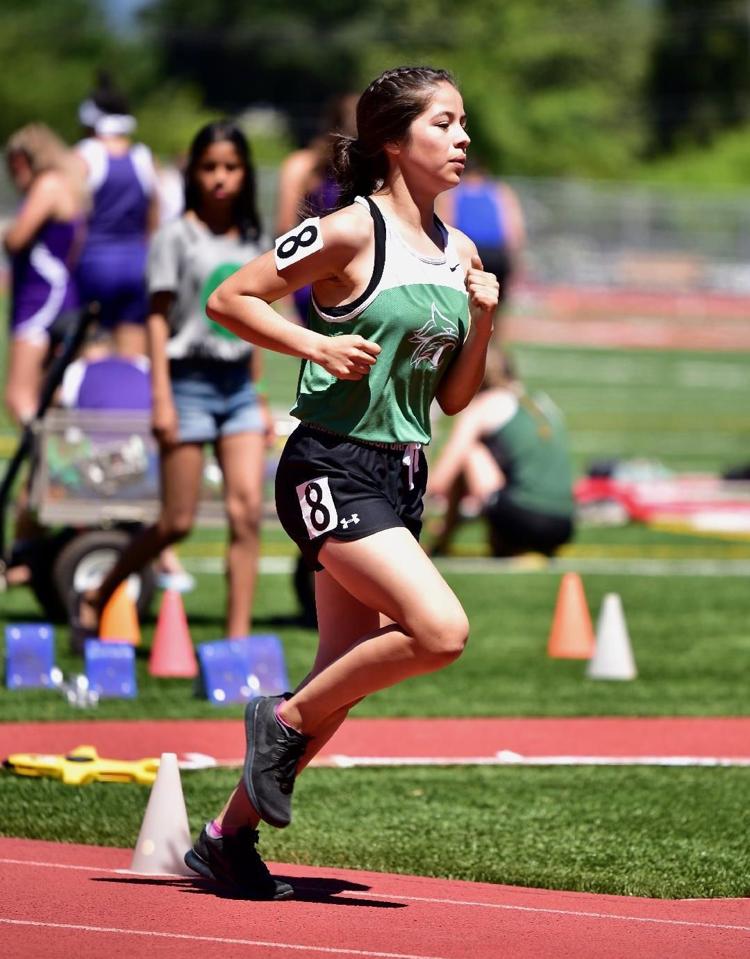 In the 4x100 relay, the Calistoga girls finished sixth (57.90) and won their heat over Lower Lake and Kelseyville.
For the boys, Dayton Yellowtail finished 11th in the 400 meters (58.74) and soared 15 feet, 6.5 inches in the long jump.
St. Helena boys 2nd, girls 3rd
After all the races were finished, eighth-year St. Helena head coach Dave Pauls informed the squad that the boys, the defending CMC champions, had finished second and the girls third. The news was received by many of them as a disappointment.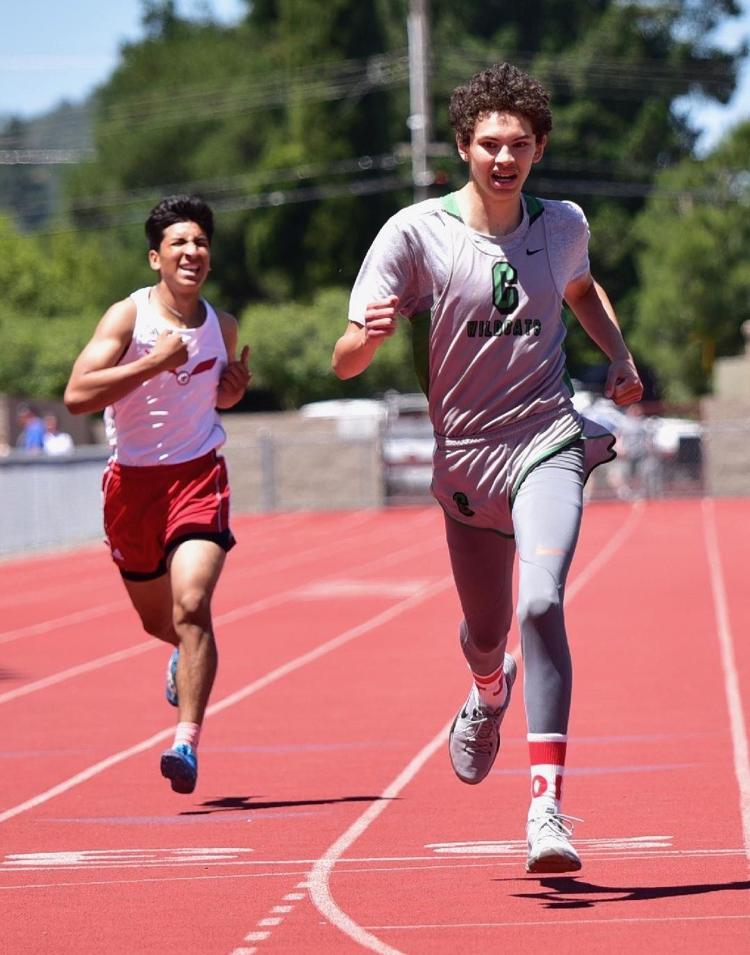 One young athlete threw an item onto the ground in anger. Instantly, Pauls went into coaching mode and made the student run a lap and stay after the others had left for a one-on-one talk – some reasons, perhaps, why Pauls was named the North Coast Section Honor Coach for Track & Field for the 2018 season.
Pauls has been coaching for 22 years and has been a track and field coach since 1997. Under his leadership St. Helena has sent at least one athlete each season to the section's biggest postseason event, the Meet of the Champions, since 2011.
He was presented the award during a break at the CMC meet, a ceremony that drew applause from all schools attending.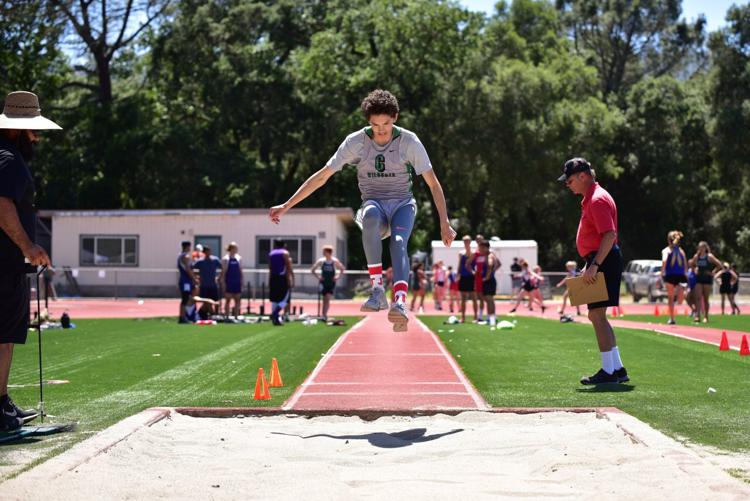 One of the major highlights on the afternoon was in the boys 100 meters, where St. Helena sophomore Ryan Searl (11.23 seconds) edged out Kelseyville senior Jack Farris (11.46) for first place. After crossing the finish line, Searl stretched his arms out, imitating a plane. He then crouched down in a Usain Bolt-style pose.
A technical difficulty delayed the race, forcing the staged runners to wait in the sun for 15 minutes. But Searl jumped ahead early and didn't look back.
Also for St. Helena in the boys 100, senior Christian Cia finished seventh (12.00), sophomore Danny Jimenez 12th (12.25), junior Lukas Pakter 17th (12.32) and sophomore Collin Darrall 19th (12.39).
In the girls 100 meters, Saints freshman Cydney Adamson nabbed 12th place (14.46) and freshman Sienna Beringer crossed the line 27th (15.18).
Gannon Wilson was the lone St. Helena entrant in the boys shot put, as the junior pulled out an 11th-place finish (32-2.5).
In the boys long jump, St. Helena freshman Daniel Martinez finished in 13th place (16-1). On the girls side, Saints sophomore Andrea Hernandez finished seventh (13-5), Beringer was 20th (11-11) and junior teammate Jenna DiVincenzi slotted in 21st (11-8).
St. Helena had one competitor in the boys triple jump, as Jimenez came in 11th (34-6.5).
The Saints picked up sixth place in the boys high jump, as sophomore Wolfgang Prichett came in at 5-6. Nicholas Przybylinski followed Prichett in at eighth place, needing more attempts to clear 5-6.
On the girls side of the high jump, St. Helena sophomore Kristina Isdahl came in sixth (4-4), Nicole Cia notched eighth place (4-2) and Adamson was ninth (4-0).
In the boys 110-meter high hurdles, Saints sophomore Jacob Lehman placed third (16.71) but was only .67 second behind the winner from Fort Bragg, Eric Portillo. Christian Cia just missed out on the top spot in the 300 intermediate hurdles, as the Saints' starting quarterback for the past two seasons finished in second (44.51) behind Portillo. Lehman grabbed fourth (45.42) and Pakter came across in seventh (46.23).
Beringer came in 10th (31.36) in the girls 200 meters, but won her heat by .09 second over Willits' Makala Bush. Isdahl finished 14th (32.26) for the Saints and Nicola Cia followed up in 17th (32.71).
On the boys side of the 200 meters, St. Helena sophomore Cody DiTomaso was caught on the final stretch by Farris and finished second (23.50). Darrall came in 11th (25.00) and Jimenez crossd in 14th (25.11).
St. Helena had two runners in the boys 3,200 meters, as sophomore Jordan Reilly took fourth (10:41.27) and senior Gerry Schweiger 13th (11:42.35). In the girls 1,600 meters, freshman Jade Schlatter pulled off a third-place finish (6:02.77). Luckily for Schlatter, and the conference as a whole, Sonoma Academy's Rylee Bowen will be moving on to Duke University next season; the senior beat teammate Mackenzie Stewart by 23 seconds.
In the boys 1,600 meters, Przybylinski used a strong burst after a slow start to power to a fifth-place showing (4:43.21). Reilly locked up 10th place (4:49.53), senior Rusty Frank came in 14th (4:57.31), sophomore Josue Blanco popped in at 15th (4:58.37), Schweiger finished 21st (5:14.89) and Saints freshman Irwin Ramirez was 24th (5:22.88).
In the girls 800 meters, Hernandez came in fifth (2:48.05), Schlatter eighth (2:52.61) and freshman Sydney Becker came in 20th (3:17.10).
Flipping to the boys side of the 800 meters, junior John Baker of St. Helena finished fifth (2:11.40) and Pritchett followed up in seventh (2:23.29). Przybylinski added to the Saints top 10 finishes for the 800 with an eighth (2:14.10). Blanco (2:16.20) barely edged out Frank (2:16.94) for 12th and Ramirez finished in 23rd (2.24.97).
In the girls 400, St. Helena freshman Eva Grace was 15th (1:20.21). In the boys 400, Baker found himself in seventh place (56.01) and sophomore teammate Donovan Solano came in 10th (58.43). Martinez rounded out the local athletes in 13th (1:00.04).
St. Helena pulled off fifth place (57.30) in the 4x100 relay and took away first place (45.77) in the 4x100 relay over Kelseyville and Middletown.
The St. Helena boys had a strong start in the 4x400 relay, but lost pace in the middle and finished second (3:43.12). DiTomaso anchored for the Saints, but wasn't able to catch Middletown down the final stretch.
On the girls side of the 4x400 relay, St. Helena finished third (5:07.29).