Every basketball team has games where it feels like there's a lid on the basket. Calistoga has felt that more times this season than it would like.
As the No. 7 seed in the CIF North Coast Section Division 6 playoffs, the Wildcats powered through a rough shooting performance and gave themselves multiple chances to bury a game-winning basket last Wednesday, Feb. 21.
But former North Central League II foe Tomales, the No. 10 seed, was able to escape with an upset victory in the first round, holding off a frantic fourth-quarter rally by the home team, 37-36.
"We did some good stuff to get the shots, we rebounded pretty well to get the put-backs, and we couldn't finish," said Calistoga assistant coach Ray Particelli. "It's a simple game, ultimately. Put the ball in the basket more than your opponent, and we did everything well enough to win."
Calistoga (19-8) trailed by as many as eight points twice in the fourth quarter, but never surrendered to the scoreboard until the final buzzer rang.
Sophomore forward Vanessa Queipo, who scored a game-high 18 points, netted seven straight points – including one 3-pointer – in the final frame. After securing a defensive rebound, she capped that offensive outburst with a fast break layup as the home crowd erupted. Suddenly, the Wildcats were down by one point with 42 seconds remaining.
On the other end, their stingy defense continued its suffocating ways and forced a shot-clock violation on the Braves (14-9) to preserve the one-point deficit.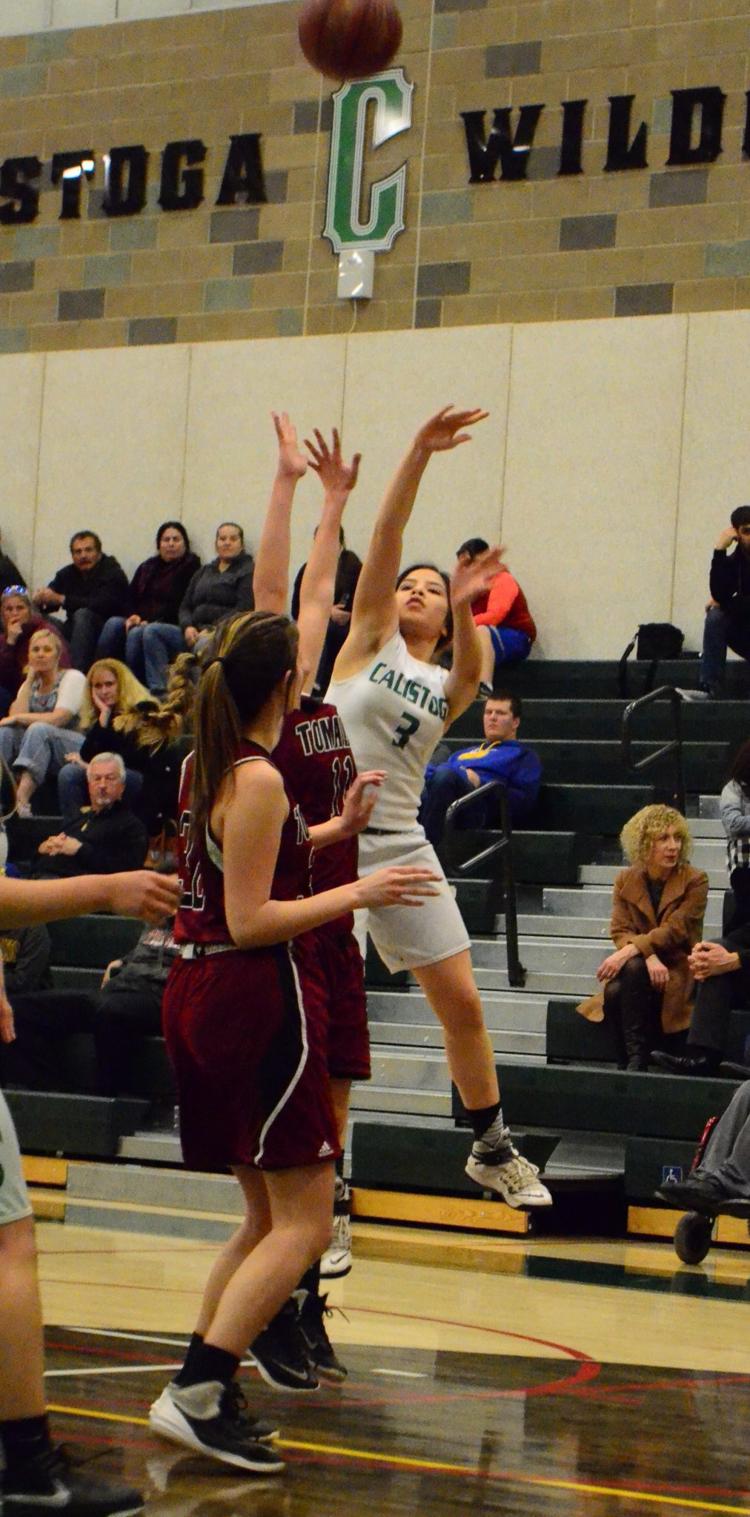 Particelli then called a timeout to rally the players for a potential game-winning basket with 14.3 seconds on the clock.
"We talked in the timeout, we said, 'Let's break the pressure. If we have numbers, let's go ahead and finish and execute it and we'll rely on our defense. But if it gets scattered, we've got plenty of plays that we can do in two or three seconds that'll give us a good look.'"
On the ensuing inbounds play, sophomore point guard Lizbet Escobedo powered through a physical full-court press, bringing the ball up the floor as the clock continued to roll. The ball found reserve guard Litzy Infante, who took a short jumper that rolled off the rim. In the scrum for the rebound, a jump ball was called and the possession arrow gave Calistoga one more chance with 1.1 seconds.
After another timeout, forward Laila Elkeshen was able to get a shot off under the basket but it was no good as the final buzzer sound. The sophomore absorbed a flurry of contact on the shot, but officials elected to keep their whistles holstered like they had on multiple physical plays over the final minute.
"It's basketball," said Calistoga head coach Cesar Cruz. "You have a winner and you have a loser. Unfortunately, we were the loser this time. But at the end, we're so proud of these girls – just their drive, not giving up."
For Particelli, one of the most revered basketball coaches in the area that was given the reins for the program this season, the outcome was less about the potential missed calls and more about Calistoga's missed opportunities.
To lose by one point in a game where his players shot 12 of 63 (19 percent) and went 10 of 23 (43 percent) at the free-throw line, a quiet whistle had little to do with the final score.
"We should have never been in the position for a call to decide the game," Particelli said. "We had 32 minutes to extend that lead and make those baskets. I'm disappointed that it didn't have a better outcome but, for sure, I'm not like, 'Oh the refs cost us' … we had tons of opportunities to seal the deal and we didn't."
Calistoga, which finished second in the North Central League III for the second straight year and set a single-season record for wins, never trailed by more than four points prior to the fourth quarter.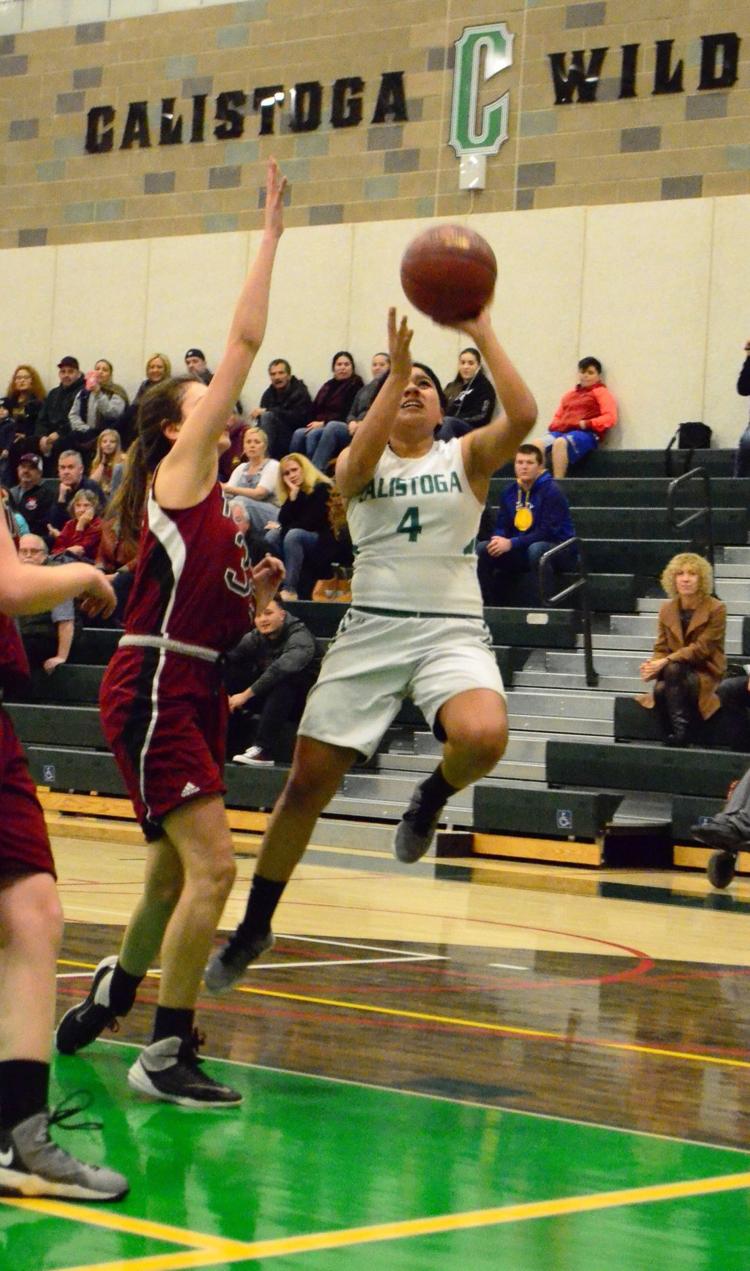 On a night where leading scorer Gilda Rojas couldn't find much offensive rhythm – and even fouled out with 5:15 left in the game – the supporting cast shined.
Queipo, in addition to her game-high scoring output, had six steals, six rebounds, an assist and a block. She deflected and intercepted numerous passes, helping the Wildcats force an eye-popping 31 turnovers.
Escobedo was in on seemingly every play, and finished with four points, four steals, three rebounds and two assists. Elkeshen did all the little things away from the hoop, totaling six rebounds, four steals and a block.
Off the bench, Hayseel Barrera scored a point, corralled a team-high seven rebounds and notched one steal. Infante sank two free throws and Angeli Aquino hit one free throw and grabbed a rebound.
"They did great, and that's another thing we addressed," Particelli said. "When Gilda went out with almost six minutes to go, they could've said, 'Oh my god, our star's gone and we're already down six or eight points,' you know, pretty resilient. I had four sophomores and a freshman (on the floor) the last six minutes of a playoff game that got us back into it with an opportunity to win. That's a great thing, but nobody on this team, especially Gilda, wants to hear, 'Oh that bodes well for next year.'"
Added Cruz, "My girls understand we fight through the end – without Gilda, with Gilda – they understand. We just don't give up. Besides the norm, missing our bunnies, they have so much confidence. Unfortunately (tonight), ball won't go in the hole … but that's how we were all year. They never give up."
The Wildcats took their first lead at the 3:31 mark of the third quarter. Rojas, who had 10 points, three rebounds and three steals in her final game, curled around the top of the key and sank a tough-angle layup before drawing a foul on the next possession and sinking two free throws to put her side in front.
That lead was short-lived, though. Tomales responded with free throws of their own to regain the lead, and opened the fourth quarter with a 6-0 run. The Braves answered every tug from the Wildcats early in the fourth quarter until a jump shot by Escobedo with 4:10 remaining sparked the home team's final push.
Tomales was led by Isabel Sartori (12 points) and Daysee Magana (nine points).
The Braves advance to the second round where they'll face No. 2 Laytonville (22-3), the NCL III champions, Saturday at 5:30 p.m.