Editor's note: This column appeared in the Napa Valley Register last week before Alabama erased a 13-point deficit to defeat Georgia in the national championship Monday. Despite such a devastating loss, the sentiments of this entire experience still ring true and serve as a welcome reminder of what the Bulldogs accomplished this year.
My phone would not stop ringing.
When you've lived out West for a while, your ears get used to drowning out your smartphone while you sleep. It's a survival skill. The East Coast is often onto lunch by the time you've poured your morning coffee.
But this time it was a Sunday morning – the holy day for sleep lovers – and I was recovering from one of those Saturdays you're supposed to mature out of.
The morning after a late basketball assignment in Calistoga, I found myself ordering drinks at the Georgia alumni bar in San Francisco before noon. We were playing Auburn for the second time in a month and this time it was for the Southeastern Conference crown. The Tigers were rolling, too, after knocking off two No. 1 teams in three weeks, obliterating us by 23 points and then Alabama by 12 in the Iron Bowl.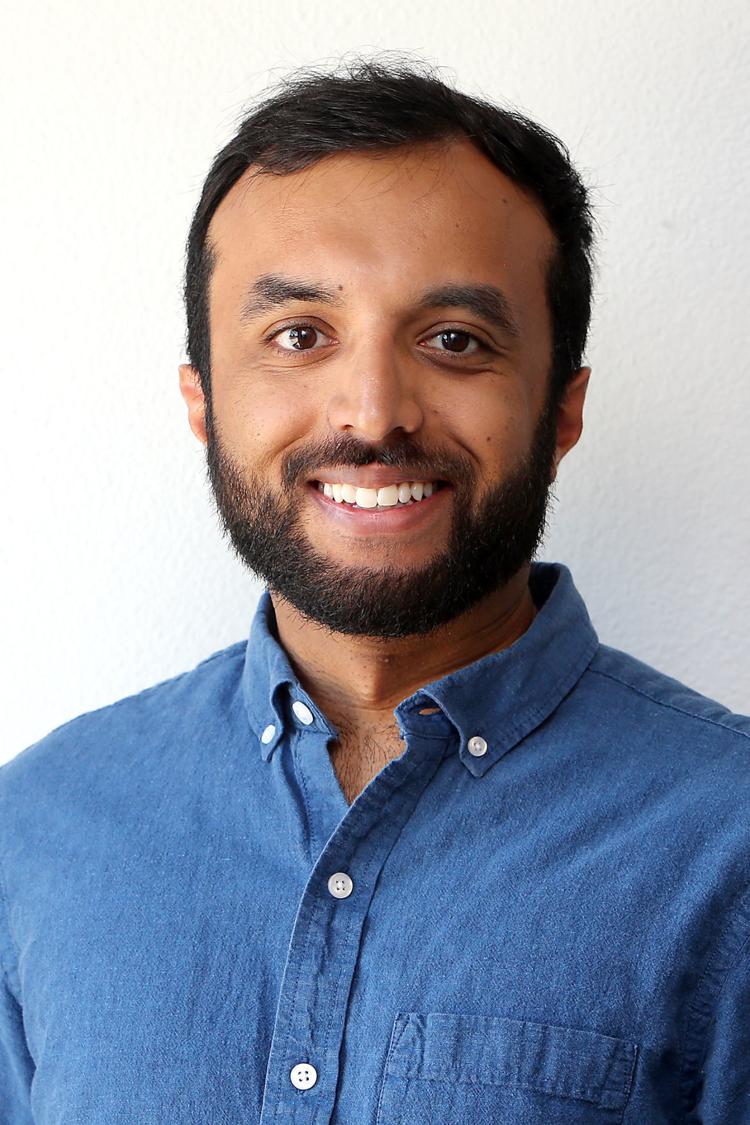 We had our revenge that first Saturday of December, though, routing them by 21 points for our first conference title since 2005. Needless to say, it was an emotional moment for Dawg Nation, and another gratifying milestone in what's been a historic season.
The marathon continued with a concert later that night. I honestly didn't get home until almost 3 a.m.
So all that was weighing me down as my phone dinged incessantly with group texts and calls I didn't want to address until noon. I reluctantly picked up one of them when my college roommate, now a resident of San Diego, rang.
"So what's the plan for this game, bruh?"
Since college football adopted a four-team playoff in 2014, I haven't really paid attention to bowl game announcements. It just wasn't all that pressing to find out who Georgia was going to play in the Belk Bowl or the TaxSlayer Bowl.
This year, however, we actualized everything we've been chasing for so long. It was our second year with head coach Kirby Smart, a Georgia alum we had quietly wanted leading us as the Mark Richt era consistently hit one underwhelming finish after another. Smart was Nick Saban's greatest disciple, a defensive mastermind at Alabama who had defined the way the football universe sees the SEC on that side of the ball.
After an 8-5 finish in 2016 , Smart managed to put together the third-best recruiting class in the country. He also got Georgia's "Big Four" of Nick Chubb, Sony Michel, Lorenzo Carter and Davin Bellamy to come back for their senior seasons, collectively turning down millions of NFL dollars.
The value of that group's contributions this season cannot be understated.
Georgia began the 2017 campaign as the No. 15 team in the country. We lost our starting quarterback, Jacob Eason, in the first half of the opener against Appalachian State and handed the reins to a true freshman, Jake Fromm.
Fromm led us to a 20-19 road win at No. 24 Notre Dame in Week 2. Two weeks later, we beat No. 17 Mississippi State 31-3. The following week, we traveled to Knoxville and obliterated division rival Tennessee 41-0. We got the perpetual monkey that is Florida off our backs with a 42-7 beat down in Jacksonville. After the Auburn loss, we closed out the regular season with two comfortable wins against Kentucky and Georgia Tech, which had beaten us two of the last three years.
Not only did Fromm earn the job outright, but he reduced a five-star recruit and the top QB prospect in the country in 2016 to a garbage-time player in the span of a few months.
Georgia went into this year's SEC title game ranked No. 6. Losses by Auburn and Wisconsin opened two spots in the top four, which advance to the playoffs. The No. 1-No. 4 matchup was the Sugar Bowl in New Orleans. The 2-3 matchup was the Rose Bowl in Pasadena.
We jumped to No. 3 and suddenly Southern California was calling.
I told my old roommate I needed to gather my head and I'd call him back. What I really meant was I needed to tell my girlfriend that our New Year's weekend at Mount Shasta was about to get canceled, and I was about to pull her into a trip that was going to require weeks of convincing to get her fully on-board with (although in her defense, she's been a great sport all year and has quickly turned into a legit fan).
Many of my closest friends rallied for the game, booking flights and hotels within hours of the announcement. They came from Atlanta, Denver, Las Vegas and San Diego, and there wasn't an ounce of hesitation on anyone's part. We felt the gravity of this moment, and the opportunity to see our team play in "The Grandaddy of Them All" made it even sweeter.
I felt good about the matchup leading up the game. In my mind, Oklahoma was the most beatable opponent out of a top four that included Clemson and Alabama – the two teams that played for the championship a year ago.
Like many others, I can't stand Baker Mayfield, and thought his Heisman win was more a product of a down year for exceptional players. He hadn't faced a defense like Georgia's yet, a top 10 group with lateral speed, sure tackling, and a propensity for coming up with game-changing turnovers.
Game day began at a Georgia tailgate party at the Chandler School, a small private institution that was foolish enough to open up its campus on one of the nearby hillsides. For hours, we navigated long beer and food lines as anticipation for the game continued to rise.
Of course, once the game started, nothing went as expected. Mayfield directed Oklahoma's offense to a 31-point first half and, with seconds left in the second quarter, a 17-point advantage. The touchdown that opened that lead was a trick play that ended with Mayfield wide open in the end zone. If there's such a thing as a first-half dagger, that sure felt like one.
After the Falcons crapped the bed in the Super Bowl last year, I exercised my demons about Atlanta sports in a column. I declared the city cursed, but the curse was hope – hope that we are good enough to win championships and worthy of the respect that other major-market teams receive.
So I knew better than to disillusion myself with the idea of a comeback and began mentally preparing for a letdown.
I settled back into my seat after halftime realizing I had missed a 55-yard field goal as time expired, for the sake of grabbing a blowout-worthy beer before the lines hit. Oklahoma apparently tried an onside kick and failed to recover it, and Georgia kicker Rodrigo Blankenship made up for his first-quarter miss with the longest field goal in Rose Bowl history.
The Bulldogs forced a three-and-out and then Chubb broke a 50-yard TD run on the offense's first play of the second half. Belief had suddenly returned.
Later in the quarter, Michel scored his third TD of the afternoon on a 38-yard run to tie the game 31-31.
Both teams traded blows and momentum swings in the fourth quarter. It's hard to describe the emotional toll something like that takes, when a championship berth and the hopes of your team hang in the balance. The best I can do is liken it to repeatedly winning the lottery until Mike Tyson pops up, punches you in the face, and then steals your ticket.
Georgia capitalized on a poor punt with 3:55 left and marched 59 yards in seven plays to score with 55 seconds left. I couldn't help but think of the 2012 SEC Championship when Georgia almost came back on Alabama in the final minute, with a spot in the national title game also on the line.
But we didn't come 5 yards short this time. We forced overtime. We traded field goals, and then we blocked one on Oklahoma's attempt in the second period. Then Michel took the second carry of the ensuing possession 27 yards to the history books, completing the largest comeback the Rose Bowl has ever seen.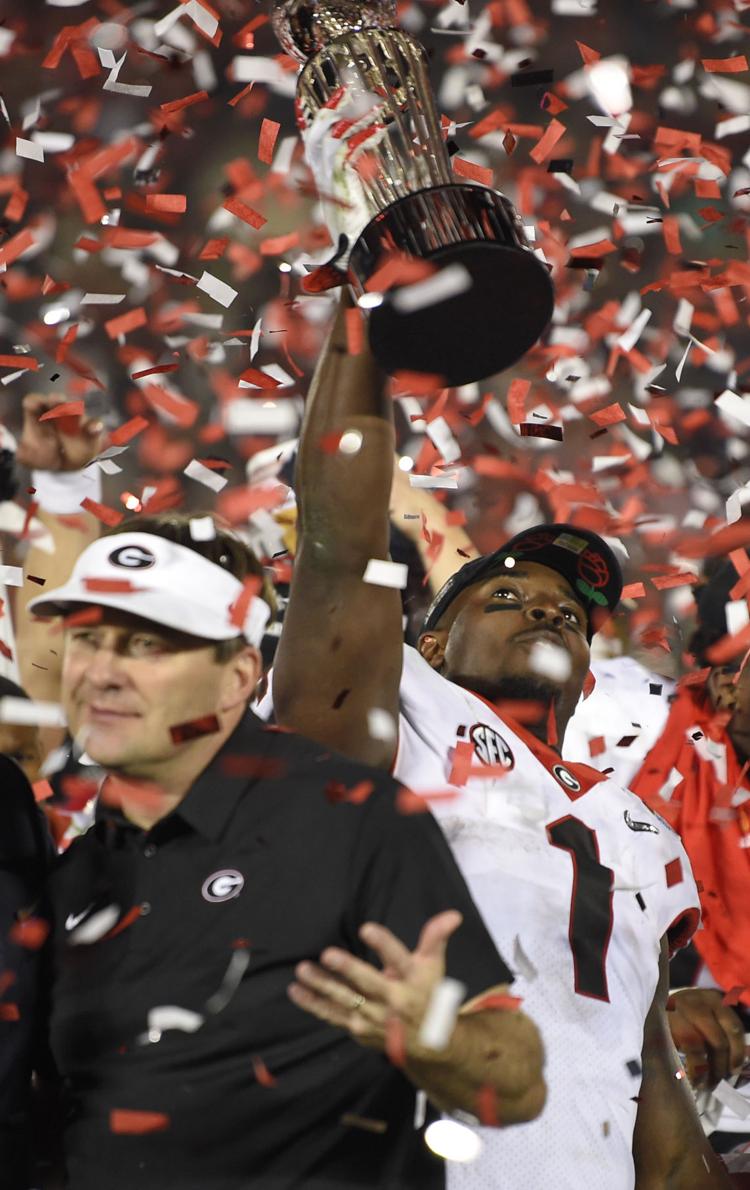 I absolutely lost it. I jumped, I screamed, I kissed my girl. I high-fived at least a dozen people and hugged multiple middle-aged women in the seats around me. Every single one of us had reached a level of joy unreachable in most activities and we were overflowing with ways to express it.
I'll even admit, I was so overcome with emotion I cried. I don't know why or where it came from; it just happened.
Well after the trophy presentation and the field had emptied, Georgia fans were still flooding the stands. We were in no hurry to leave and it was truly fascinating to watch everyone digest what had just happened.
Most of us have never been here before. It's been 37 years since Georgia won a national championship, so this is our first taste of glory.
For years we've put up with ridicule and dismissal, with agony and heartbreak that was never countered by the greatness we knew this program had the potential for – until now.
Finally, that deep-rooted dedication has been rewarded. Georgia has arrived and, regardless of what happens Monday when we face the juggernaut that is Alabama, understand that we're here to stay.
That, to me, is the greatest part about this moment. That's what I saw on the face of every fan who basked in the aftermath of the playoff win.
We're no longer yearning for something greater. For the first time in my lifetime as a fan, we can finally stop and smell the roses.