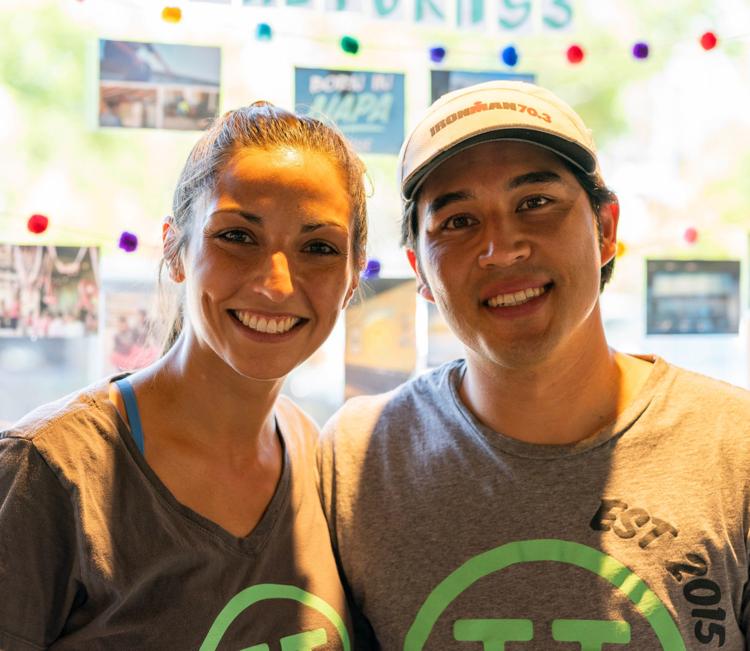 Ben and Ali Koenig opened Heritage Eats in Napa's Bel Aire Plaza in 2015, a restaurant which serves "globally-inspired, fast-fine food."
Little did they know that they would face some daunting hurdles these past five years, such as the 2017 Napa wildfires and the current COVID-19 pandemic.
Their commitment in face of great challenges is to "keep community spirit up and families fed in the face of uncertainty."
During Napa's COVID-19 Stay-at-Home order, Ben, Ali, and the Heritage Eats team provide not only daily meals for pickup and delivery, but also "Heritage @ Home" – grocery-style provisions such as eggs, meat, dairy, flour, rice, fruit, wine and beer, and the elusive toilet paper and paper towels – as well as the renamed "Dine OUT & Donate," in which they donate a portion of their sales to partner fundraisers.
In addition, the restaurant will offer a Cinco de Mayo Fiesta Kit, which includes a taco kit, avocados, Mexican hot chocolate cookies, and a do-it-yourself Mini Taco Piñata Kit created by GUILD, a local art studio. A six-pack of Pacifico Beer for adults is optional. Heritage Eats also recently added to the menu "#PayItForward" meals for $10 each, which the restaurant will donate to first responders and health care workers. Heritage Eats offers online ordering at heritageeats.com and is open daily from 11 a.m. until 8 p.m.
In the spirit of Heritage @ Home and community, Ben shares his recipe for Thai coconut curry soup.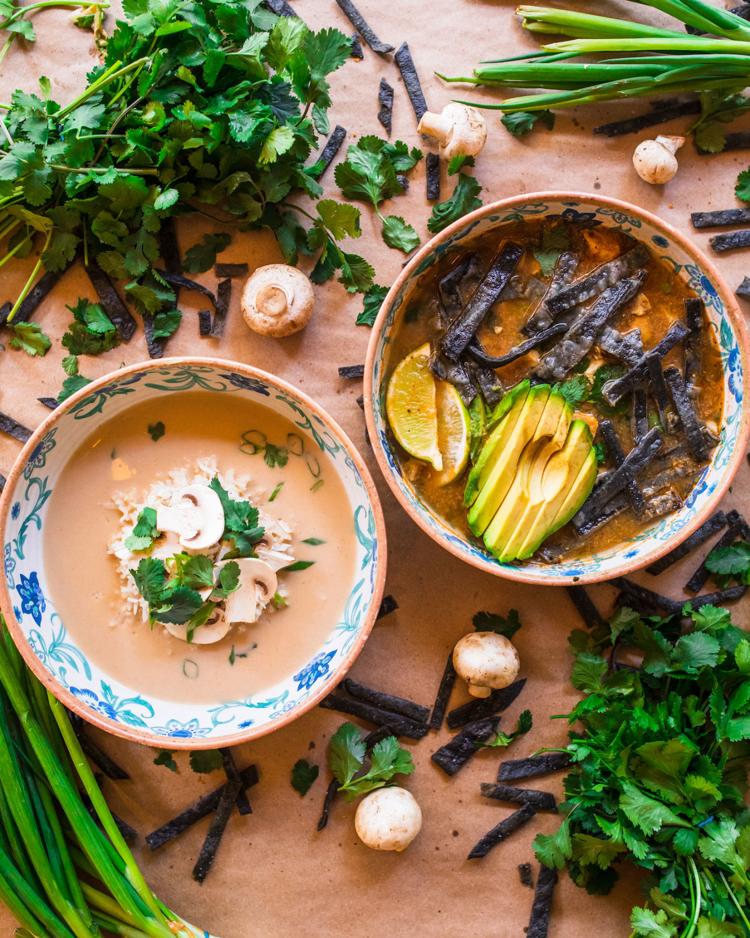 Thai Coconut Curry Soup


Yields: 1/2 gallon of soup
1 tablespoon garlic, minced
1 tablespoon ginger, minced
2 stalks fresh lemongrass – pounded and cut into 2-inch pieces
1 tablespoon Thai red curry paste
2 cups white mushroom, sliced
2 tablespoons coconut aminos
Green onions, sliced: garnish
Cilantro, chopped: garnish
In a large pot, heat oil over medium heat. Add the fresh lemongrass and sauté until tender.
Remove lemongrass to a sachet and reserve for a later step.
To the original pan, add the onion, garlic, chile, ginger and red curry paste and cook, stirring frequently, for 5 minutes, or until onions are softened,
Add broth and bring to a boil. Reduce heat and simmer uncovered for 30 minutes.
Add coconut milk and mushrooms. Simmer until mushrooms are just cooked through, then add fish sauce, coconut aminos, and lime juice.
Adjust seasoning as needed with salt, pepper, coconut aminos, lime juice and fish sauce.
Garnish with green onion and cilantro.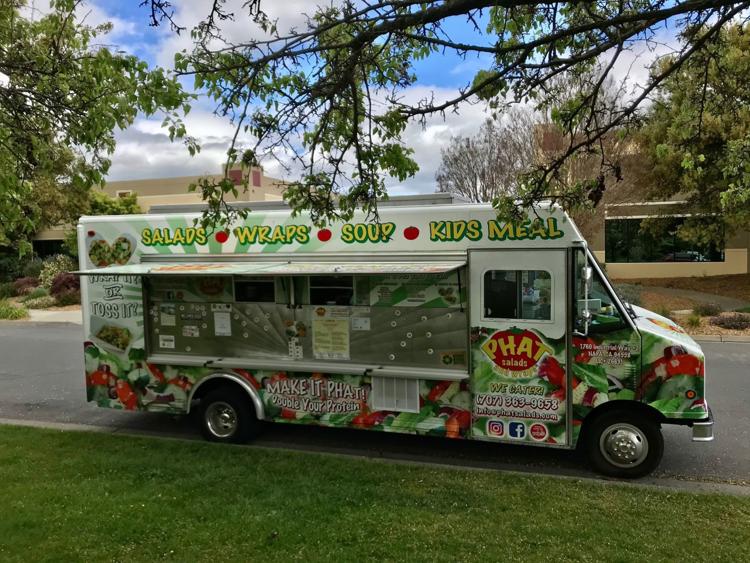 During 2019's Kincade Fire, Phat Salads & Wraps closed the food truck to the public, spending a week serving complimentary meals to first-responders and evacuees at the Sonoma-Marin Fairgrounds, It was during this time that chef and owner, Tim Bailey, coined the phrase, "Comfort Food for Uncomfortable Times."
Bailey is a self-made chef, having worked in the restaurant industry since he was 16 years old. He began as a dishwasher and worked his way through both back- and front-of-the-house roles. His purchase of Phat Salads & Wraps in 2018 is the culmination of decades of culinary experience.
The name PHAT is the acronym for Pretty Healthy and Tasty, and signifies Bailey's commitment to fresh, prepared-to-order alternatives to fast food. Also, when one chooses to make a menu item "PHAT," it means he doubles the protein choice – grilled chicken, steak, or black beans.
Customers have the choice to "wrap or toss it," which means the standard lunch menu items can be made as wraps or salads. Nearly everything can be made gluten-free, dairy free, vegetarian or vegan. For example, the salad version of the New Yorker is gluten-free and can be made with a Champagne vinaigrette in lieu of Gorgonzola vinaigrette, and with black beans instead of meat.
The tortilla soup is gluten free as prepared. Other salads and wraps include The Texan, The Santa Fe, The Californian BLT, The Classic Caesar, and Bailey's favorite, The Asian. Occasionally, Bailey prepares other meals such as Phat Burgers and Mashed Potato Bowls. In his spare time, Bailey enjoys pickling, so he often has unadvertised pickled items available on the truck, like his pickled jalapeños (recipe below).
As during the Kincade Fire, Phat Salads and Wraps welcomes charitable opportunities. One of Bailey's favorite quotes is by Chef Floyd Cardoz, "You can't say, 'I'm a chef' and not care about the community."
Pickled Jalapeños


Contributor Tim Bailey describes these as "a little sweet, a little heat!"
Yield: approximately 1 liter of pickling liquid (will cover 12 jalapeños cut into rings)
2 cups water


Dissolve salt and sugar in water over low heat. Add vinegar and pickling spice, then bring to a simmer. In a bowl, strain the hot pickling liquid over jalapeños.
The jalapeños will begin to rise to the top of the liquid, so place a weight – like a plate, a small lid, or a Ziplock bag of water – on top to keep submerged.
Enjoy a light pickled jalapeño in five minutes or a fully pickled jalapeño the next day.
Phat Wraps in Napa is open 11 a.m. to 2 p.m., Tuesdays through Thursdays at 607 Airpark Road, Napa, and Fridays at 1800 Pueblo Ave. at California Blvd., Napa, near Piner's Nursing Home. Call ahead to order at 707-363-9658 or order through GrubHub and DoorDash. View the menu at phatsalads.com. The email is info@phatsalads.com.
Be the first to know
Get local news delivered to your inbox!