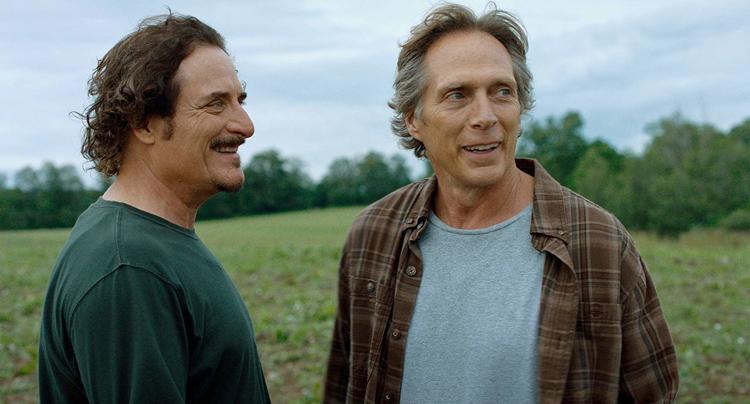 Back to the Uptown! Actor William Fichtner came to Napa for the Napa Valley Film Festival in 2016 with the film "American Wrestler: The Wizard" and was so happy with his experiences here as an actor promoting a film that he decided to bring his directorial debut to Napa. I'm not sure if Mr. Fichtner was nervous or a bit tipsy as he introduced his film on Thursday night -- my guess is a bit of both -- but you could see how excited he was to share his movie with people. He not only directed it, but he wrote and starred in it as well. That's a tall order for any artist.
NVFF Synopsis: Best friends Ted Markham and George "Hilde" Hildebrandt are two ordinary, small town maintenance workers at a college in Upstate New York. Their simple daily routines are quickly upended when one night they spot an intruder at a Museum Exhibition on the college campus. Investigating, Ted and Hilde discover that this mysterious visitor is more than what he appears to be, and is in need of their help. At the risk of losing their jobs, Ted and and Hilde find themselves torn between helping a stranger find his home, and taking care of their own.
Sassy's Side: I need you to trust me on this one. Just accept everything that you are seeing as it unfolds on the screen. Don't try to get ahead of this movie. There is a puzzle to this movie -- a history mystery, if you will -- and you'll miss out on all these great little moments if you are trying to play detective as the film progresses. Trust Fichtner. He will not lead you astray. Let him and co-lead Kim Coates do the heavy lifting and just sit back for the ride.
"Cold Brook" is simply a fun little movie. I didn't quite know what to expect going into the film, but I am pleasantly surprised by where it took me It's a feel-good flick. It's a film about family, friendship and doing the right thing.
I love this cast. I love the writing. I am just enchanted with this film. And this movie is why I love the Napa Valley Film Festival. Fichtner is a recognizable actor. You've seen him in "Crash", "Armageddon", and "Black Hawk Down". You know this guy even if you don't know his name. He's shared screen with some of the biggest actors in the world, but this movie is his passion project. He wanted to make a movie he could do with his best friend and he filmed it in his hometown of Buffalo, New York. According to Fichtner, he "ran out of money a long time ago, even though we just finished up the movie a few months ago."
This movie has no home. No distributor. No release date. Beyond the festival circuit, "Cold Brook" may never make it to theaters or be streamed online.
I don't think that will be the case with "Cold Brook", but film festivals give a chance for people who love movies to see movies that are made by people who love movies, who want to tell a story, and who want to entertain and engage.
As an actor, Fichtner knows how to tell and deliver a story and it's exciting to see that his talents make him a Hollywood triple threat. If only, audiences could remember his name ….
"Cold Brook" screens again on Sunday, Nov. 11 at Charles Krug Winery in St. Helena at 9:30 a.m. I know it's an early start, but be there. Listing to Fichtner talk about making this movie is nearly as fun as watching the film itself.