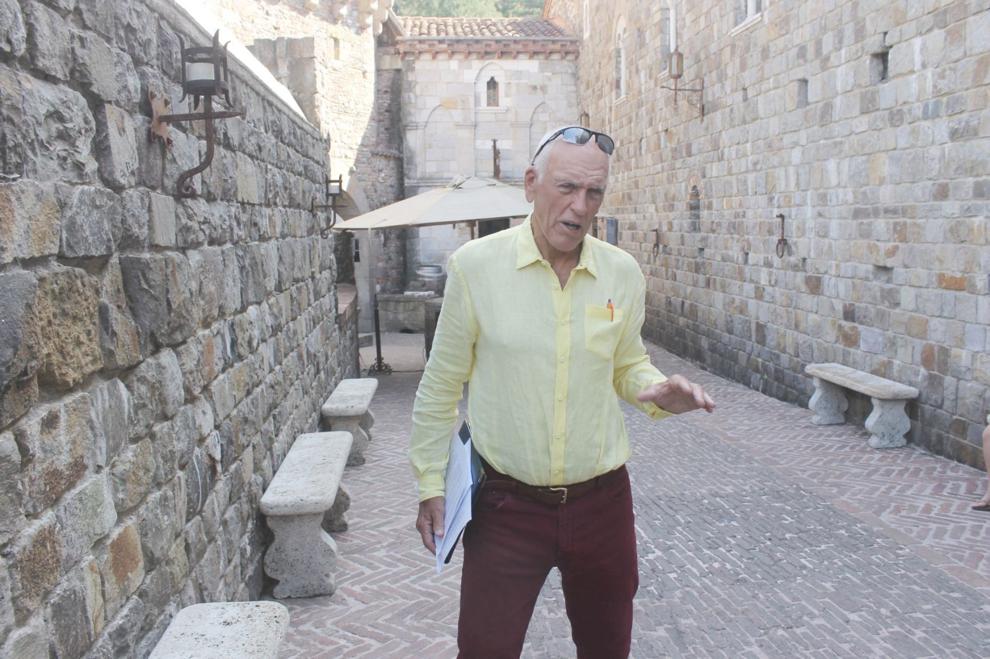 "Pssst. C'mere, I wanna show you something."
At age 77, Dario Sattui is still a kid a heart, especially when he talks about his life's great passion: Medieval architecture.
"I love medieval architecture, I'm nuts, I've got a disease, I know it but it's incurable. I've bought a Medici palace in Southern Tuscany, I've bought a monastery in Sienna, I've bought a little castle near Florence – I sold it finally after 10 years – and I own part of a castle and a hotel. There's something wrong with me and I can't help it."
Sattui also owns Calistoga's Castello di Amorosa, the Castle of Love, a nine-story, 145,000-square-feet, 13th-century Tuscan castle that may be the perfect embodiment of his obsession. It has 107 rooms and no two are the same.
"Beautiful architecture to me is like a beautiful woman and I just go nuts. I try to resist buying other places. Oh, I bought a castle in France, too. I just can't help myself. A lot of people like country clubs or planes, I don't care about any of that, I love architecture," he said during a recent interview and tour.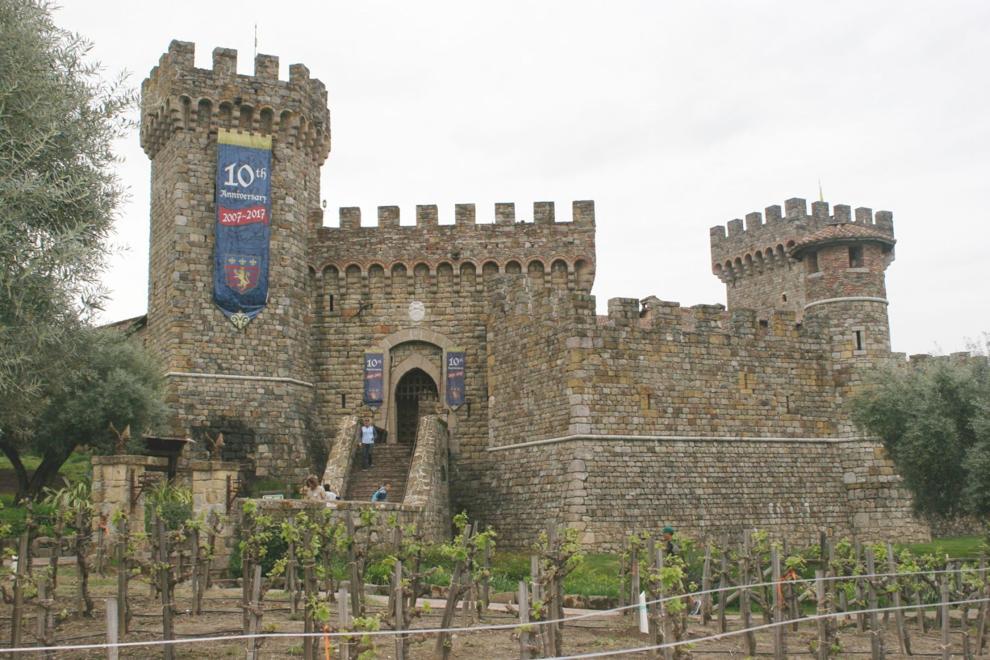 Well, maybe "own" isn't quite the right word. Yes, he bought the 171-acre property in April 1993 from longtime Calistoga resident Andre Bosc, who was a Northern California real estate agent and land developer. And, according to Bosc's obituary – he died Sept. 17, 2001 at age 88 – he was a dreamer, risk taker and an entrepreneur. Sound familiar?
Bosc also spent more than a dozen years getting a public tour and tasting winery permit – the last one Napa County ever granted – that included 250,000 gallons of wine production and allowed a winery building of 130,000 feet. The permit was granted in February 1989, according to Sattui, and before the Winery Definition Ordinance was passed in 1990. Sattui calls the WDO "a stupid law," although he didn't buy Bosc's property for the permit.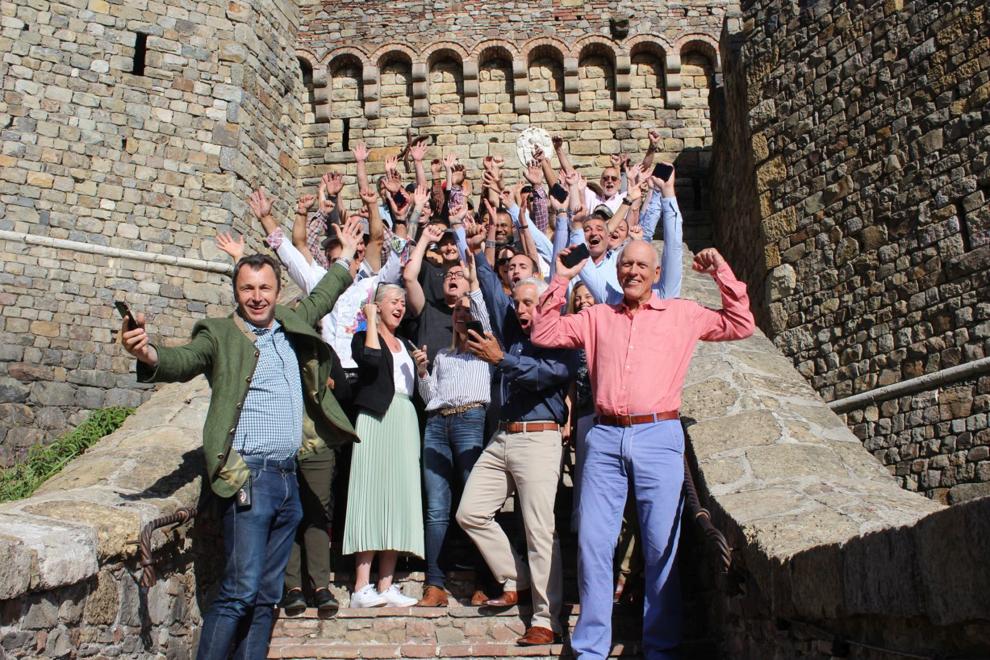 "I didn't buy this property to build a castle," he declares. His original V. Sattui Winery, located south of St. Helena, was doing well and Sattui had "fantasies of living in Europe five or six months a year" and was looking for his dream property in the Napa Valley. He found it on Bosc's property — including an historic, beautiful, three-story Victorian that was built by Col. William Nash, who came to the Napa Valley in 1847 and built one of the first 12 or 15 houses in all of the county.
"I've coveted that (Victorian house) for years, but I couldn't afford it," Sattui said. "The seller, Andre Bosc, kept dropping the price and I think I got a good buy on it, because he was desperate." The house was built in 1848 and Nash planted a vineyard in 1850 and a winery in 1852, "so he was really a pioneer," Sattui said.
A few months after buying the property, Sattui said he thought he'd replant Nash's vineyards and sell the grapes to V. Sattui Winery, but he said he started thinking that he'd build a small winery in the medieval style. "Then it morphed into a much greater project" and the castle took almost 15 years to build.
Castello di Amorosa
What Sattui wanted to show off was his castle. And we were willing, especially if we could go down into the bowels of the castle and visit the dungeon. Not to stay, mind you, just to have a look … I'll have to say, we were like a trio of elementary school youngsters, going over to see a prized possession in your best friend's bedroom.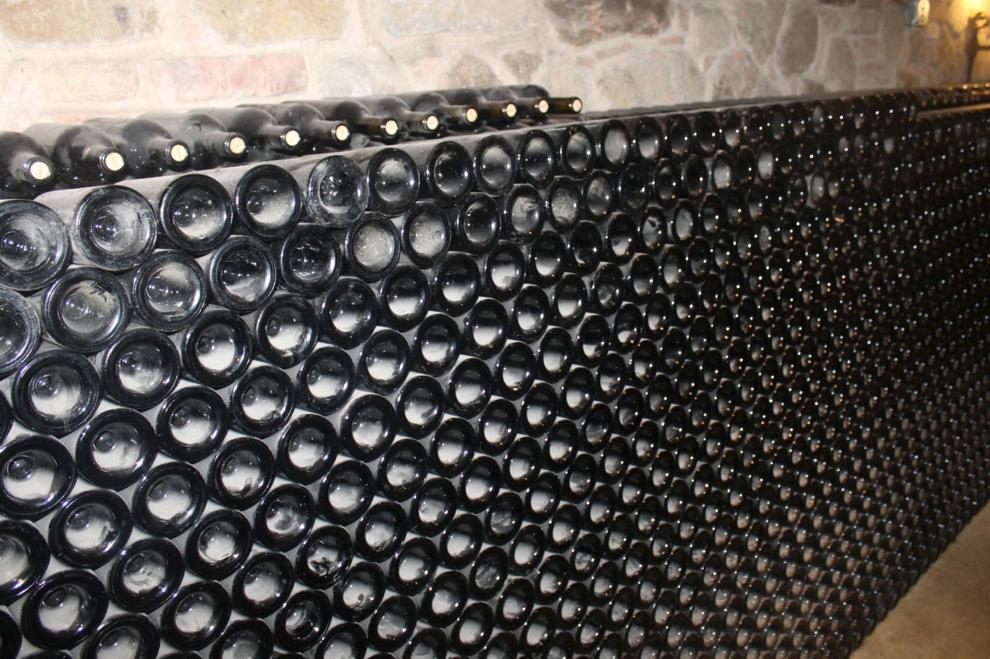 "That tower was destroyed in the war of 1328 and it was never rebuilt," Sattui said, pointing to a tower that is crumbling. "Here's a doorway," in a brick wall, "but the new owner bricked it up several hundred years ago. I don't know why, I wasn't alive then."
A few more steps on an ancient stone walkway and Sattui said, "Really, it takes more than one visit to really study and see the castle. If you go to Italy or France, if you really study the walls, you can see to a large extent, the history of the building."
Don't believe Sattui knows what he's talking about? If you're a betting man, you'd lose that bet.
Twenty-five or 30 years ago, Sattui was in Europe. "I'd get up early in the morning, I'd get on my motorcycle or in my car and I'd go around to all these old buildings. A lot of them were abandoned," Sattui said, because the owners moved into town and didn't want to live in the country. He'd visit farmhouses, churches, palaces and castles. He brought a hammer "if I had to break in," a tape measure "to measure the rooms if it was something I really liked" and bring a sketchpad and a camera. "I had thousands of photos, never thinking I would do this (build a castle) I just loved doing the research." Year after year, he'd do his research – always alone – "almost nobody would ever go with me twice," he said – and he'd categorize the photos, by railings, chimneys, walls, wells or cellars.
"When I finally decided to do this, I'd already done my research," he said.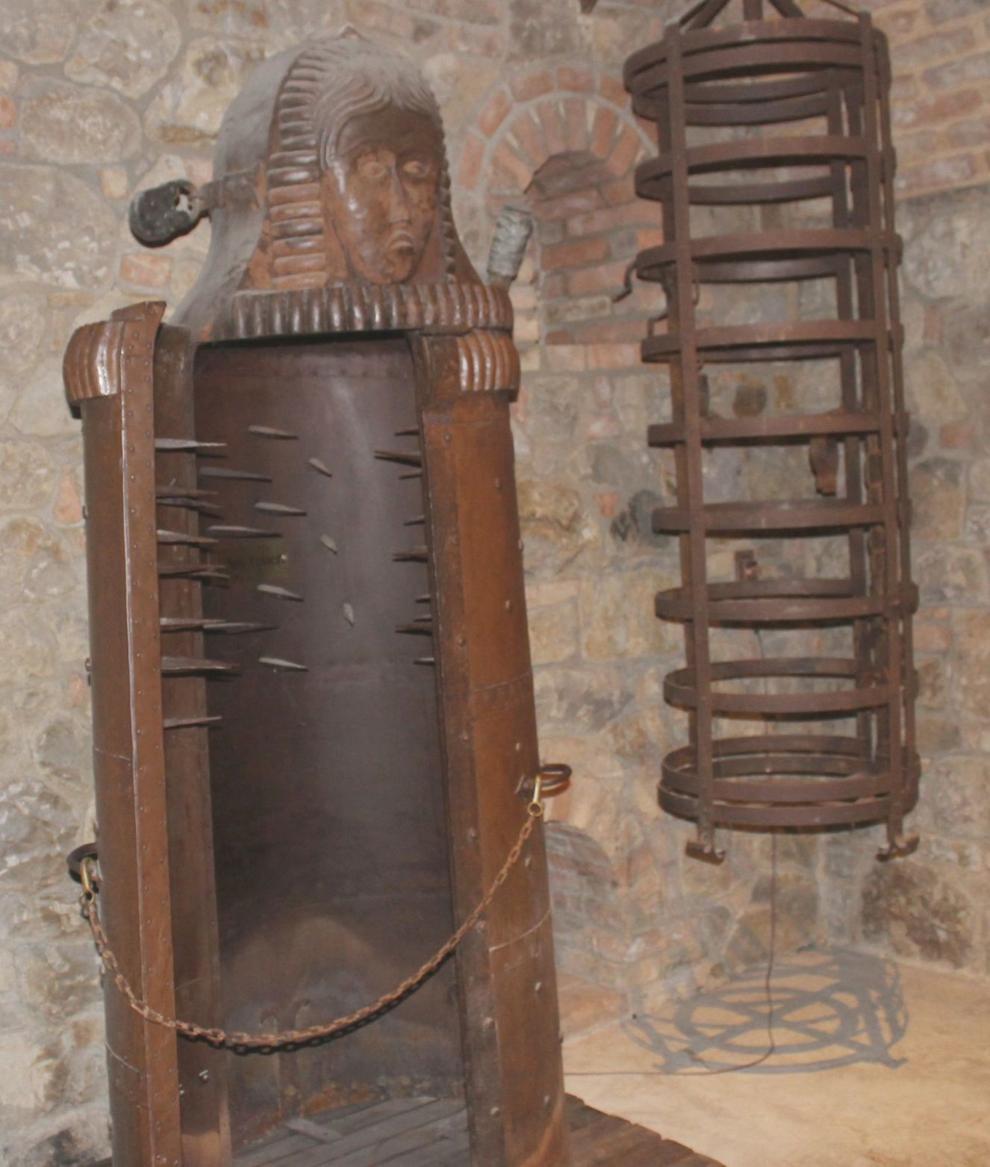 Sattui is the first one to admit that he's not a builder. "I built a rabbit hutch, a chicken coop and a doghouse in my life before I did this."
But he found kindred spirits like Lars Nimskov, a naval architect from Denmark, who spent 10 years supervising the construction; an Italian, Paolo Ardito, he met along the side of a highway, who worked under Lars and then took over the construction when Sattui fired Nimskov; and St. Helena architect Jon Lail, the second architect for the project, who designed the castle the way Sattui wanted it and as a result "we're still friends today."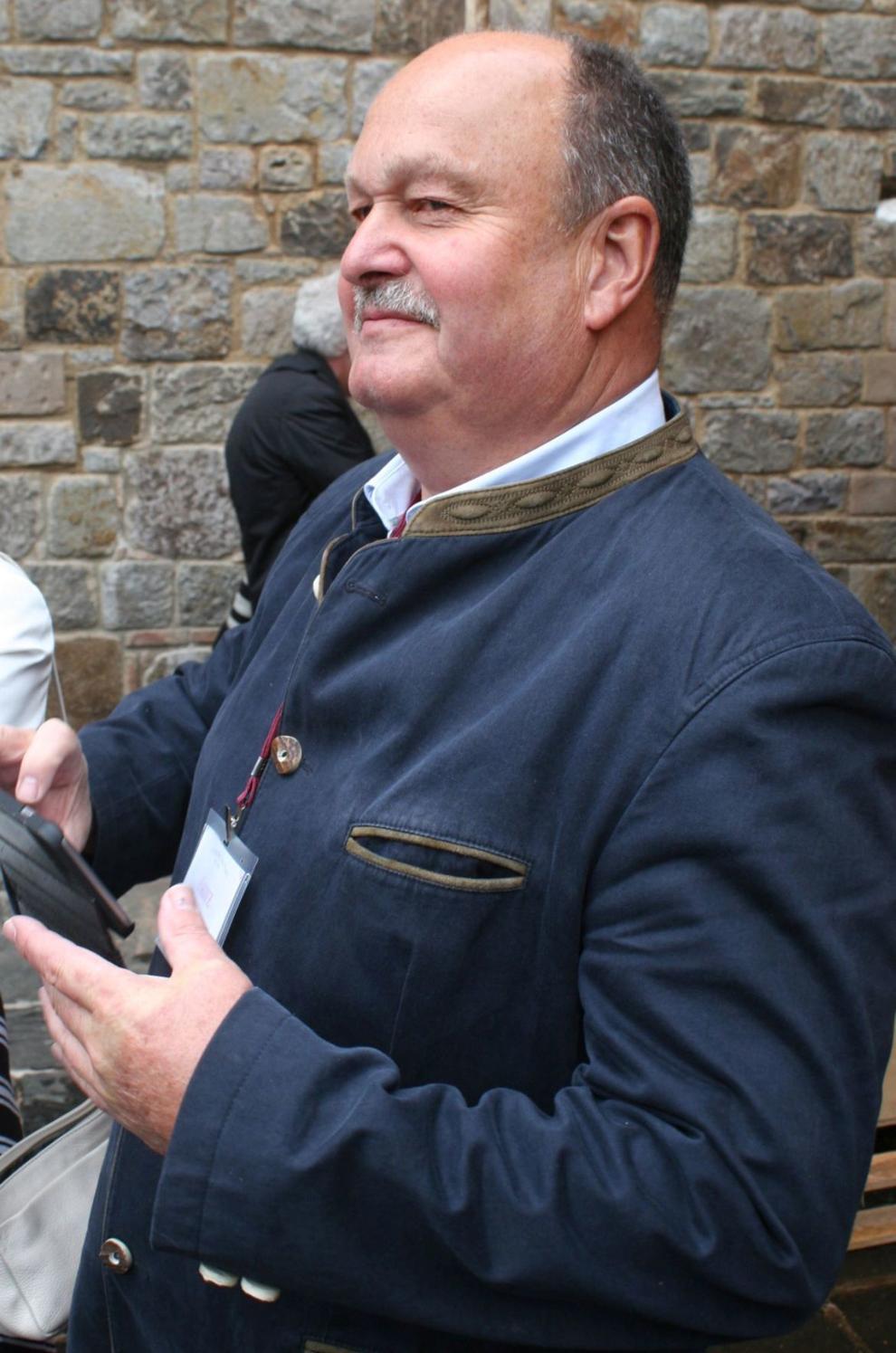 And he found an Austrian who's as crazy as he is about medieval architecture. Fritz Gruber built a labyrinth under his house and Sattui spent four days with him at his Austrian home, learning everything he could. At one point, Gruber commented the he'd understand if Sattui wanted to build a wine cellar, but to build a castle, Gruber added, "You're crazy." Maybe so, but Gruber came to Calistoga and built the first two rooms of Castello di Amorosa, "to show us how it is done," Sattui said. "Of course, he takes credit for the whole castle, which isn't true. We built 105 rooms and he built two. In any case, I don't care."
Sattui bought 800,000 old, handmade bricks from Gruber, who bought the bricks when old buildings were torn down. "You can't build an old building with new materials," Sattui said. "It wouldn't look right. It wouldn't look old." Most of the bricks were made by the royal brickmaker to the Habsburg Monarchy. Along with the bricks, Sattui bought about 8,000 tons of stone from Syar for his castle.
Interestingly enough, the Romans invented cement, but it became a lost art in the Middle Ages, Sattui said. Instead of cement, medieval builders used lime, water and sand. "So we did the same thing, it works," he said simply.
To the dungeon
Following Sattui through his castle was quite an experience. He obviously knew every passageway by heart, knew the twists and turns of the underground cellars, something I could not fathom, so I just followed. Even when Sattui opened a door and directed me up a staircase with the advice, "Watch your head." The stairs went up and ended when they met a cement ceiling. A staircase to nowhere. Another of the oddities of Castello di Amorosa.
"This is a rack for stretching people," Sattui said as he pointed out the evil-looking rack. Next up was the Iron Maiden or the Virgin of Nuremberg. "The idea of torture was a slow, agonizing death. They didn't want to do you in right away." The sharp iron spears were embedded in the back and in the lid of the door of the Iron Maiden. A person would be directed to get inside the Iron Maiden and the door would be closed. "These were not meant to kill you right away, just to puncture you. Then, if you were still alive some days later, they'd light a fire underneath and boil you while you're being punctured. It was horrible what they did," Sattui said.
Other instruments of torture were a cranium crusher, where your head would be put under a cup on the floor and slowly the cup would ratchet down and become tighter; a chair with a seat of spikes – sometimes they'd put hot coals on the seat, so you'd have to sit on hot spikes; and there were three tiny cells. "For a minor offense, they might hang you outside the castle to make a point," Sattui said. "And, then sometimes they'd forget about you and not feed you for a couple of months. They were brutal in those days, there's no fooling around."
USA Today honors
But today, Calistoga's castle is about visiting, taking a tour and afterward enjoying Castello's wines. Recently, Castello di Amorosa was named "Best Tasting Room 2019" receiving top honors in USA Today's 10 Best Readers' Choice Award.
Why does Sattui think they won the award? He said it's a combination of three things. "I like to think we have a beautiful building; I like to think we take care of our customers well; and I think the wines are real good. Of course, I'm biased, but I know they're good. And I think fairly priced, too."
Everyone who comes to the castle pays an entrance fee, either $30 for a non-guided tour to $45 for a guided tour. Both come with a wine tasting experience at the end of the visit. Other experiences are available as well, including food and wine pairings in a royal apartment and tastings of reserve wines in a private room.
Sattui said some 300,000 people visit in a year; that's more than 800 people every day. Most of the visitors are from the Bay Area, but others come from rest of the United States and the world.
"I often ask people how did you hear about us and a lot of it is word of mouth, which makes me feel real good," Sattui said. His follow-up question is, "Would you come back?" The answer is usually yes.
"I don't know how many come back, but a lot of them do come back, tell their friends and they come back over and over. That's really gratifying, too."