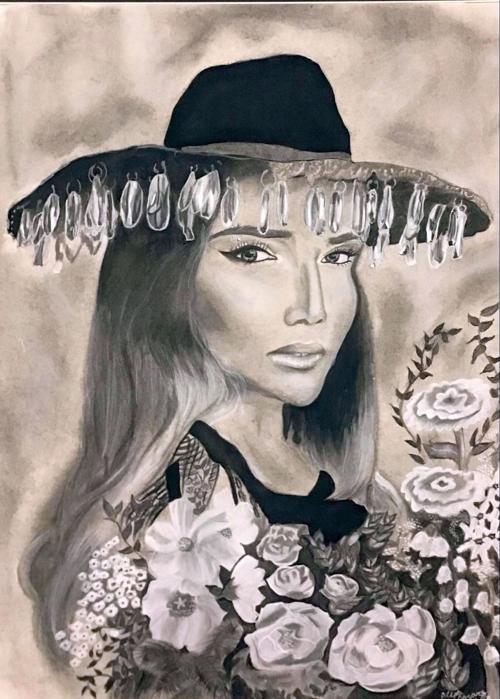 Calistoga Junior-Senior High school senior Alexa Cazares has been recognized as one of 11 students for excellence in the arts for January by the Arts Council Napa Valley. 
Each student, without exception, was singled out by their teacher for "going beyond," "always showing up," and most importantly, "inspiring others,"  judges agreed.
Last month, Arts Council Napa Valley judges appointed two studio art students at the high school, and middle/elementary levels deserving of honor, resulting in two ties in that category. Cazares tied with Justin-Siena High Senior Emma Katherine Tada.
Nine other students were recognized for excellence in choir, theater, digital media, instrumental music, and dance.
Whether it is painting abstractly or rendering realistic pen drawings, Cazares' teacher, Tyrone Sorrentino, said, "Alexa's enthusiasm and passion for creating shine through to inspire others." He recognized her for her exceptional dedication and disciplined work ethic. Sorrentino is equally impressed with her learning approach, which drives her to discover new ways to express herself.
Since its inception, Arts Council Napa Valley  Visual and Performing Arts (VAPA) Student of the Month initiative has honored over a hundred students from Calistoga to American Canyon, and awarded scholarships to a dozen. 
ACNV is currently reaching out to teachers throughout the county seeking nominees for February. All winners will be recognized with a certificate and invited to an award and scholarship ceremony in the spring. If you know someone, a teacher, or a student who deserves recognition, please direct them to the ACNV website, artscouncilnapavalley.org/ for full details, including the Call for Nominees document. Only teachers and educators can nominate students for recognition. Nominations are due by 5 p.m., Feb. 21. 
WATCH NOW: CONSTELLATIONS, A MUSIC VIDEO BY CALISTOGA'S PELTZ THE PRODIGY
SEE PHOTOS: ART LEADS TO FRIENDSHIP IN NAPA