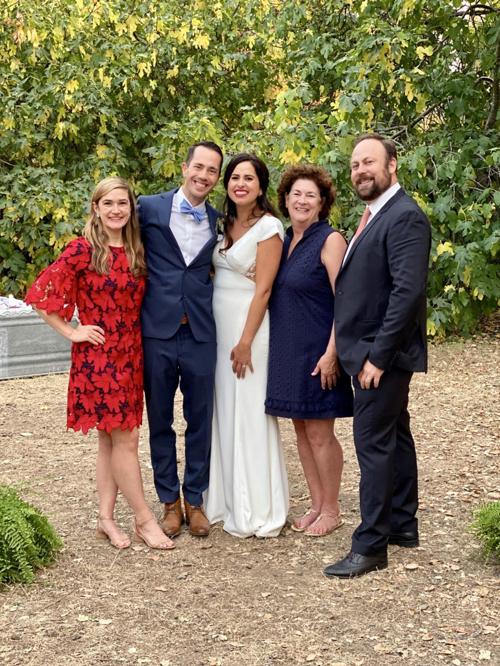 When the Kincade Fire forced the evacuation of a wedding venue outside Calistoga, a friend in St. Helena stepped in to host the couple on their special day.
Emily Merrell and Greg Hill had arranged to be married Oct. 26 at Triple S Ranch Napa on Mountain Home Ranch Road outside Calistoga, with 135 guests and a full band. Hours before the ceremony, with the smoke from the Sonoma County wildfire thickening, the property was evacuated.
Ellen Shifflett, a family friend, had casually mentioned that the couple could get married at her St. Helena home if necessary. At 2:30 p.m., they called her and took her up on her offer.
Community was the theme of the wedding, Merrell wrote on Instagram, "yet I never believed 'community' would be put to work as it was."
"We had groomsmen knocking on neighbors' doors asking for chairs for the ceremony," Merrell wrote. "We had our caterers, La Saison, cooking the majority of the food in their Napa kitchen, and the rest on a grill in my friend's driveway. The most beautiful taco buffet was laid out on tables in the driveway, complete with handmade tortillas.
"Our florist Ida Blooms swept stray leaves and crafted a ceremony site in an overgrown part of my friend's lawn. My photographer brought me to see the new ceremony site and I immediately broke down sobbing. I didn't sob because I was heartbroken that our dream ceremony and wedding wasn't happening; I was sobbing because everyone was so great. Because our community didn't flinch when I sent out an email that said 'we're evacuating, new plans below.' They all rallied, pitched in and mobilized in a way I couldn't fathom."
The event turned out to be "more magical than I could ever have planned," Merrell wrote.
Caroline Shifflett, Ellen's daughter, credited vendors La Saison, Heald Wedding Consulting, Ida Blooms, Jodee Debes Photography and Ars Poetica Poetry for helping the wedding work out at the new location.
Be the first to know
Get local news delivered to your inbox!