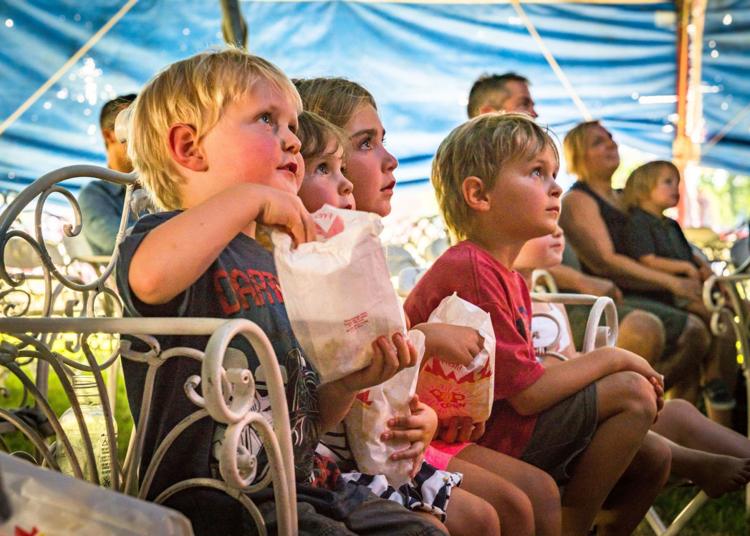 When Blaze Birge, co-owner of Mendocino-based Flynn Creek Circus, slipped from the trapeze in 2014 her years of training kicked in. Her body twisted and braced for impact, and after hitting the ground she wondered if the fall might end her decades-long career. She knew the risk of being a high-wire acrobat who refused to use a safety net.
Birge scanned her body for damage. She could move her fingers and toes, and nothing felt broken. She took a deep breath and crawled to her knees. The show must go on, she thought. And it has.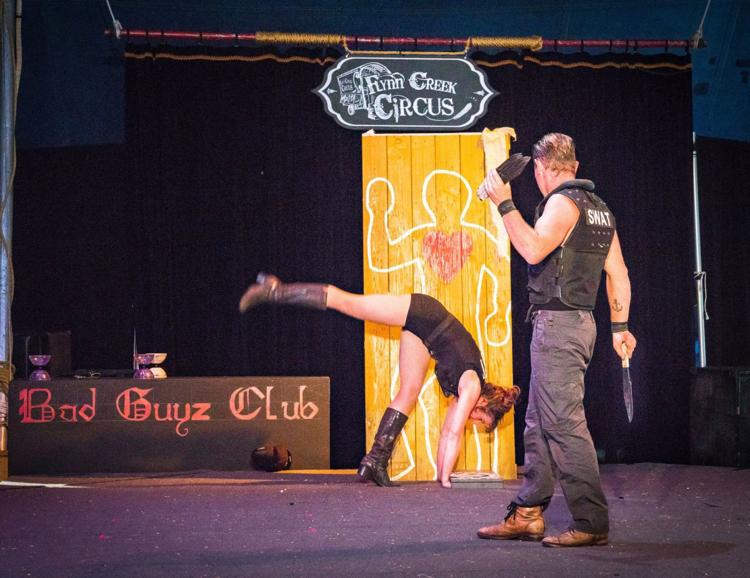 "As performers and professionals we understand the risks," Birge said. "We don't use nets, and our motto is pushing tradition to the edge. It's an important aspect of our act because we don't want fear to be what guides our choices."
Birge founded the circus in 2002 and runs it now with her partner David Jones. The couple married in 2007 and soon after had their daughter, Jacy.
Known as the Daring Jones Duo, the two perform aerial acts using ropes, a trapeze and aerial silks. The couple's nail-biting and yet graceful act has been recognized with numerous awards, including being honored at the "Oscars" for circus performers, the Monte Carlo International Circus Festival, and being finalists on "America's Got Talent."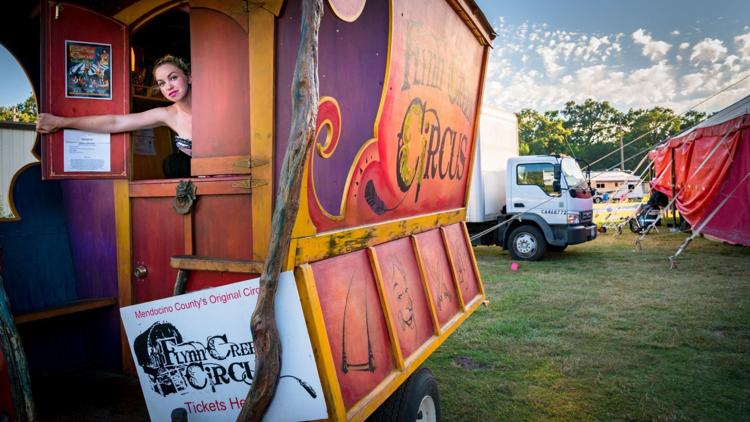 For years the pair traveled the globe, entertaining circus audiences as far away as Europe, India, Russia and China, making friends and thrilling audiences. During these adventures it didn't escape the duo's notice that many of their fellow circus professionals expressed real interest in visiting and performing in northern California.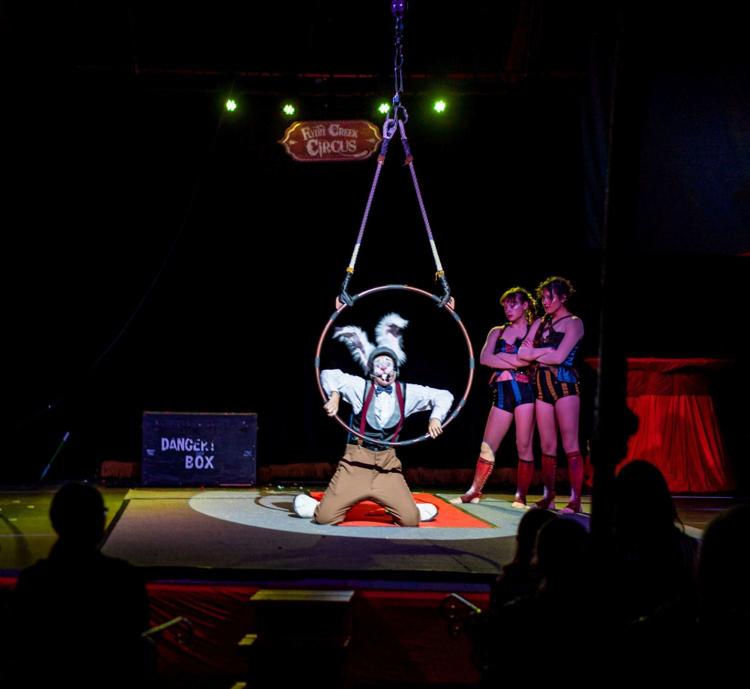 By 2014 the partners wanted to spend more time near their Albion home but also to share their experience and talent with people who might not otherwise have access to non- technology-based entertainment.
With their savings and the help of friends and family the couple purchased a big-top tent, intending to spend summers touring northern California and bringing world-class acts to small towns. Since then they've wowed Napa Valley audiences each summer, bringing their non-animal-based shows and children's circus camps to the Calistoga fairgrounds to entertain and inspire audiences for a few days each July.
Beyond their own acts, the Flynn Creek Circus includes guest performers, most of whom come from the couple's extensive list of friends they've met during years of touring. But according to Birge the highest priority is that they are "real" acts.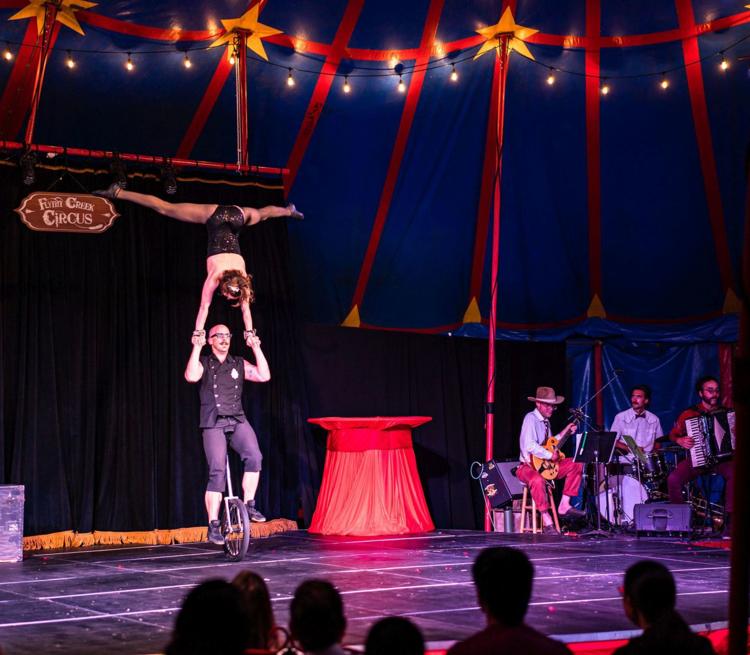 "The realness of what we do is very important to us," Birge said. "All of our stunts are real — this isn't CGI (computer-generated imagery). If it looks dangerous, that's because it is. I think it's extremely inspiring to see practiced performers who have trained for years, having honed their craft, taking risks and not flinching. I think such examples and inspiration are especially needed now."
Birge recalls a letter she received from a lady finding inspiration in their act.
"We were doing an act in Germany and we just didn't feel like things were going all that well," she said. "You know when you feel like things are just not working no matter how hard you try? Well, it was like one of those times."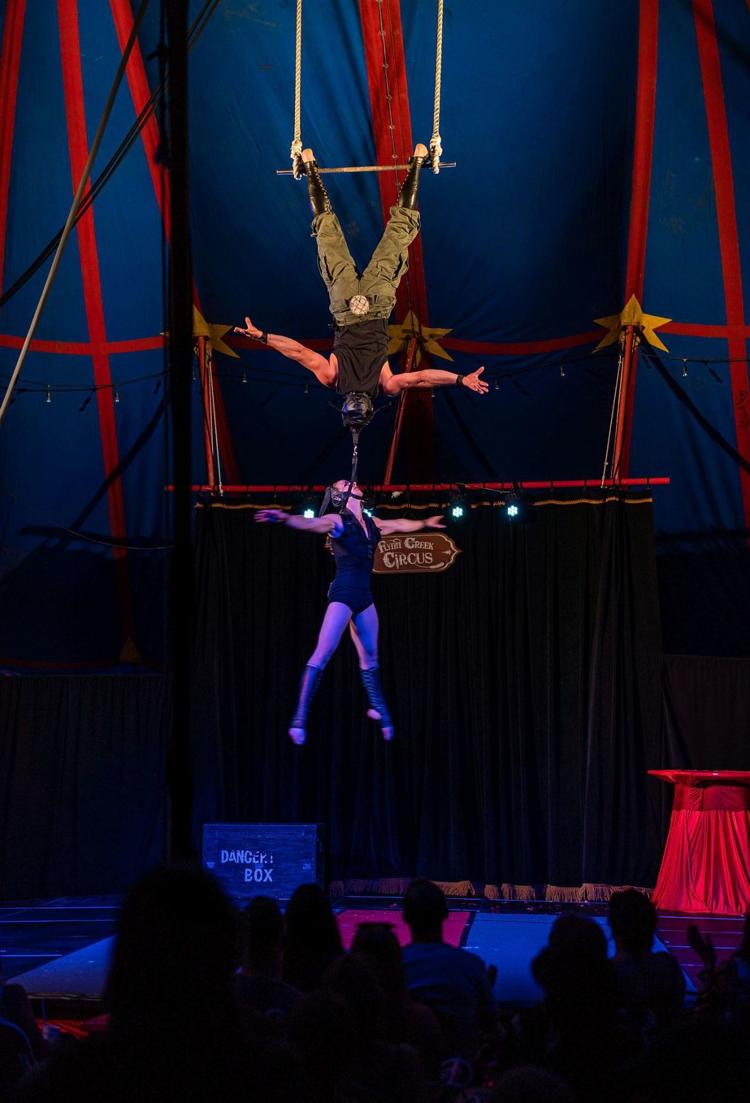 However, months later the couple received an email from a woman who'd seen the show and been inspired to strike out and attempt her life's dream.
"She wrote that watching us that night she'd noticed the trust we had in each other and also the trust we had in ourselves," Birge said. "It reminded us that even when we might not think things are going perfectly from our own point of view we can still have a positive impact on others."
Birge studied philosophy and performance art in college, but she had originally been attracted to circuses as a model for creating portable art galleries housed in tents.
While she interned in England she became intrigued with the trapeze and began training under the tutelage of one of the world's top circus experts, Martin Burton, founder and director of Zippos Circus.
"I started at age 25, which is rare — most professionals start when they are 4 or 5 years old," she said. "It was hard work, but I loved it."
Eventually she started teaching, and David was one of her first students.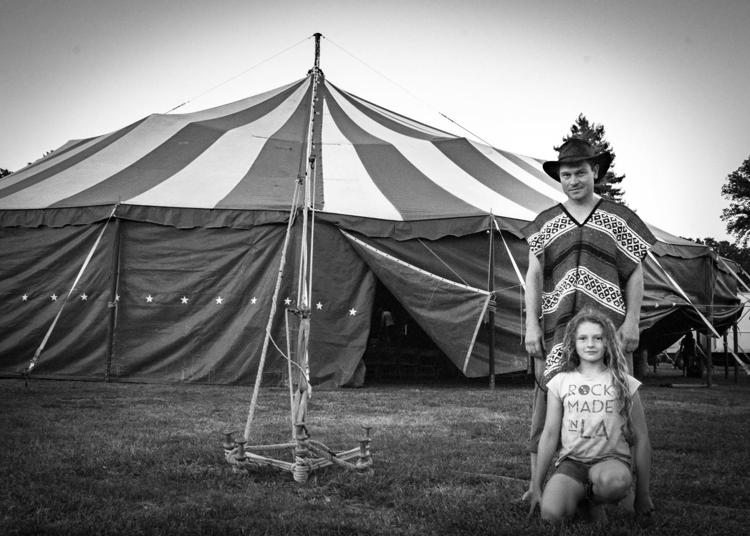 "Blaze and David were both graduates from my circus school, the Academy of Circus Arts," Burton said. "Blaze had been coming to work at Zippos Circus as part of a doubles trapeze act, but the girl she was working with fell and was hospitalized."
Burton runs his own circus and is also the chairman of the Association of Circus Proprietors, "the oldest circus trade association in the world" and the honorary chairman of Clowns International, "the oldest clowns association in the world." He has spent his life dedicated to the circus and training performers.
Burton said the keys to being a successful circus performer are skills applicable for today's career-seekers.
"Hard work, training and a flexible attitude [are key]," Burton said. "Circus is never routine, never the same. There is a new challenge every day. If those types of challenges excite you, run away and join the circus! If you prefer a stable and routine existence, come and see a circus show when you can and live the circus life from the audience seating. Circus will never die as long as there are inquiring people who thrive in the traveling community."
The Flynn Creek traveling community
The Daring Jones Duo say their traveling community has become family — not only those who join the team every year as performers but also those who believe in the mission of bringing quality entertainment to smaller communities.
"We love the idea of bringing a hidden-away circus that is full of high-caliber performers from around the globe to a beautiful small town's green," Jones said. "What could be better than a small gathering of guests sharing an intimate experience — magical."
Beyond the performers and guests, a collection of early supporters have helped sustain Flynn Creek Circus.
"Circus is important because it is for everyone," said Maria Foster, one of the early investors in Flynn Creek Circus. "Not just those who are educated to appreciate the arts. It is important because it elevates the human spirit. By witnessing extraordinary acts of athleticism combined with esthetic and artistic appeal, we get to experience joy, awe and the elevation of the human spirit. Similar to all the great works of art and theater, we are offered the experience of being more than we are in our day-to-day life. And of course laughter. There is nothing better in the day than laughter."
Jacy Jones, now 12, has been performing in the shows since the age of 6, albeit mostly on the ground. This season the precocious preteen gives a jaw-dropping demonstration of gravity and instructs audience members on the mathematical formula for levers.
"I like being around all the performers and learning about their cultures and traditions," Jacy said. "Sometimes it's exciting and sometimes it's boring — like when we're breaking down the tent. But I've been able to travel and see different places. Being circus is a big part of me but not the only part. Beyond my title as a performer I am also a standard, normal girl who can't keep her nose out of a book, whose parents make her do homework even during the summer, who can't stop playing with animals."
A collective appreciation of coexistence
Sit down in front of the computer or TV and you can watch any number of amazing feats on the screen. Some are real and some are not. Often it's hard to know which is which. The screen itself creates a barrier, a filter that no matter how "real" what's being watched is can never actually be as real as witnessing dedicated and talented performers express their craft in front of your own eyes. This is where live performance transcends the purely visual experience — where collective appreciation of the freedom from fear can manifest through creative, well-disciplined, graceful, cooperative and exceptionally fit individuals. And it is exactly this that makes the Flynn Creek Circus prescient for our time.
"[The] circus teaches discipline and coexistence," Burton said. "I know of nowhere else that is more inclusive and less judgmental than the circus. It doesn't matter who or what you are, it's what you do in the ring that counts."