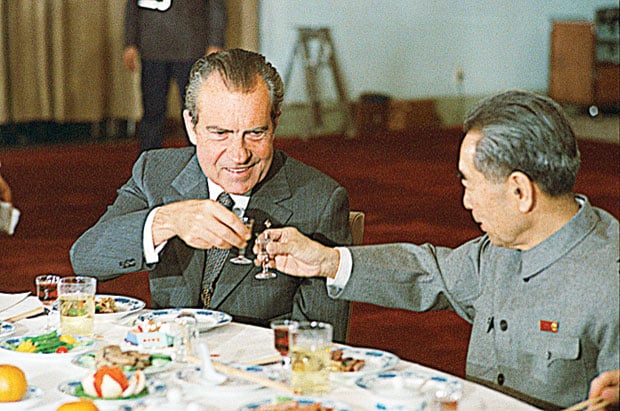 Forty years ago, U.S. President Richard M. Nixon helped put the Napa Valley and one of its wines on the world map.
Nixon and Chinese Premiere Zhou Enlai used a sparkling wine, a 1969 Schramsberg Blanc de Blancs, in their "Toast to Peace" during a state dinner in Bejing, in the People's Republic of China. Nixon and a large entourage of U.S. officials spent a week in China, from Feb. 21 to Feb. 28, 1972. Nixon met with the ailing Communist Party chairman Mao Zedong, who was too ill to attend the state dinner, which was held Feb. 25, 1972. Zedong was to die four years later, in 1976.
Nixon, who was the first U.S. president to visit China, met for extended conversations almost daily with Zhou and discussed a wide variety of topics. In 1994, the National Archives declassified these Nixon-Zhou conversations, and they're fascinating. Although government censors have excised many parts of the documents, they were released in their entirety.
One of the shortest meetings, 45 minutes, was on Saturday, Feb. 26 at the Bejing Airport, when Nixon and his entourage were headed to Hangzhou. It was the day after the state dinner and the "Toast to Peace," and Zhou reaffirmed a toast Nixon had made the night before when he said the two countries must make progress in developing their relationship. "We must seize the day, seize the hour," he said.
Besides Nixon and Zhou at that airport meeting were people whose names are familiar to U.S. history: William P. Rogers, the secretary of state; Dr. Henry Kissinger, assistant to the president for National Security Affairs; and Ronald Ziegler, the president's press secretary. Total at the airport that day were 22 participants.
The eyes of the world were on Nixon and Zhou in late February 1972.
Hugh Davies, current president of Schramsberg, said his parents, Jack and Jaime Davies, bought the 200-acre property in 1965 and their first Blanc de Blancs was from the 1965 vintage. Davies said that wine would have been released after two years, just in time for the Christmas holidays in 1967. The 1969 Blanc de Blancs was released at Christmas 1971. According to Davies, the State Department called and asked if it could buy 13 cases, or 156 bottles, of the sparkling wine. There was only one problem: The wine had to be shipped from Travis Air Force Base near Fairfield.
Davies said his father and older brother, Bill, who was 10 at the time, took the wines to Travis AFB, probably in late January.
Bill, who is 50 and lives in Virginia, said he remembers the delivery of the sparkling wine. "I remember getting into a station wagon with my dad and going to Travis Air Force Base. It was a dust-colored Chevy Nomad, with crank windows and vinyl mats," he said. "I didn't really know where we were going, but I have a snapshot memory in my brain of driving in the car onto the tarmac where the Air Force jets were waiting. We stopped the car and I watched as guys in uniforms unloaded the cases of champagne and took them up the stairs into the jet."
Both Hugh and Bill said their parents didn't know what the wine was for; Hugh added the wine's purpose was a secret. Despite the large media contingent that accompanied Nixon to China, including Barbara Walters of NBC's "The Today Show," few people knew what was going to happen in China until the events unfolded.
On Saturday after the state dinner, Walters stood in Tiananmen Square holding a bottle of the Schramsberg sparkling wine. She announced to the morning news audience that this "little-known Schramsberg 'blank de blank' was served last night," Hugh Davies said.
Bill Davies said it was Chuck Carpy who first called his parents after seeing Walters on TV.
Hugh, who was 6 years old in 1972, said he doesn't remember much about the events, other than it was "a big deal at the time. The whole Nixon trip to China was a big deal, so most people who followed the news were in tune with that, but obviously it was a super big deal for my parents, for our brand and for the relatively fledging Napa and California wine industry."
He added it was the first time a California wine was served at an international stage by a U.S. president at a significant global event.
Hugh Davies said the 1969 wine probably was made from chardonnay from their own property, with grapes also coming from a Spring Mountain vineyard and two other vineyards, one in St. Helena near Fulton Lane and the other near Lodi Lane. Jack Davies was the winemaker at the time and Hugh said he worked with Dimitri Tchelistcheff, Andre's son, who was hired as a consultant. Andre, too, helped out, Hugh said, because he thought Schramsberg's "methode champenoise" was an interesting project. In 1971, Jack Davies hired his first UC Davis graduate, Harold Osbourne, as winemaker.
How Nixon chose to toast his Chinese host with a little-known sparkling wine from the Napa Valley is a matter of conjecture. Bill Davies said his father knew John Ehrlichman, one of Nixon's top aides, who was a leader of the Boy Scouts. Another possible connection could have been either David Berkley or Darrell Corti, who were wine retailers in Sacramento at the time.
Bill said, "Over the years, people have taken credit for helping it happen, but I don't know how it happened. Having a little-known California wine may have appealed to Nixon, who was a California native."
Hugh added, "It's one of those things — as much as I'd like to know exactly who pulled the trigger and how it happened, we've been asking for a long time and I don't think we'll ever know exactly who made that happen. Obviously, we're glad it did."