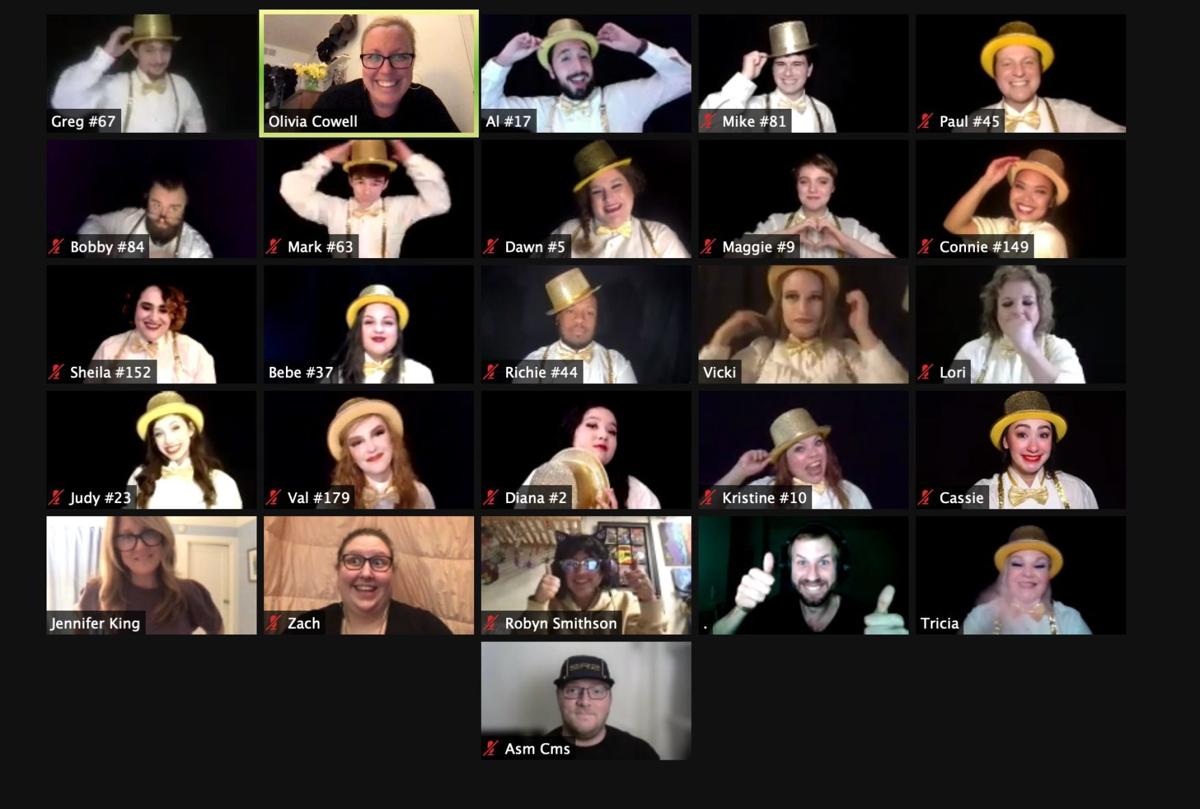 What if the pandemic went on forever? What if Zoom life went on forever? What would theater look like?
This is the question Jennifer King, director of theater arts at Napa Valley College, asked herself when she decided to take on her most ambitious pandemic era theater project yet: the blockbuster 1975 Broadway musical "A Chorus Line."
Support local news coverage and the people who report it by subscribing to the Napa Valley Register.
King and co-director Olivia Cowell decided to stage "A Chorus Line" as if it were taking place today, over the Zoom video conferencing platform. It aired for one performance on April 9.
The show consists of auditions for 16 actors who bare their souls to a cold, demanding director named Zach, played by Jessica Romero. In this production, the actors are in their homes, performing in front of their webcams - just like we all are in our jobs and at school.
As Zoom has given our coworkers and fellow students a window into our personal domains, so too do we see these actors' bedrooms, kitchens, offices, and closets.
King said her inspiration for the show was her experience teaching acting over Zoom at Napa Valley College.
The show is basically a succession of monologues interspersed with musical numbers. Zach interviews each actor, asking intensely personal questions — questions that one may have gotten away with in 1975, but would never fly in today's more equitable employment environment. For starters, just asking one's age, as Zach demands of many of them, would be grounds for a discrimination lawsuit.
Those familiar with the original 1975 production or its many revivals or the film from 1985, know that the 16 actors are a lot to keep up with. Suffice to say that the cast, made up of students, amateur actors and community members —  Lori, Zach's assistant is played by Toni Chiapetta, the owner of Sweetie Pie's Bakery — give their all. They are young, vibrant, bright-eyed and engaged people, who express their bubbly and unique personalities.
The scene is set with the first musical number as the entire cast sings "I Hope I Get It."  Together, they chant, "I really need this job. Please, God, I need this job. I've got to get this job…" This is so famous that I recognized it, even though I had never seen the show before. It underscores the desperation that all struggling actors must feel.
Zach seems to know this. Rather than have compassion for them, he sadistically tells them that the show needs four men and four women, which means eight of the 16 are going to get cut. There are no trophies for participation.
I never like it when artists make art about the artform itself. Writers who write novels about novelists. Painters who paint paintings of painters. Filmmakers who make films about making films. And the most insufferable are poets who write poems about writing poems.
While the most authentic art comes from the artist making art about what he or she knows, it seems to me that artists should challenge themselves to make art about the world beyond the art world. Art whose subject matter is the art itself can be too self-referential, which leads to self-indulgence. It is only interesting to other artists.
"A Chorus Line" falls into this category; however, what makes it successful is the universality of each character's struggle. Two of the characters identify as gay and come out to Zach, which in 1975 was a big deal. Other characters come from small towns, have physical drawbacks, or can't sing. They all are uniquely human, yearning to be accepted and therefore universally appealing. And up against a demanding, privacy-violating director. Everyone can identify with them. In this way, "A Chorus Line" exempts itself and succeeds where other works by artists about art fail.
Of course, a succession of rousing musical numbers, in addition to the humanity of its characters, contributes to its success. And this is what makes King and Cowell's "A Chorus Line" remarkable. Along with the borderline supernatural skill of Kevin Kemp and The Streaming Theatre, they successfully translate the choreography of the show to the browser window.
Music teachers and theater creators, realizing quickly that on Zoom only one person can talk at a time, have taught themselves how to mix individual voices into one seamless, beautiful song. Despite King and Cowell having focused their entire careers on making live theater, in their drive to continue making art, they've transformed themselves into filmmakers. Given live theater's impermanence, this new skill allows their brilliance to create an enduring artifact, a legacy that can be shared and revisited.
The most famous song "One"  ("one singular sensation, every little step she takes / one, thrilling combination, every move that she makes") is so famous I had heard it over and over growing up, despite never having seen the show. At the end of the show, the cast comes out in top hats and sparkly costumes, to do the titular chorus line while singing the song for a rousing finale. The audience sees the final product, the show that the actors have been working on throughout the play.
At first, I thought that the song was about what I see as the artifice of Broadway. What more unrealistic trope is there than a beautiful woman without imperfections? And how irrelevant is that trope — and the plots of all the other hit Broadway shows — to the lives of the actors playing in them? But now I see, or at least I'd like to think, that the song refers to the characters themselves. These loveable, imperfect, hardworking, earnest, genuine and, in a word, human, people, are perfect for who they are and what they will become. In their own small way, they are the singular sensation. And because they are, so are we.
If you ever catch John Henry Martin doing journalism about journalists, email him at jhm@johnhenrymartin.com to remind him of what he wrote here.