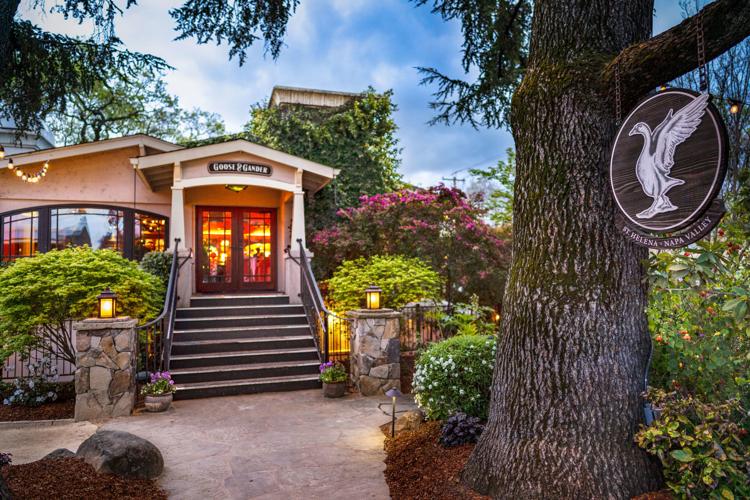 Since taking over St. Helena's Martini House restaurant space in 2012, Goose & Gander has consistently provided Napa Valley residents and guests with cozy digs in which to enjoy non-fussy, rustic American pub-style fare with an exceptional cocktail menu.
Two years ago, Nic Jones came on as executive chef and has since slowly evolved and elevated the food, while at the same time maintaining crowd favorites such as the creamy mushroom soup and what just may be the most decadent bone-marrow-slathered hamburger in the valley.
Goose & Gander has never been a single-focused eatery, having instead three distinct ambiances to share. Beyond having one of the most charming subterranean bars in Northern California, there is also an expansive outdoor garden dining area and an inside main dining room reminiscent of an aristocrat's country home library. And now Jones and team have created a fourth experience, a participatory Chef's Table culinary journey that includes just-picked items from their own organic farms and paired libations from the extensive drink menu.
"We want to provide our guests with a range of options that allows us to showcase what Goose & Gander is all about — from just grabbing a burger to having a more sophisticated, multi-course tasting experience," Jones said. "The Chef's Table menu provides a chance to spread our wings a bit."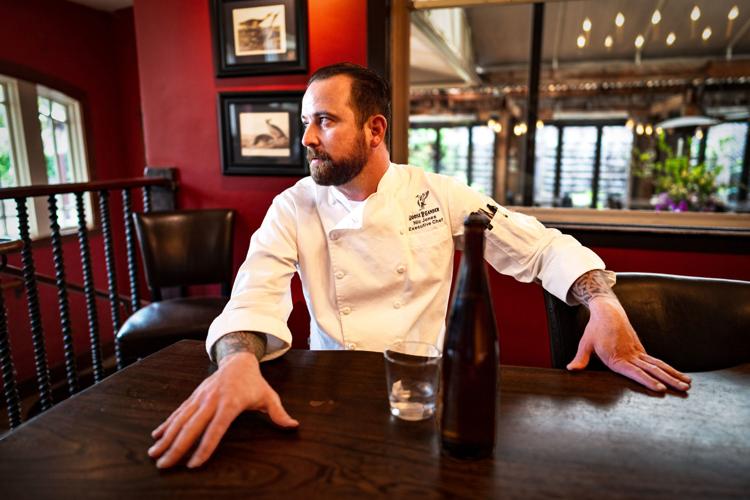 Nic Jones, chef
Before joining Goose & Gander, Jones spent five years as sous chef under the helm of executive chef Stephen Barber at St. Helena's Farmstead at Long Meadow Ranch, where he honed his craft for whole-animal butchery and house-made charcuterie.
Prior to that, he'd been chef de cuisine for Abruzzi Restaurant in Humboldt County and sous chef at Wine and Roses in Lodi. In 2013, he completed the accelerated wine and beverage program at the Culinary Institute of America at Greystone and became a certified sommelier through the Court of Master Sommelier.
Jones has always known he wanted to be a chef. Raised in Southern California, he had his first kitchen job by the time he was 16.
"Growing up, I was always in the kitchen," Jones said. "My mom likes to joke that my first words were 'Italian sausage.'"
Graduating from high school early in 2000, Jones entered Le Cordon Bleu in Pasadena. For experience and spending money, he also worked for Wolfgang Puck at Spago Catering, learning from one of the masters of California cuisine and gaining a taste for the fast pace of the cooking life.
"I was sort of a punk-rock kid and I didn't really fit into any other job," he said, "but I clung to kitchens. It felt like our crew was a bunch of disciplined, hard-working pirates going into battle every night."
Like many others drawn to a career as a cook, the rush of getting ready for service followed by hours of intense preparing and presenting artistic creations became addictive. But whereas chefs of old might have thrown a pan across the room while screaming epithets for even the slightest mistake, according to Jones, that is no longer acceptable behavior. Artisans are slowly replacing pirates.
"Like many chefs, I've learned how to adapt," he said. "[This is] actually a very good thing because the other way just wasn't sustainable and actually stifles creativity."
Additionally, Jones explained that labor laws have been updated. In the past, cooks might have worked at a single restaurant — spending 12 to 15 hours a day, often only making a base hourly wage — because of strict overtime rules and higher base wages. Now cooks might work the same total number of hours per day but at two or three different restaurants, eliminating overtime at any one establishment.
"This is a big change in kitchen culture," he said, "because whereas we used to spend all day nearly every day together with the same group, now there can be a lot of moving around."
According to Jones, another change in kitchens is that in the past most had distinct hierarchies — with designated titles and roles — while today many restaurants are finding that a flatter organization works well.
"After our last sous chef left, I noticed that everyone just stepped up and got the work done," Jones said. "Now we don't really have many titles, and I think the food coming out of the kitchen has never been better."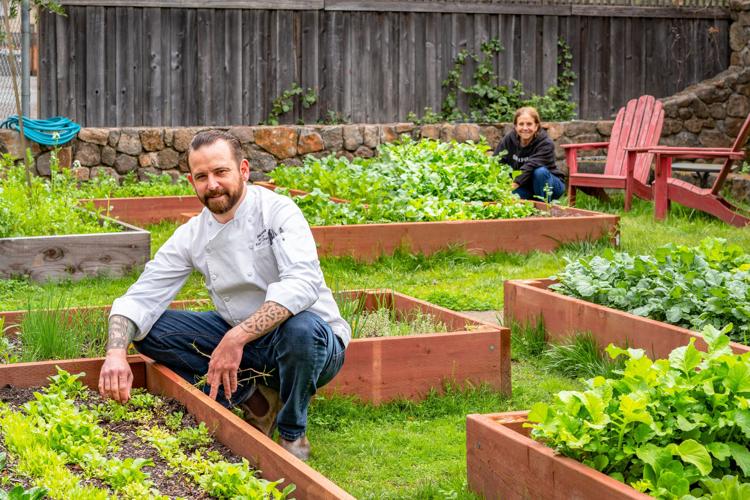 The Goose & Gander
You have free articles remaining.
Since 2012, the restaurant has been owned by Andrew and Trisha Florsheim. The duo is well versed on what it takes to run a successful eatery. Andrew has spent more than 30 years in the industry, much of that working with his family's well-known Levy Restaurant Group in Chicago.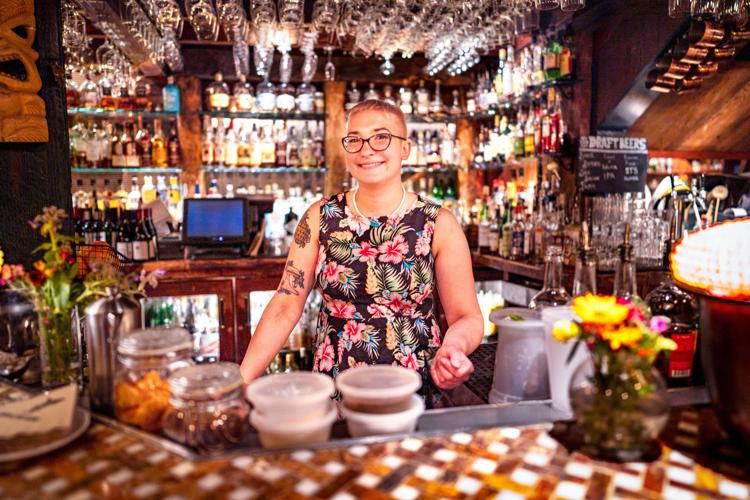 Goose & Gander's main dining room is on the second story of a renovated Arts and Crafts bungalow. Directly in front of the open kitchen are two booths where Chef's Table diners sit. Outside, trees and shrubs border a lush garden patio, making the space one of the most private outdoor eating locations in the Napa Valley.
Downstairs, in what amounts to a half-submerged basement, the pub-style bar feels as if you might just bump into some old pirates.
Many of the "designer" cocktail options included on the seven-page list were originally created by local mixologist Scott Beattie. Today, trained chef-turned-bar manager Emma Kreis, along with general manager-partner and wine director, Jason Savage, are continuing the tradition of making fun and expressive cocktails while also expanding the wine list, with a focus on highlighting local vintners.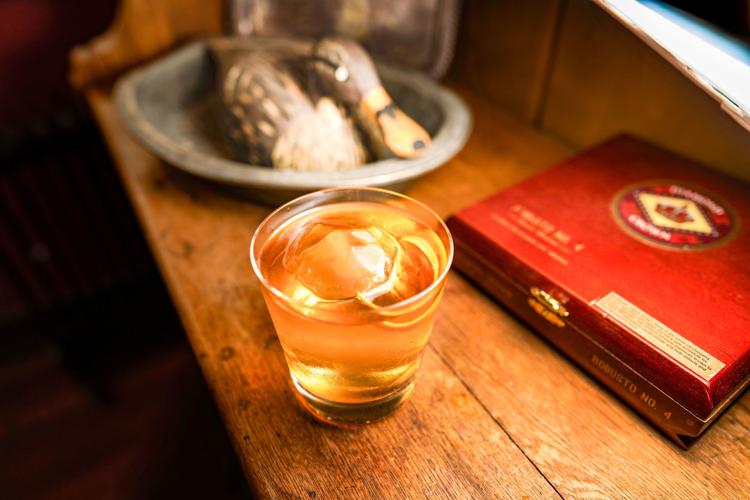 "If you haven't been to Goose & Gander for a while, just go. Over the last couple of years it has catapulted into being one of the best food and wine stops anywhere," said Cathy Corison, winemaker and owner of Corison Winery and one of the restaurant's highlighted vintners. "I haven't had anything at the Goose that wasn't creative and delicious. It was such an honor to have our wines featured there for a couple of months."
Beyond the eatery's compound, four private organic gardens located throughout the valley provide 30 percent of Goose & Gander's produce throughout the year. Shelley Kusch, who is a master gardener with a horticulture degree and has worked at the restaurant as a server since it first opened, manages all of the gardens.
The food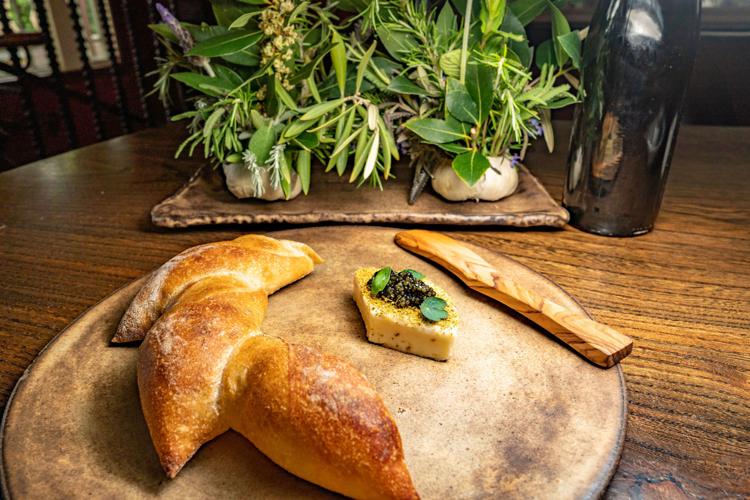 Depending on what you order and in which dining area you find yourself, you'll be experiencing one of Goose & Gander's four different personalities.
Having the crunchy peas and carrots risotto with creamy burnt burrata and tangy mint salsa verde ($28) on a warm evening outside is as refreshing as feasting in the French countryside.
In the dining room, enjoying a glass of 2016 Arietta Quartet ($25 a glass) with the Liberty Duck Breast served with citrusy satsuma gastrique, Tokyo turnips, grilled mushrooms and wheat berries ($36) brings one to an upscale Berkshire hunting lodge.
Slip downstairs to enjoy a pleasantly seedy ambiance while you sip on a Bali Spice Old Fashioned with St. George bourbon, brown spices and orange or a Walter's Manhattan Templeton Rye with Evan Williams Single Barrel Bourbon, Carpano Antica and bitters ($14 each), either of which pairs well with the spicy house-made Italian Sausage Cavatelli with shiitake mushroom, fresh mozzarella and tangy tomato preserves ($28).
The menu at the fourth experience, the new Chef's Table, is prix fixe with seven courses ($135 per person, which includes gratuity and tax; wine pairing is available for an extra charge). Offered Thursday through Saturday nights only, the special menu is limited to two parties of up to four. Kusch, who likely also just plucked many of the items for that night's dishes hours earlier, Jones or one of his trusted lieutenants presents and describes the motivation behind various dishes.
"Currently the menu is an exploration of umami (savory) flavors and textures," Jones said. "We want to highlight our garden produce but also the exceptional meat, game and fish that come from our local farmers. I am also a huge fan of foraging in the wild for items that often show up on the menu like miner's lettuce or stinging nettles."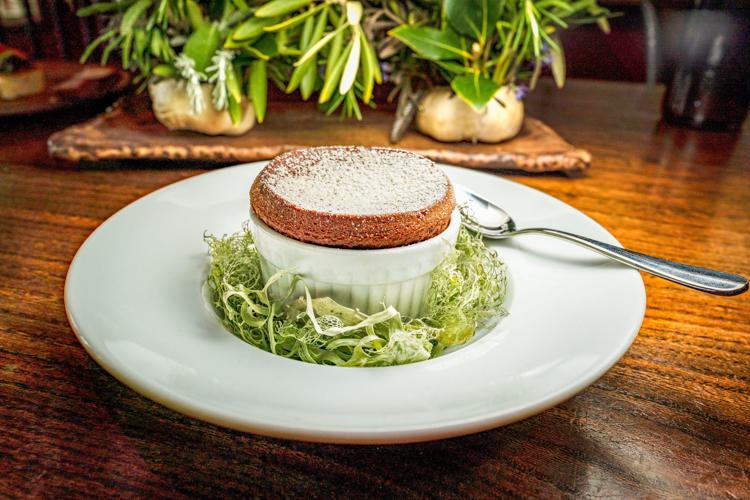 Expect well-executed and uniquely flavored items such as spring lamb cooked in duck fat and dusted with nori and a pillowy chocolate soufflé served with a classic crème anglaise infused with maple-syrup-flavored candy cap mushrooms. Although the food is very good to excellent, maybe the best part of the experience is the experience itself.
"A recent guest told me that [the Chef's Table experience] was so personal and thoughtful that it felt like she'd gone to an old friend's home and eaten a wonderful dinner but also gotten a big hug," Kusch said. "And that's just what we are shooting for."
Goose & Gander is located at 1245 Spring St. The restaurant and basement bar are open from 11:30 a.m. until 11 p.m., Sunday through Thursday, and until midnight on Friday and Saturday.