Napa's newest winery just opened, and it is a game-changer — bringing both opportunities and omens. In what had been the Franciscan Estate Winery just south of St. Helena is now a renovated and reimagined winery concept — The Prisoner Wine Co. Based on the widely popular wine brand, The Prisoner, this new addition to the valley's landscape could become one of the go-to destinations for a new breed of Napa Valley visitors looking for something new and fresh with a decidedly hip-urban sensibility.
Constellation Brands
In 2016, Constellation Brands — the United States' second-largest wine producer and owner of Napa Valley wineries such as Robert Mondavi and Mount Veeder — purchased a relatively obscure wine brand called The Prisoner that had originally been created in 2000 by a Napa Valley winemaker, Dave Phinney. The price tag of $285 million for what was roughly an 80,000-case virtual winery had many scratching their heads. Why would a big company like Constellation even bother? And why pay so much?
The answer was that this obscure brand had captured the attention of wine consumers who might have, up to that point, written off the Napa Valley ethos as too stuck in the past, too uptight and too expensive. But now those very same skeptics have been provided a place in the Napa Valley. The Prisoner has arguably become the No. 1 luxury (over $20 a bottle) red blend in the world. Production has increased, and the portfolio has grown from five to 12 different wines.
Transforming art into space
The original label came from a Francisco Goya etching Phinney's parents gave him as a child. The image is that of a near-faceless bearded man who is chained and shackled within a dim cell, the only light streaming in from somewhere above.
"This was a dream project," said Matt Hollis of San Francisco's MH Architects, who led the renovation project. "They came to us and showed us the label and told us to be inspired by the Goya painting — that's not what you normally hear from a client. And Goya is amazing because of his use of natural light, and so we used that theme throughout."
The reimagined winery transformed what had been the dark-wood and cellarlike interior into one where every room has light pouring in from above. Most wineries in the Napa Valley prefer large windows that look outside at vineyards and mountains at the ground level, but the previous occupant had blocked the vineyard views with a parking lot on one side and a winery facility on the other. Enormous skylights were cut into the ceilings, which required iron trusses, adding to what the designers call "refurbished industrial."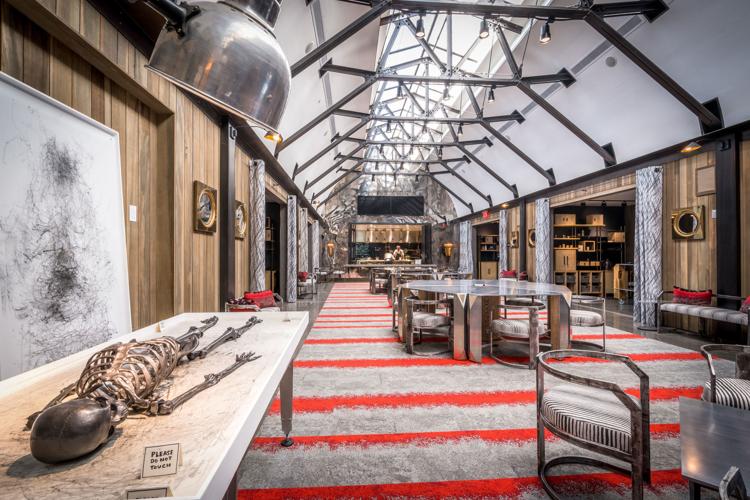 Before guests can enter the interior spaces they approach the dark-gray building by passing under a black circus-tent-looking canopy that has replaced the demolished grand Franciscan water fountain.
"The fountain was highly associated with Franciscan, and we wanted to signal that a new occupant was now in this space," Hollis said.
Under the canopy, guests are greeted by a concierge and offered a glass of wine prior to being granted passage inside. Enormous patinated mirrored doors reflect back twisted and warped images of those who approach.
"When I contemplated this place and how it related to the label, I understood that this needed to be a reflective space," said Napa-based interior designer Richard Von Saal. "When I thought about The Prisoner it was about reflecting on what you've done, your past, decisions you've made, thinking about who you are — that's why we went with all the mirrors, metal and reflective surfaces."
Pick your poison: chains or a skeleton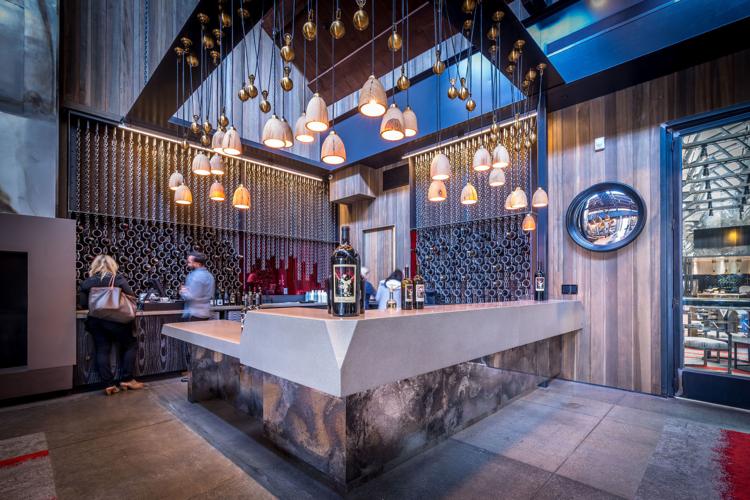 Entering the main tasting area is as if you've entered the mansion of a turn-of-the-century steampunk bachelor. The space is replete with mirrors, dangling metal shackles, concrete floors and reclaimed wooden paneled walls. The fireplace is piled high with balls and chains. Guests might prefer to sit outside where the space remains walled but with an open view of the sky.
Visitors have a variety of options, each bringing different levels of experiences and ranging from $45 to the yet-to-launch $300 experience). Most guests will opt for the "lineup tasting" ($45), where they might enjoy five wines to taste along with a plate of house-made crackers and (on my visit) a dip of wonderfully smoky roasted eggplant.
Paying $65 provides guests with a guided tour through the vineyard and culinary garden and access to a wing of the building that holds what they call the "makery." This is essentially a long hall lined with shops where a rotating series of local merchants and artisans display and sell their wares. A graphite skeleton here lies on a vibrating table so it can "draw" designs with its "bones."
Taking winery food to a new level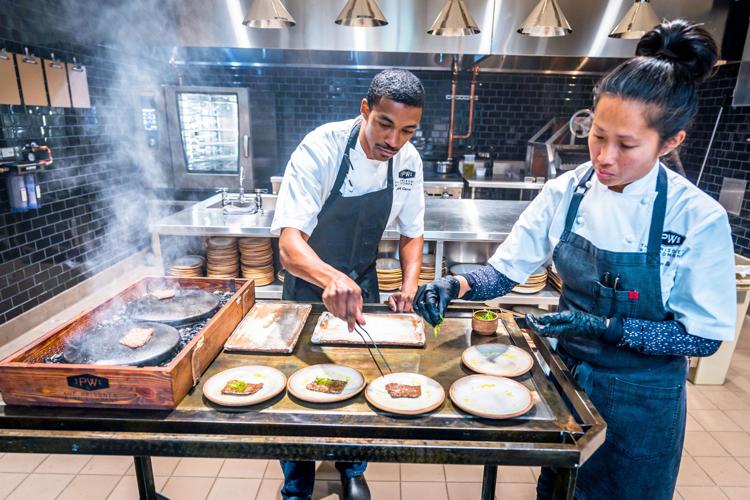 At the southern end of the makery resides a well-equipped, restaurant-level open kitchen where Chef Brett Young and his five sous chefs create meals that rival some of the finest restaurants in the valley. Guests who choose to indulge with the food and wine experience ($125) will be treated to tasting four or five wines, each of which is paired with a different food course, including a 1.5-ounce serving of A5 Wagyu Beef, which is only found at the world's finest restaurants and might be priced upward of $100 per serving on its own.
Young has spent time in Asia and was the former chef at Franciscan, and his food reflects the breadth and depth of his expertise. My experience suggests that his menus and creations are at the Michelin one-star level (at least), and the dishes often focus on local-source ingredients and incorporate flavors from around the world.
"The range of our wine styles allows me to pair and play with a host of global flavors and textures," he said. "It is a wonderful experience as a chef to have access to such high-quality ingredients and then to craft each dish with a specific wine so that they both enhance one another."
The winery expects to launch a more in-depth food and wine experience that will be available soon for $300. Given my experience at the $125 level, I can't imagine what they have in store.
The wine lineup
The original Prisoner wine was made from a blend of Zinfandel, Cabernet Sauvignon, Petite Sirah and small percentages of Syrah and Charbono. The story is that Phinney didn't design the wine blend but instead used available grapes to make about 400 cases and sold it for $25 (now $49) a bottle. The lineup included and still includes: Saldo (Zinfandel, $32), Thorn (Merlot, $45), Cutting (Cabernet Savignon, $55) and Blindfold ($32).
There are now seven more, ranging from a Blanc de Blanc sparkling ($55) to their highest-end red blend called Derange ($100). Of the 12 wines offered all but three are made using grapes grown in the Napa Valley, which is surprising because finding Zinfandel and some of the other varietals offered is rare in the region.
"We are lucky to work with over 80 different Napa Valley grape growers," said Chrissy Wittmann, director of winemaking. "This, along with our own network of vineyards, gives us the ability to make wines that are consistently of the highest quality."
All of the wines I tasted meet a level of quality that anyone would expect for Napa Valley wines that are twice the price. And although the original Prisoner had a reputation for being full of residual sugar and super high alcohol to achieve its sweetness and mass appeal, the reality is that these wines are comparable or have even less residual sugar and alcohol than many other well-known Napa Valley brands. Wines made primarily from grapes grown in the Napa Valley are nearly certain to maintain their high quality and also remain limited.
The "evolving" Napa Valley
At the opening ceremony for TPWCo, Linda Reiff, president and CEO of the Napa Valley Vintners, used the word "evolution" three times as she described the launch of the new winery. Highlighting the juxtaposition of Constellation having initially purchased the Robert Mondavi Winery in 2004 just a few miles south and now launching a new-concept winery in 2018, she expressed hope that this might encourage "new and younger" visitors to find their way to the Napa Valley.
The analogy was appropriate to highlight one of the more concerning elements of the winery's opening. Whereas Mondavi was an advocate for the Napa Valley as a special place, Constellation's TPWCo is nearly wholly focused on the Prisoner brand.
Yes, there are Napa Valley wines in the portfolio. But as soon as visitors enter the building, nearly anything related to the Napa Valley disappears from view. The designers were tasked with centering the renovation not on the geography and natural beauty of where it was started, but instead on an etching that was drawn by a European artist nearly 200 years ago.
The three wines that are not made in the Napa Valley are treated with the same reverence as those that are, suggesting that a wine from a host of vineyards strewn across the state are just about the same as wines from a single place.
It would have been hard to imagine Robert Mondavi wineries dotted around the globe, but it would not be surprising to see Prisoner "wineries" pop up in places like Las Vegas, Los Angeles, New York, London and Tokyo. With this change you certainly have an "evolution."

There are many things to like about this new winery (high quality, decent pricing, support of small growers), but there are things that are also of concern (a blurring of the lines between restaurants and wineries, the use of imprisonment as a form of entertainment and the erasing of a prior iconic wine brand without any sense of gratitude or remembrance). However the bigger concern might be that the loss of a sense of place will harm other local businesses, especially if other wineries widely adopt such strategies.
Be the first to know
Get local news delivered to your inbox!