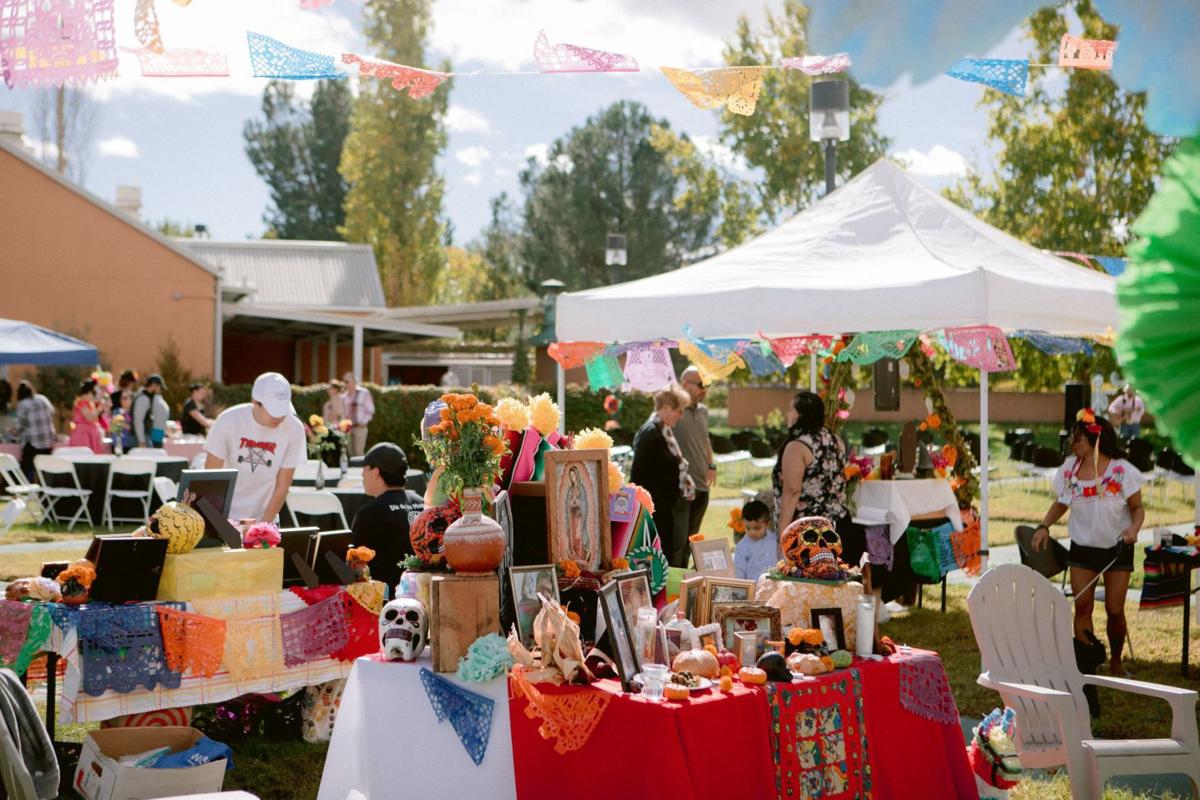 UPCOMING in October November
WHAT'S NEW AT THE CAMEO — "Judy" wraps up its runs at the Cameo Cinema, 1340 Main St. in St. Helena, on Thursday, Oct. 24. "The Addams Family," featuring the voices of Oscar Isaac, Charlize Theron, and Chloë Grace Moretz, debuts on Friday, Oct. 25. Synopsis: An animated version of Charles Addams' series of cartoons about a peculiar, ghoulish family. Rated PG. Info, CameoCinema.com; 287-4172
COMING SOON TO BLUE NOTE — Blue Note Napa is a live music jazz club/gourmet restaurant venue occupying the first floor of the historic Napa Valley Opera House, 1030 Main St., Napa. Upcoming acts: Nellie McKay (Oct. 24); Dennis Quaid & Jamie James (Oct. 25-26); Papa Joe and The New Deal (Nov. 1); Eric Martin & Friends (Nov. 2); Thru the Haze (Nov. 6); Blood, Sweat and Tears (Nov. 7-10); Off the Record (Nov. 13); Braxton Cook (Nov. 14-15); and Eric Roberson (Nov. 21-22). For tickets and additional information, call 880-2300 or visit bluenotenapa.com.
DIA DE LOS MUERTOS FESTIVAL — The UpValley Family Center and Nimbus Arts presents its free Dia de los Muertos festival from noon to 4 p.m., Saturday, Nov. 2 at the Napa Valley College Upper Valley Campus on College Ave. Performers will be Baile Folklorico dance company, singer Jazmin Oro and Mariachi Luz do Oro de Berkeley.
THREE DOG NIGHT AT LINCOLN THEATER — The Grammy-nominated band Three Dog Night performs at Napa Valley Performing Arts Center at Lincoln Theater, 100 California Drive, Yountville, on Sunday, Nov. 3, at 7 p.m. Tickets are $39-$69. Info, lincolntheater.com.
NAPA VALLEY DIXIELAND JAZZ SOCIETY — The Napa Valley Dixieland Jazz Society performs from 1-4 p.m., Sunday, Nov. 10, at Grant Hall at the California Veterans Home – Yountville, 100 California Drive, Yountville. Admission is $15; free for Veterans Home residents. Info, napatradjazz.org; 939-9018.
THURSDAY, Oct. 24
TAI CHI IN THE PARK — Joan Comendant's Tai Chi in the Park series starts at 10:30 a.m., at Lyman Park, in St Helena. The free weekly class is geared toward beginners, so just wear comfortable clothes and bring some water. RSVP to 963-8555 ext. 101.
SOL FLAMENCO — Experience the fire and passion of Spain with an evening of authentic live flamenco when Sol Flamenco performs at the St. Helena Public Library, 1492 Library Lane, at 7 p.m. Free admission. Info, shpl.org; 963-5244.
FRIDAY, Oct. 25
PWR!MOVES — Certified senior trainer Joan Comendant leads this free movement class for those living with Parkinson's Disease, Essential Tremor or balance issues at the Calistoga Community Center, 1307 Washington St., at 1 p.m. every Friday. The goal of this class is to enhance motor, cognitive, and emotional functions and daily quality of life. No registration required. Info, riandahouse.org; 963-8555.
TAI CHI — Certified senior trainer Joan Comendant leads a free Tai Chi class at the Calistoga Community Center, 1307 Washington St., at 2 p.m. every Friday. In this class, a combination of slow, meditative movements aids relaxation, balance, stress reduction and posture, giving participants a total body workout. No registration required. Info, riandahouse.org; 963-8555.
SATURDAY, Oct. 26
CALISTOGA FARMERS MARKET — Find fresh local produce and artisan wares at the weekly Calistoga Farmers Market at Sharpsteen Plaza at 1235 Washington St. from 9 a.m.-1 p.m. The market is open rain or shine. Info, 942-8892.
You have free articles remaining.
HAZARDOUS WASTE COLLECTION — The Upper Valley Waste Management Agency will conduct a Hazardous Waste Collection Event from 9 a.m. to 3 p.m., at the Napa County Fairgrounds, 1435 N. Oak St. in Calistoga. It is open to residential customers of Upper Valley Disposal Service or Clover Flat Landfill. Info: 259-8330.
DRUG TAKE-BACK DAY IN NAPA COUNTY — The police departments of American Canyon, Calistoga, Napa, St. Helena and Yountville, the Napa County Sheriff's Office and Kaiser Permanente will collected unused medications and used syringes and needles from 10 a.m. to 2 p.m.
SUNDAY, Oct. 27
HEROS AND HEROINES OF FAITH — St. Luke's Episcopal Church, at the corner of Myrtle and Berry streets in Calistoga, is continuing its special fall children's program on Heroes and Heroines of the Faith starting at 10 a.m. every Sunday. Having covered St. Francis and Mother Teresa, the group is moving on to study George and Martha Washington, Florence Nightingale, and Harriet Tubman. Art projects and snacks are provided in this free program open to all. For information, call Millie Pease at (707) 495-5305.
HARVEST FESTIVAL IN NAPA — Connolly Ranch Education Center's annual Harvest Festival is 11 a.m. to 4 p.m., at the ranch, 3141 Browns Valley Road in Napa. Info, tickets connollyranch.org.
MONDAY, Oct. 28
CELEBRATING THE JOYS OF ELDERHOOD — From 3-4:30 p.m., at the Calistoga Community Center, 1307 Washington St., Rianda House and UpValley Village present Dr. Louise Aronson, a renowned geriatrician and author who will share conversation and book signing around her highly acclaimed, book, "Elderhood: Redefining Aging." The event is free and light refreshments will be provided.
WEDNESDAY, Oct. 30
CALISTOGA CAREGIVERS — Calistoga Caregiver Support Group meets on the fourth Wednesday of the month from 10:30 a.m.-noon at the Calistoga Center, 1307 Washington St., Calistoga. Program is supported by the Area Agency on Aging, Napa/Solano Counties. Info, 258-9080.
TECH APPOINTMENTS — Need some help with your computer, phone, or tablet? One-on-one, 30-minute sessions are available in English or Spanish by appointment Wednesday through Friday from 3 to 4 p.m. at the Calistoga Library, 1108 Myrtle St. Make an appointment in person, over the phone, or by email: 942-4833, juan.cabrerasalinas@countyofnapa.org.
INTERCAMBIO — Practice English or Spanish and help other learners in a friendly atmosphere at the Calistoga Library, 1108 Myrtle St., every Wednesday at 6:30 p.m. Participants speak half the time in English and half in Spanish. Beginners welcome. Info, 942-4833.
Practique Inglés o Español y ayude a los otros que están aprendiendo en un ambiente amable. Los participantes hablan la mitad del tiempo en Inglés y la otra en Español. Principiantes son bienvenidos. Todos los miércoles, 6:30- 7:30 p.m. a la Biblioteca de Calistoga, 1108 Myrtle St.
CALISTOGA COMMUNITIY CHORUS — New members and all levels of singers are welcome to join the Calistoga Chorus each Wednesday at 7 p.m. at the Calistoga Art Center, 1435 N. Oak St. in the Boy Scout room in the back. A concert is scheduled for Dec. 15. Cost is $10 a month, which goes towards music purchase and practice space. For more information go to www.calistogaartcenter.org or call 942-2278.