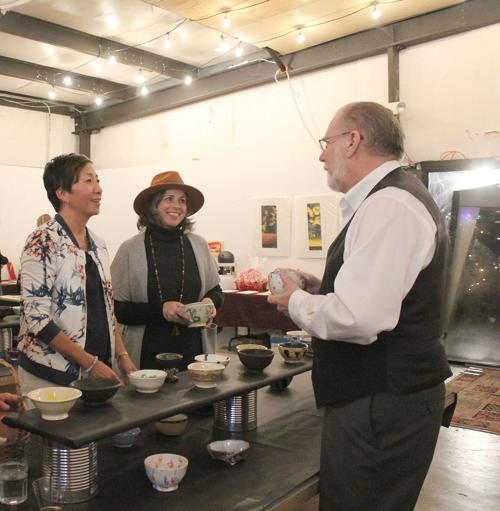 UPCOMING IN FEBRUARY
WHAT'S NEW AT THE CAMEO — "1917" ends its runs at Cameo Cinema, 1340 Main St., St. Helena, on Thursday, Feb. 6. "Joker", starring Joaquin Phoenix, Robert De Niro and Zazie Beetz, screens on Friday, Feb. 7. Synopsis: In Gotham City, mentally troubled comedian Arthur Fleck is disregarded and mistreated by society. He then embarks on a downward spiral of revolution and bloody crime which leads him face-to-face with his alter-ego: the Joker. (Rated R). Cameo screens "The Irishman" starring Robert De Niro, Al Pacino and Joe Pesci on Saturday, Feb. 8. Synopsis: A mob hitman recalls his friend Jimmy Hoffa. (Rated R). The Oscar-nominated film "Parasite" debuts on Monday, Feb. 10. Synopsis: All unemployed, Ki-taek and his family take peculiar interest in the wealthy and glamorous Parks, as they ingratiate themselves into their lives and get entangled in an unexpected incident. (Rated R). "Just Mercy", starring Michael B. Jordan, Jamie Foxx and Brie Larson, also debuts on Feb. 10. Synopsis: World-renowned civil rights defense attorney Bryan Stevenson works to free a wrongly condemned death row prisoner. (Rated PG-13) Coming soon: "Doolittle (Feb. 14); "Jojo Rabbit" (Feb. 14); and "The Call of the Wild" (Feb. 21). Info: CameoCinema.com; 287-4172.
COMING SOON TO BLUE NOTE — Blue Note Napa is a live music jazz club/gourmet restaurant venue occupying the first floor of the historic Napa Valley Opera House, 1030 Main St., Napa. Upcoming acts: Ottman Liebert & Luna Nera (Feb. 6-9); Kellie Fuller (Feb. 12); Avery*Sunshine (Feb. 13-14); Will Downing (Feb. 15-16); Nate Lopez (Feb. 19); The Dales (Feb. 20); Chris Pierce (Feb. 21); Luvplanet (Feb. 22); Aubrey Logan (Feb. 27-28) and Mindi Abair (Feb. 29-March 1). For tickets and additional information, call 880-2300 or visit bluenotenapa.com.
NAPA COUNTY VET CONNECT — Vet Connect is held Thursday, Feb. 13, at Napa County Veteran Services Office, 650 Imperial Way, Napa, from 9 a.m.-noon. Vet Connect is a one-stop shop to connect veterans to local resources and services. Info, 253-4558; countyofnapa.org/HHSA/VeteransServices.
MURDER MYSTERY DINNER — Brasswood hosts a Murder Mystery Valentine's Dinner on Friday, Feb. 14. Dinner for two is $400 and includes Brasswood's Four Course and Wine Pairing dinner menu and the Murder Mystery Co. performance of "Til Death Do Us Part." Cocktails, appetizers and dinner theater start at 6 p.m. A cash bar opens at 8:30. The event ends at 10:30. Wedding attire is encouraged. Brasswood is at 3111 St. Helena Highway North, just outside St. Helena. For more information and to RSVP by Feb. 12, email concierge@Brasswood.com.
COMING SOON TO THE LINCOLN THEATER — The Napa Valley Performing Arts Center at Lincoln Theater, 100 California Drive, Yountville, regularly hosts concerts, films, comedy shows, theater performances and other live entertainment. Upcoming events include: The Dance Factory Presents: Napa Valley Youth Symphony (Feb. 9); film screening "Midway" (Feb. 15); Beatles vs. Stones: A Musical Showdown (Feb. 16); Milos (Feb. 22); "For the Love of Music" community concert (Feb. 23); Valley Players presents "The Tin Woman" (Feb. 28-March 8); Justin-Siena Theatre presents "Disney's High School Musical On Stage!" (March 20-29); and comedienne Vicki Lawrence. For tickets and additional information, visit lincolntheater.com.
UPTOWN THEATER IN NAPA — The Uptown Theater in downtown Napa regularly hosts concerts, comedy shows, films, and theater productions. Upcoming events include: Alan Parsons (Feb. 8); Steel Pulse (Feb. 14); Lyle Lovett (Feb. 21); the Doo Wop Project (Feb. 22); Jefferson Starship (Feb. 28); Herb Alpert and Lani Hall (Feb. 29); Tower of Power (March 7); Michael W. Smith (March 20); and The Mavericks (April 15). Uptown Theater is located at 1350 Third Street in Napa. For tickets and additional information, call 259-0123 or visit uptowntheatrenapa.com.
CALISTOGA GARDEN CLUB — The Calistoga Garden Club will meet on Thursday, Feb. 20, at 2 p.m., at the Presbyterian Church at 1407 3rd St. The subject will be succulents. For more information please call 942-6063 or 942-6768. Visitors are welcome.
SOROPTIMIST SUNRISE BINGO — Everyone loves bingo, so please come join your neighbors for an evening of fun and games! Soroptimist St. Helena Sunrise is hosting bingo on Friday, Feb. 28 at the Native Sons Hall, 1313 Spring St. in St. Helena. Doors open at 6 p.m. and games start at 7 p.m. Cost is $25 for nine games. Hot dogs, chili and beverages available for purchase. Proceeds will benefit UpValley Family Centers and Soroptimist awards.
LUCY LIU ART EXHIBITION — Napa Valley Museum, 55 Presidents Circle, Yountville, presents actress/artist Lucy Liu's art exhibition "One of These Things Is Not Like the Others." An accomplished artist whose work was recently exhibited at the National Museum of Singapore, Liu has created an impressive collection of deeply personal artworks, ranging from large-scale paintings to inventive mixed media works to intricate wood sculptures. The show will be open now through April 26. Admission is $20; free to museum members. Info, napavalleymuseum.org.
THURSDAY, Feb. 6
VALENTINES FOR VETS — Make handmade Valentines for Yountville Veterans Home residents during a special crafting session at the Yountville Library, 6516 Washington St., at 10 a.m. The library will provide card-making supplies and ideas, you supply the cheer. Additional crafting hours will be held on Friday and Saturday. Info, napalibrary.org/events; 707-944-1888.
FRIDAY, Feb. 7
You have free articles remaining.
PWR!MOVES — Certified senior trainer Joan Comendant leads this free movement class for those living with Parkinson's Disease, Essential Tremor or balance issues at the Calistoga Community Center, 1307 Washington St., at 1 p.m. every Friday. The goal of this class is to enhance motor, cognitive, and emotional functions and daily quality of life. No registration required. Info, riandahouse.org; 963-8555.
TAI CHI — Certified senior trainer Joan Comendant leads a free Tai Chi class at the Calistoga Community Center, 1307 Washington St., at 2 p.m. every Friday. In this class, a combination of slow, meditative movements aids relaxation, balance, stress reduction and posture, giving participants a total body workout. No registration required. Info, riandahouse.org; 963-8555.
SATURDAY, Feb. 8
CALISTOGA FARMERS MARKET — Find fresh local produce and artisan wares at the weekly Calistoga Farmers Market at Sharpsteen Plaza at 1235 Washington St. from 9 a.m.-1 p.m. The market is open rain or shine. Info, 942-8892.
MEET THE AUTHORS — Meet four authors at a free event from 12:30—3:30 p.m., at Copperfield's Books, 1330 Lincoln St., Calistoga. Authors include Patti Diener, "After the Fire"; Joann Saccato, "Companioning the Sacred Journey"; Bo Kearns, "Ashes in a Coconut"; and Richard Tres, "The Man Without a Party." Info, copperfieldsbooks.com/Calistoga; 942-1616.
CALISTOGA SOUP-ER BOWL — Tickets for the Calistoga Art Center's 11th Annual Soup-er Bowl fundraiser are on sale now at calistogaartcenter.org or at Funke's on Lincoln Avenue. The event takes place from 6 to 9 p.m., at the Calistoga Art Center, 1435 North Oak St. We are busy making and glazing one-of-a-kind ceramic bowls and the list of local restaurants donating tasty soups is growing. Vote for your favorite, bid on unique auction items, join in on the fun and support your local art center.
WEDNESDAY, Feb. 12
TECH APPOINTMENTS — Need some help with your computer, phone, or tablet? One-on-one, 30-minute sessions are available in English or Spanish by appointment Wednesday through Friday from 3 to 4 p.m. at the Calistoga Library, 1108 Myrtle St. Make an appointment in person, over the phone, or by email: 942-4833, juan.cabrerasalinas@countyofnapa.org.
INTERCAMBIO — Practice English or Spanish and help other learners in a friendly atmosphere at the Calistoga Library, 1108 Myrtle St., every Wednesday at 6:30 p.m. Participants speak half the time in English and half in Spanish. Beginners welcome. Info, 942-4833.
Practique Inglés o Español y ayude a los otros que están aprendiendo en un ambiente amable. Los participantes hablan la mitad del tiempo en Inglés y la otra en Español. Principiantes son bienvenidos. Todos los miércoles, 6:30- 7:30 p.m. a la Biblioteca de Calistoga, 1108 Myrtle St.
CALISTOGA COMMUNITY CHORUS — New members and all levels of singers are welcome to join the Calistoga Chorus each Wednesday from 7 to 9 p.m. at the Calistoga Art Center, 1435 N. Oak St. A concert is scheduled for April 26. Cost is $40 for the semester, which goes towards music purchase and practice space. For more information go to calistogaartcenter.org or call 942-2278.
PINT NIGHT AT TRA VIGNE — Pizzeria Tra Vigne and North Coast Brewing co-host Pint Night from 5-7 p.m. The event features Blue Star Wheat Beer; Scrimshaw, a golden pilsner; and two beers in bottles: Brother Thelonious and Laguna Baja. Pizzeria Tra Vigne is at 1016 Main St. in St. Helena.