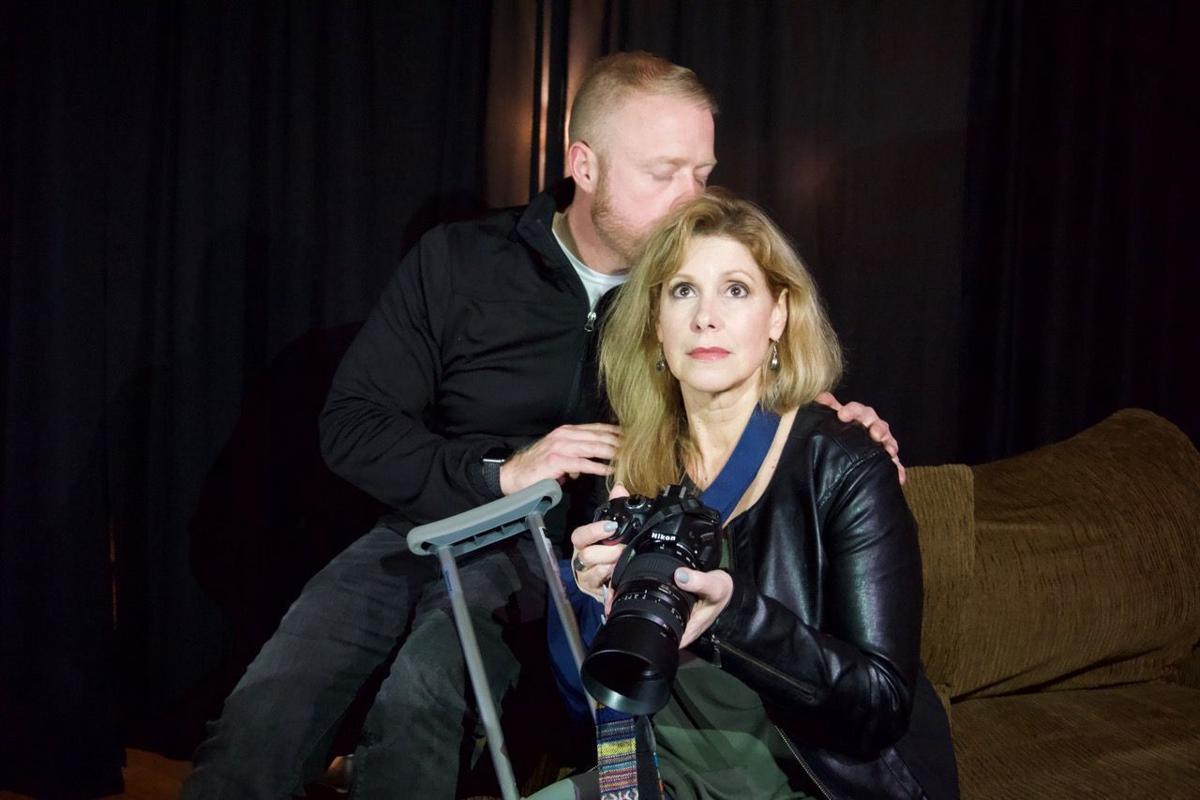 Drawing from local actors and selecting edgy plays dealing with current events, Upstage Napa Valley Theater Company presents "Time Stands Still," for nine performances in St. Helena.
This play was written by American playwright and Yale Professor Donald Margulies and directed by Sharie Renault. It examines Sarah's calling as a photojournalist. What makes a photographer willing to go into war-torn countries to capture images for the media? Is there more than the hope that the viewers' response will be to feel and to take action?
"Time Stands Still" focuses on the relationship of photojournalist Sarah and her reporter partner, Robert. Sarah has just returned from the Iraq war, badly injured by a roadside bomb. Robert has PTSD after leaving Iraq and is filled with guilt for leaving Sarah behind and alone. The play's messages are complex and profound, yet punctuated with warmth and humor.
You have free articles remaining.
Rhonda Bowen plays Sarah Goodwin — the photojournalist returning to Brooklyn to recover from injuries from when her Jeep was blown up and her driver killed. Brendan Lesti acts the part of James Dodd — the freelance journalist who has been Sarah's partner for eight years and wants to establish a sense of normalcy in their relationship.
Fred Ireland is Richard Ehrlich — a photo editor in his 50s, who is a long-standing friend of both James and Sarah. Danielle Devitt nails the part of Mandy Bloom, an event planner in her late 20s who is newly engaged to Richard and, while considered simple and ditzy, is more in touch with her emotions than anyone else in the room. Rebecca Wolohan is the stage manager.
"Time Stands Still" opens on Friday, Feb. 21 and continues Feb. 22-23, Feb. 28-29 and March 1, March 6-8. Friday and Saturday performances begin at 7:30 p.m., Sunday matinees are at 5 p.m. All performances are held at Grace Episcopal Church's Newton Hall, 1314 Spring St. in St. Helena.
During the 15-minute intermission, local wines will be available. As with all the Upstage Napa Valley plays, the actors and director will hold an open discussion with the audience at the conclusion of the performance. For online tickets visit UpStageNapaValley.org or reserve at will-call: 707-341-3278. Tickets are $15 for students; $20 for groups; and $25 for general admission.