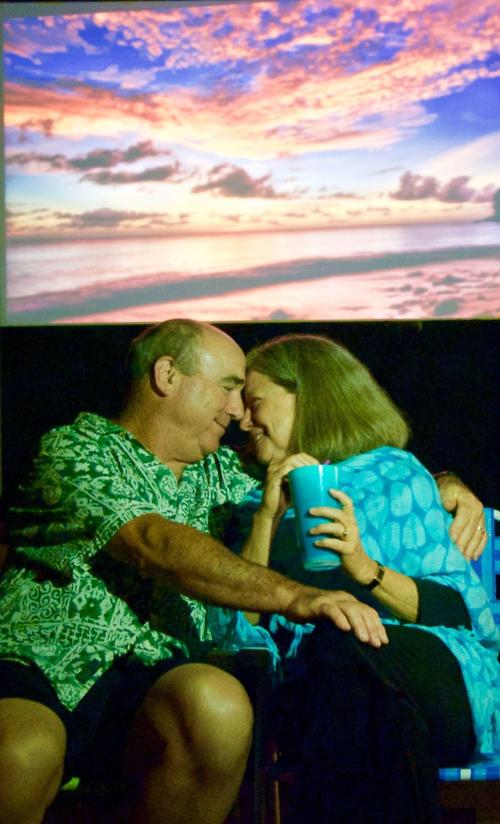 UpStage Napa Valley is presenting its final performances this week of a fascinating and challenging play by Joe DiPietro called "Creating Claire" at St. Helena's Grace Episcopal Church. It's a production that brings into focus the conflict between religious faith and scientific theory, and it's a real gem.
Directed by Sharie Renault, this production brings the artistry of four exceedingly talented Napa Valley actors to the missing link between faith and science. It's both an entertaining and philosophically deep consideration of how an individual's evolving faith can suddenly change the dynamics of relationships between family and friends.
Nancy Brandl gives a warm and nuanced performance as the central character of Claire, who is a docent at a natural history museum, tasked with the job of publicly explaining Darwin's theory of evolution to museum visitors. But, quite unexpectedly, as she is giving her museum talk, she begins to wonder about the possibility that a "designer" might be the source of the harmony found in the natural world. This growing personal belief in "intelligent design" challenges both her official relationship with the museum and the emotional dynamics of her family.
You have free articles remaining.
For Claire's teenage autistic daughter Abigail – played to near perfection by Marina Maia – the sudden spiritual revelations of her mother seem so alien that Abigail's world view is thrown into turmoil. Over and over, Abigail verbally attempts to bring clarity to the changes she sees in her mother. But her autism prevents her from accepting those changes, and she becomes increasingly distraught. At the same time, she's struggling with her own teenage identity as a person with autism in a world that views her as a "retard."
Likewise, Claire's atheist husband Reggie — generously performed by Fred Ireland — concludes that Claire's evolving beliefs threaten the fabric of their marriage. He can't square Claire's newfound faith with his image of the person that he married. At the center of his concern is what their daughter Abigail is being taught by Claire.
Ultimately Claire's supervisor at the museum, Victoria – wonderfully played by Carlet Langford — is forced to take disciplinary action and the resulting commotion drives a tragic wedge between them all.
How these conflicts are to be resolved becomes the underlying hope of DePietro's play. It's a story that poignantly reflects the human desire for certainty and truth within the confines of two seemingly different worldviews. But most importantly, this production offers four performances by a masterful theater troupe, exquisitely directed and well worth the price of admission.
Freelancer Tom Stockwell, a former staff writer for the St. Helena Star, lives in Deer Park.