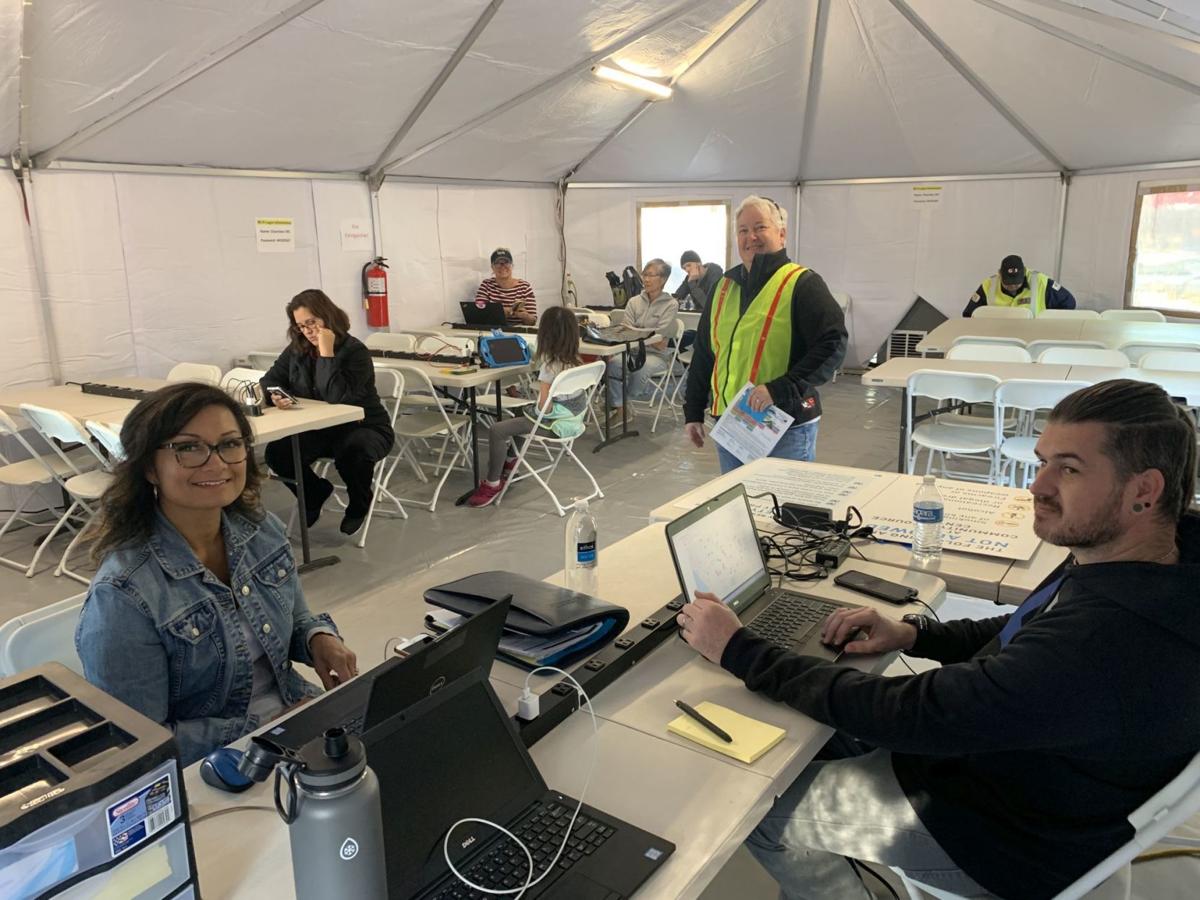 At the onset of PG&E's second PSPS (Public Service Power Shutoff) last week, the City of Calistoga proclaimed the event a Local Emergency. This will allow the city to recover costs should the State offer reimbursement funds. The resolution will allow the city to recover costs associated the PSPS including overtime, staffing, emergency fuel, lodging, food, and response equipment. Preliminary estimates are about $40,000 to $50,000, said City Manager Mike Kirn at Tuesday's city council meeting.
After issuing notices of a potential PSPS affecting the area on Monday, Oct. 7, due to increased fire risk from high winds, PG&E shut the power off at about 12:30 a.m. on Wednesday.
The PSPS left hundreds of thousands of customers throughout Northern California without electricity, which translates to about 2.5 million people who were impacted.
Winds of up to 77 mph were reported on Mount St. Helena, the highest in the state and 50 mph in the Bennett Lane area, Kirn said.
By about 1:30 p.m. on Wednesday, about 60 percent of Calistoga was re-energized using the generators at the substation on Highway 29. Initially, the utility said the power would be back on after only a couple of hours, but there was a delay due to the circuitry from the generators to individual neighborhoods and the power was restored in stages.
Others, mostly to the east of the Napa River, were without power for about four days, due to the way city's three-tiered grid system is laid out.
Speaking of the generators, Mayor Chris Canning noted that Calistoga experienced the first PG&E planned power outage last year. Because of the town's unique situation, the utility has provided power to the town through the generators during subsequent power outages. Cal Fire and CPUC (California Public Utilities Commission) determine where the generators are allowed to provide power.
"Through learning experiences, we worked long and hard to become a test for the generators. We appreciate the time and effort and cost for PG&E, because of what we've been subjected to in the past," Canning said. "(This time) we had about a nine-hour delay. Please consider other communities were without power for five days."
The city is still working with PG&E for a permanent backup power solution on south Washington Street, and looking at other potential solutions for other parts of the city not powered by the generators.
In a statement, PG&E said during the PSPS more than 100 incidents of damage or hazards were spread across the event's circumference. "Wind gusts exceeded 50 mph in 16 of the 35 counties in the PSPS footprint, and damage or hazards were found in nearly all of them. It is possible that these damages and hazards represented potential sources of wildfire ignition," it said. In Napa County, a large tree limb was found tangled with a span of wires.
"While we understand and recognize the major disruption this PSPS event imposed on our customers and the general public, these findings suggest that we made the right call, and importantly no catastrophic wildfires were started," said Michael Lewis, PG&E's senior vice president of electric operations.
Calistoga Fire Chief Steve Campbell reported on Tuesday that there were no weather, fire-related incidents during the PSPS. Both police and fire departments patrolled darkened-out areas of town on an hourly basis.
"I think we weathered the potential storm pretty well," said Police Chief Mitch Celaya, adding the department fielded close to double the normal amount of calls, although, he added, "We did not have more information than the public."
The busy Arco gas station at the corner of Petrified Forest Road and Foothill Boulevard was closed on Wednesday, and as of Thursday, the two gas stations at the corner of Lincoln Avenue and Foothill Boulevard were operating on small generators, and business was very brisk.
The biggest issue for many was no internet service. Several businesses remained closed on Wednesday, including Calistoga Roastery. On Thursday they were taking cash only due to no internet service.
Co-owner Eva King shrugged it off and said business was a little unusual with faces from the outskirts of town looking for Wi-Fi. "We're not suffering. It is what it is," she said.
As with the first PSPS last month, PG&E set up a Community Resource Center at the Fairgrounds, which was used by residents and businesses for Wi-Fi service, with "A steady flow of people," workers there said.
Residents on the outskirts of town, out of reach of the generators and on well water were without power and water. Some residents took water from their pool and others from the bathtub, to fill toilets. Among the later was Jennifer Johnson, membership and events manager for the Calistoga Chamber of Commerce. She and her family live near Silverado Trail and Larkmead Lane. Friday was the first day in three days she took a shower, at a friend's house.
"Before that I was washing my hair in a bowl with cold water," she said, however, the bigger problem was not having internet at the Chamber.
Rancho de Calistoga, a senior mobile home park east of town with 184 residents, was without power for four days. Still, residents were making do. Resident manager Lauren Haugen said, "We have by far the best residents in all of Calistoga. They are resilient and caring, we've had potluck every night, everyone contributed something," she said.
Haugen also said the fire and police departments made regular checks on the mobile home park, "many times throughout the day."
PG&E has also made visits to check on those residents registered in their Medical Baseline program, a financial assistance program for customers with special energy needs for medical conditions.
Canning said overall communication from PG&E was greatly improved over last time.
"Unfortunately, we're all getting the hang of this," he said.
Be the first to know
Get local news delivered to your inbox!