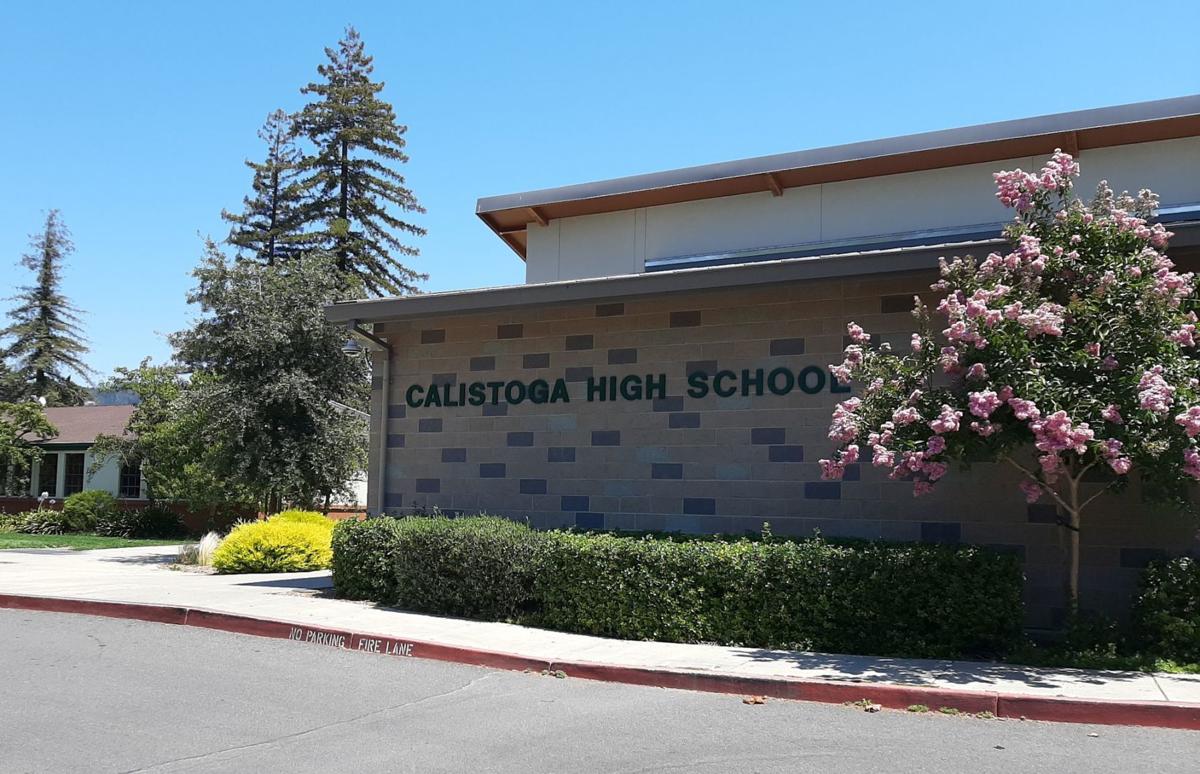 With the recent rise in COVID-19 cases, the re-opening of Calistoga Junior-Senior High School has been postponed to the winter semester.
After months of at-home learning, school officials had tentatively decided to open the campus Nov. 30, however, with Napa County moved to the Purple Tier, the option of an on-site hybrid learning has hit another bump in the road.
"The district has been monitoring the COVID-19 cases in our community on a weekly basis to determine a safe date for transitioning our schools to a blended learning model," said District Superintendent Erin Smith-Hagberg in a letter to parents. The plan now is to try again after winter break, when the second semester begins.
A survey was issued last summer asking parents to choose which learning method they were most comfortable with: at home, on campus, or a hybrid of both. When COVID-19 concerns increased, however, campus and hybrid options were removed, forcing CJSHS to do all of its learning virtually.
Hybrid learning entails students spending one school day per week on campus, staying in a classroom with a small cluster of classmates and taking their usual classes virtually.
Many added health and safety precautions have been put in place at the school, with students required to be in their classroom at all times, wearing masks and staying 6 feet apart from all classmates. Classrooms would also have a limited number of students (around 15) and staff would be attempting to keep siblings together.
Many students and staff members were excited by the prospect of returning to the classroom, yet also skeptical. Eighth-grader Dante Marquez touched on a fear that many parents and faculty members may be feeling.
"I really like the idea of hybrid learning because I think it'd be really useful for kids who need to get caught up on their work. But I think it's not a good idea to go through with right now because I know a lot of kids won't take social distancing and masks seriously," he said.
This school year began with many complications for staff and students alike, with the pandemic, then fire season, and power outages.
Early into the school year when power outages and Wi-Fi issues began, students were struggling to keep up with seven classes in six-hour days. "There are some advantages to at-home learning, like extended break time, flexible due dates, and one-to-one conversations with teachers," said CJSHS senior Lordan Rosete. "The downside is that as the school year progressed, teachers started to give excessive homework, saying that everything is online regardless of possible student situations."
When faculty began to see the difficulties for students, teachers made adjustments in homework assignments and weekly check-ins. "The change in schedules is very helpful since students have the chance to not only decompress but to also catch up on school work or get help from their teachers in specific subjects through individual Zoom or Google Meets," Rosete said.
Extracurricular activity
Despite the opening setback, students have another opportunity to get involved on-campus, as the athletics department has given the thumbs-up on "Fall sports" and will begin practices on Dec. 7.
While games and large group practices will not be allowed, students will be given the chance for sport conditioning and small group practices, determined by coaches to keep contact and risks at a minimum. Fall sports this year consist of football, volleyball, cheer, boys' soccer, girls' soccer, and cross country.
"The rules and regulations are for sure important. I understand that we got to follow them for our safety and I'm trying to look at it in a positive way," said junior Andrea Villaseñor, who is resuming participation on the volleyball team this year. "It's unfortunate that the season will be short and we don't get as much play time but at this point I would take anything just to be on that court. We aren't going to actually go to practice with equipment until maybe January and won't play a game until possibly February but I'm thrilled to be back and doing what I love most."
With the return of sports and the possible return to campus in the following semester, there is the apprehension that new tribulations will rise and affect the opening of the campus, but as CJSHS's faculty and students have proved this year, nothing will get in the way of a Wildcat's education.
Saida Morales is a junior at Calistoga Junior-Senior High School.
Editor's note: Because of the health implications of the COVID-19 virus, this article is being made available free to subscribers and non-subscribers alike. If you'd like to join us in supporting the mission of local journalism, please visit napavalleyregister.com/members/join.
Watch now: Turn your home into the best educational environment for your kids
Senior Spotlight: A celebration of Napa County student athletes
With the cancellation of the spring season for high school sports, the Napa Valley Register is recognizing senior athletes who have had their careers come to a premature end due to the coronavirus pandemic.
Be the first to know
Get local news delivered to your inbox!