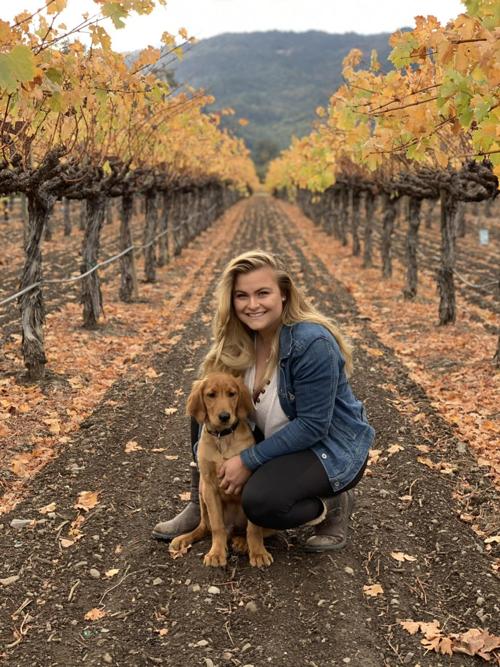 St. Helena High School alum Madelyn Decker has had a horrendous few months, first losing her home in the Glass Fire and then suffering major burns in a barbecue mishap.
Decker, 23, lost the house she was renting north of Castello di Amorosa in the early hours of the Glass Fire. She evacuated with her dog, cat, computer, tax information, and a change of clothes, but the rest of her personal belongings were destroyed, including priceless heirlooms like a bed that had been in her family for 100 years, according to her brother, Chip Decker.
An avid equestrian, Madelyn Decker is attending Santa Rosa Junior College and plans to transfer to Chico State to study agriculture education and animal science. The Glass Fire incinerated her equestrian equipment and her beehive.
Then on Friday she suffered severe burns during a barbecue at a Cotati home when the cap flew off a bottle of lighter fluid as it was being squirted onto the barbecue. Decker happened to be sitting near the barbecue, and as she stood up the resulting flare-up caused first-, second- and third-degree burns to her face, ears, hands and stomach.
"She said that within a snap of a finger, all she could see was blue flames because there was fire on her face," her brother said.
Decker is recovering in a burn unit at Saint Francis Memorial Hospital in San Francisco.
Her brother said doctors expect her to be released in two weeks, but her recovery could take a full year.
Despite the pain and the run of extraordinarily bad luck, Decker is in good spirits.
"She's being so hopeful and she's so happy," said Chip Decker, who visited Madelyn in the hospital on Saturday.
"I had to excuse myself from the room because I couldn't take it and I didn't want her to see how upset I was, but she was so positive. With everything that's happened to her, her ability to be happy is very telling as far as who she is as a person."
Madelyn has served as a lifeguard at the 4H camp in Angwin, as a lifeguard and swim lesson teacher at the St. Helena pool, and as a tutor to local kids.
Alba González-Arredondo, director of vocal and choral programs for the St. Helena Unified School District, called Madelyn (also known as Dolly) "such a strong woman and wonderful human being."
"When she was part of our SHHS choir class, Dolly always remained positive and accepted any challenges I would bring. That kind of student that every teacher wants to have, eager to learn, enjoying the instruction, always working hard, staying positive, and bringing the best of her to the class.
Dolly is a warrior and with the support of the community, her family and all her loved ones, our lovely Dolly will continue striving and teaching us all the beauty of life through her passion and wonderful heart."
Liz Moffitt said she and Decker have been riding horses together since Decker was 13.
"I watched her grow over the years from a young teen, reliable and responsible with animals, to a lovely young lady, focused and thoughtful," Moffitt said.
"Even when her home burned down, and now with severe burns, I know that her strength and resilience will conquer all. She is the kind of young woman who, when the horse throws you off, will jump back in the saddle and take control."



Watch Now: Thanksgiving fire safety tips
Be the first to know
Get local news delivered to your inbox!