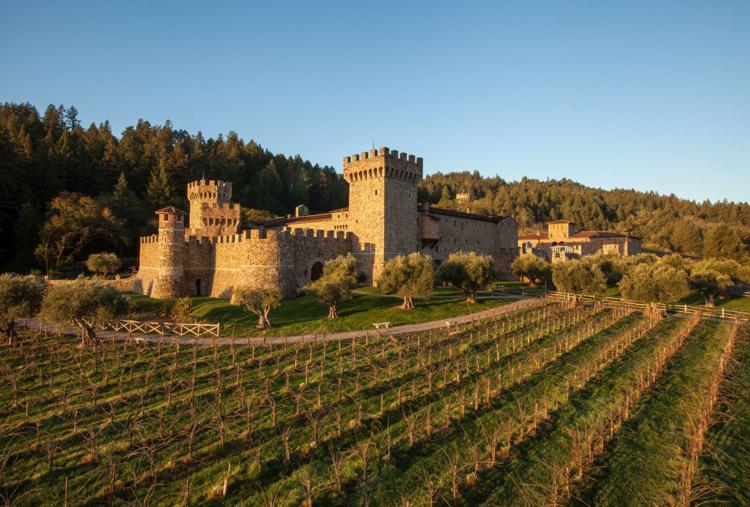 All of the wines from barrels that were sampled on Friday, May 3, at Calistoga's Castello di Amorosa won't be released for another year. All but one were from the 2017 and 2018 vintages.
On that afternoon, Brooks Painter, director of winemaking, and winemaker Peter Velleno hosted some 20 press members, and offered tastes and thoughts of many of the 19 wine barrels, including a Chardonnay and a Merlot, several Pinot Noirs and both single-vineyard Cabernet Sauvignons and Cab-based blends.
The 12,000-square-foot barrel cellar, three levels beneath the Castello, was set up for the castle's annual "Grand Barrel Party," which included some 300 people and was held later that night.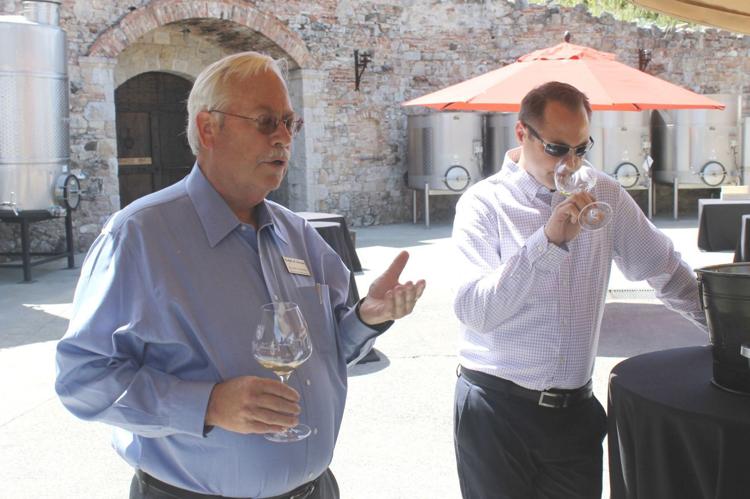 One of the wines, the 2016 Trenta Cabernet Sauvignon, is a new project from the Castello's winemaking team. It was aged in 100 percent new French oak for 30 months, a year longer than any other of the castle's reserve wines. The wine, 97 percent Cabernet Sauvignon and 3 percent Merlot, came from grapes grown in four Napa Valley vineyards, Rapp Ranch, Coombsville; Morisoli, Rutherford Bench; Perata, Yountville, and Melanson, Pritchard Hill. Six barrels were produced.
Velleno called it a "big, bold-style Cabernet" and added it will withstand another year of aging before it is released. He said the Cabernet Sauvignon was scheduled to be tasted only once on May 3 either by the press or by the Grand Barrel Party attendees.
"You're tasting wines directly out of the barrel. It will be another two to three years before you can try it again," Velleno said. He advocated people get into the rhythm of buying futures each year. That way, buyers will pay less than the release price for the wines.
For example, their 2017 Napa Valley Cabernet Sauvignon sells for $55 a bottle and $660 a case at release in April 2020; the futures price is $528 a case and $11,888 for a barrel. It will spend 20 months in 50 percent new French oak barrels and is made up of 89 percent Cabernet Sauvignon and 11 percent Merlot. Grapes are sourced from vineyards throughout the Napa Valley.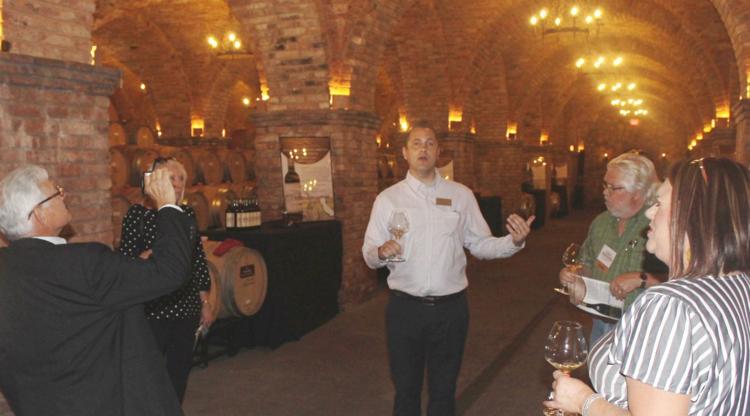 Velleno said he has spent 16 years in the Napa Valley, and graduated with a bachelor's degree in Fermentation Science from UC Davis in 2003. After working for William Hill Winery and Hartwell Vineyards, he joined Castello as associate winemaker in 2008 and was promoted to winemaker in 2014.
"When I started working here, I had no idea what I was about to step into," he said. "It's not just another winery, but a castle."
Since Castello di Amorosa sells its wines directly to consumers, there's a lot of experimenting with the winemaking, he added.
Napa Valley Merlot
Although Painter, Velleno and their team make four Pinot Noirs, mostly from Anderson Valley and Sonoma County, and several limited Napa Valley Cabernet Sauvignons, they make only one Napa Valley Merlot. Some of the grapes in the wine were grown on the 35 acres of hillside vineyards that surround the Calistoga castle.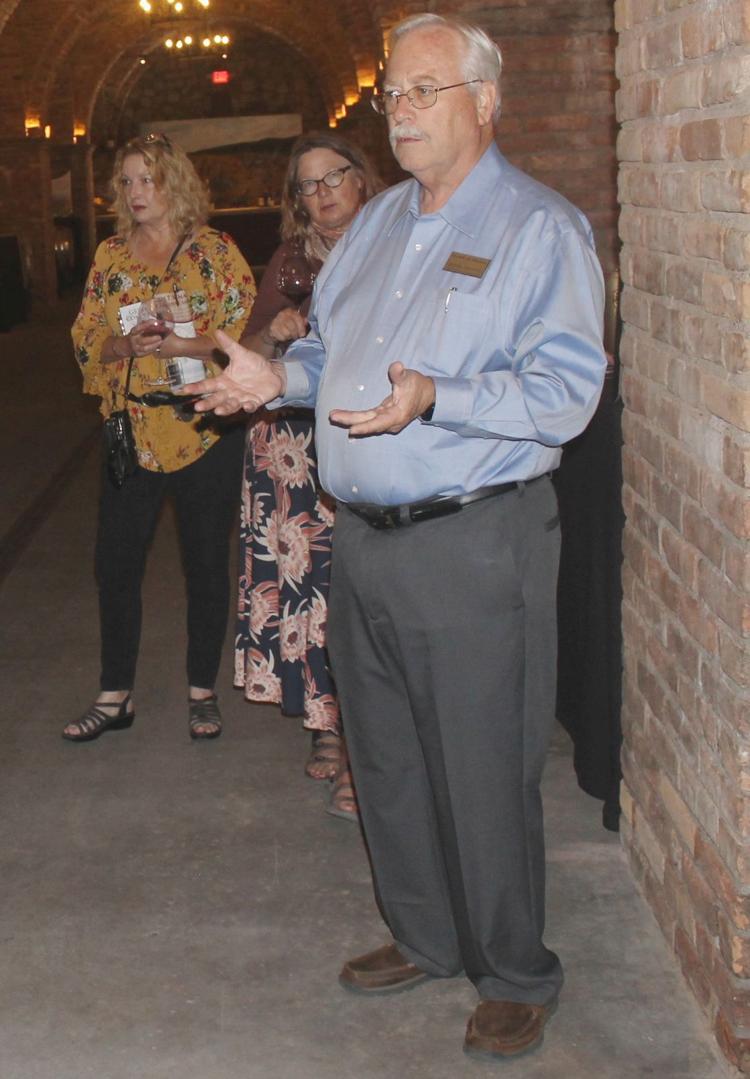 "Some people love it and some people don't care for it as much," Velleno said. But, "we definitely see it as the wine we take seriously. We have a lot of people who really, really love our Napa Valley Merlot."
He said whatever grapes are not going into Castello's higher-end wines are used for the Merlot. "We're looking for a wine that is not quite as tannic, not as astringent and doesn't need to be held as long as our Cabernet wines," Velleno said.
He called the 2017 Merlot "a little more generous on the fruit with a more plush, velvety texture." It is complex, but not as dense or aggressive as the Cabernet Sauvignon, he added.
"We blended a little bit of Cabernet Sauvignon and Petite Verdot in this vintage," he said, adding, "We don't always do that, it is just a matter of balancing the acidity and tannins and making sure that we end up with a wine that is age-worthy."
Velleno said he is "learning year after year. Our goal is not to transform the fruit but to let the vineyard shine."
Painter added that every vintage gives the winemakers a different raw material. For example, they may be aggressive on an early-ripening grape, seeking to extract as much color and tannin as possible from the skin.
Painter has been a winemaker for more than 30 years and joined the Castello team in 2005. In 2013, Painter received the Andre Tchelistcheff Winemaker of the Year award from the San Francisco International Wine Competition.
When the group got to the reserve, single-vineyard 2017 Morisoli-Borges Cabernet Sauvignon, made from grapes grown in the heart of the Rutherford Bench, we all thought that this wine is nearly perfect as it is. Painter and Velleno buy three tons of Cabernet Sauvignon from Mike Morisoli, whose parents bought the vineyard in 1971. According to the tasting notes, much of the vineyard was planted to Cabernet Sauvignon in the late 1980s with a smaller area redeveloped in 2006. The wine "comes from a blend of these old and young blocks and it expresses the Rutherford appellation's famous 'dust' character with its unique, soft, silky tannins."
When released, the wine will sell for $145 a bottle or $1,740 a case. The futures price was $1,392 a case and $33,408 for a barrel.
Il Barone Cabernet Sauvignon
It took workers some 15 years to build and an estimated $30 million to build Castello di Amorosa, a replica of a 13th-century Tuscan castle. It opened in April 2007. Velleno said its 100 percent Cabernet Sauvignon, called Il Barone, "is considered by many to be the wine that best represents the castle that was created when they first opened the doors."
The 2017 vintage Il Barone is 100 percent Cabernet Sauvignon, although in some years he and Painter may blend a little bit of Merlot and Petite Verdot in the wine. Even so, "it is definitely a Cabernet-based wine that is showcasing the best Napa Valley Cabernets we work with," Velleno said. Those vineyards are in Diamond Mountain, on the hillsides in Rutherford, Yountville and Oak Knoll, and in Coombsville.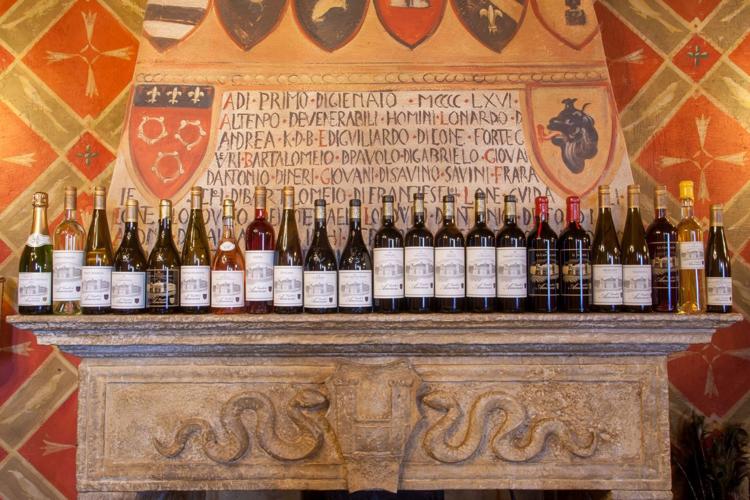 The blend is "usually very heavy on Rutherford," including grapes from the Morisoli ranch. To create the blend, the winemakers started with one or two wines made from the Morisoli Vineyards, then blend in some Diamond Mountain fruit. The winemakers create both a single-blend Cabernet and Il Barone from Morisoli's vineyards. "In warmer years, we like to use more of the Coombsville fruit, and in cooler years, we use Diamond Mountain fruit, which does a great job," Velleno said.
Each year, the Il Barone is created from a clean slate, Velleno said. "We survey all of our wines and make them all the best they can be and then piece them all together," he added.
As Painter, Velleno and the guests stood in the 12,000-square-foot barrel cellar, Painter said the barrel cellar is the same size as the winery that owner Dario Sattui originally decided to build. Instead, after 15 years, the winery is 136,000 square feet with 107 rooms and seven levels.
Along with grapes from the estate's 35 acres, today the winery sources grapes from several of its Sonoma County vineyards, including 13 acres in Anderson Valley, 13 acres in Philo and a new 80-acre property in Anderson Valley, between Philo and Boonville.